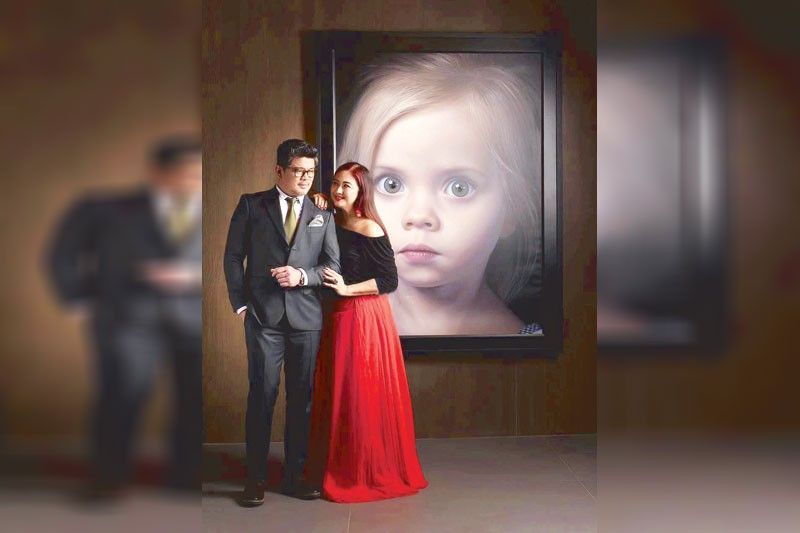 Julius and Tintin (with the painting Pepper by Austrian-Irish artist Gottfried Helnwein as backdrop) at the #Casauccello Art Collection
sTANLEY oNG
Julius & Tintin: Happily ever after
CONVERSATIONS
-
Ricky Lo
(The Philippine Star) - September 20, 2020 - 12:00am
Some day when I'm awfully low
When the world is cold
I will feel a glow just thinking of you
And the way you look tonight
That was the song playing on the car radio one moonlit night when Julius Babao fell on his knees and took out a ring from his pocket.
"Will you marry me?" he asked his girlfriend Christine "Tintin" Bersola. Of course, we knew what she answered.
"That was 17 years ago and every time I hear that song, I still cry," Tintin told Conversations. "I choked up when you came up with a question about that song."
On Dec. 8 (Feast of Immaculate Conception), the couple will celebrate their wedding anniversary with their children Antonia/Anya, 15, and Antonio/Nio, 10. The two were named after the couple's favorite saints, St. Anthony and St. Padre Pio. Nio came as an answered prayer after Tintin prayed for Padre Pio's intercession.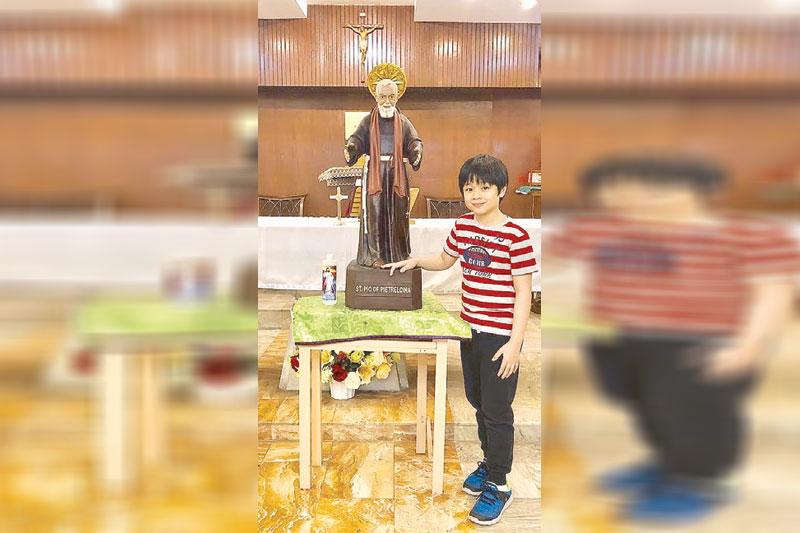 "This interview is very timely because it's the Feast of Saint Padre Pio on Wednesday, Sept. 23," reminded Tintin. "Every year on Nio's birthday, we donate an image of Saint Padre Pio to a chosen parish. This panata (devotion) actually started when I was pregnant with Anya. Julius and I donated a three-foot image of Saint Anthony to the chapel of St. Luke's Medical Center in BGC. It's still there. The chapel has been used as a hospital room since the pandemic. When Nio was born, we started our panata of donating two images (one each of Saint Anthony and Saint Padre Pio) to parishes every year during Anya and Nio's birthdays. It's our way of propagating the devotion to our two favorite saints."
In this Conversation, the couple talks about how they put God at the center of their lives and how they are living happily ever after.
You've been married this long (17 years). How do you keep it going strong(er)?
Tintin: "For me, it's not really that long, not yet because it only feels like yesterday! We are celebrating out 17th wedding anniversary (Dec. 8) during this pandemic."
Julius: "Yes. How time flies. Seems like yesterday lang!"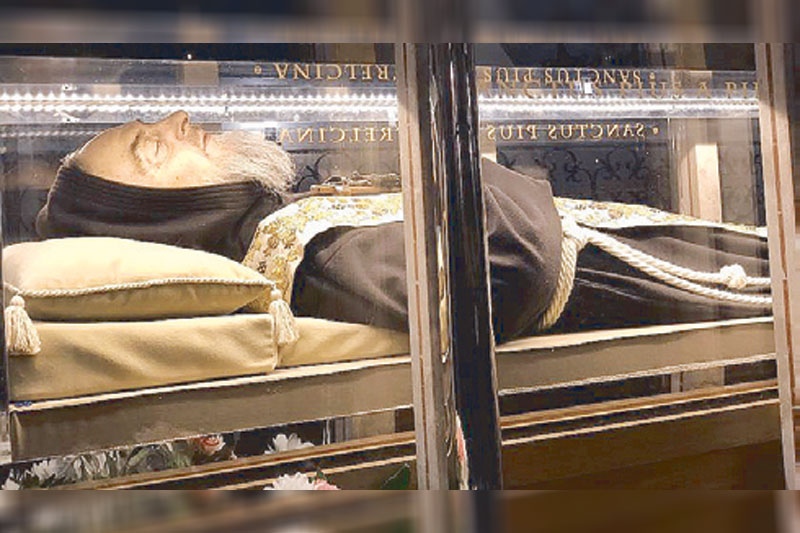 In showbiz, that's certified solid and durable.
Tintin: "Yes, Indeed! Clap, clap, clap!!!"
Julius: "To infinity and beyond!"
How do you make it work?
Tintin: "We are just so attuned to each other's needs. We have so much respect and admiration for each other. We support each other endlessly. Super soulmates talaga."
Julius: "Respect and deep unconditional love fo each other. 'Yun ang pinaka-importante."
What is your guiding principle/guiding light?
Tintin: "With God as our center and anchor of our lives. To have and to hold, in sickness and in health, 'til death do us part. Naks!"
Julius: "Make God the center of your life."
Don't you ever fight like other couples?
Tintin: "We rarely have fights. But we agree to disagree on some issues. We never shout at each other or raise our voices when we discuss something. Cool lang. No drama."
Julius: "More of discussions, not fights. We make sure that we settle issues right away. I can't even remember the last time we even fought."
What do you usually fight/argue about?
Tintin: "We argue about some people in our lives, people who just won't change. Nakaka-frustrate."
Julius: "Kung ang dahilan ay ang isa't-isa, sobrang rare lang kami nag-a-argue. Pero kung ang dahilan ay ibang tao, well, si Tin kasi sobrang mabait to the point na gullible. So, I always guide and remind her para hindi siya mabilis maloko. Not naman to the point that our relationship is affected. I just have to advise her constantly para hindi siya gullible or generous to a fault."
Do you always agree on how the two kids should be brought up?
Tintin: "Most of the time, yes."
Julius: "Yes."
Who is the disciplinarian between the two of you and who's the more liberal parent?
Tintin: "We are both disciplinarian and liberal. Before we talk with either Anya or Nio, Julius and I have a 'couple conference' first so that we are on the same page. Lalo na we have a teenager na. It's challenging to raise children nowadays. Tutok talaga. I am a homeschooling mom, two years already with Anya, and my first year with Nio."
Julius: "Tintin is more of the disciplinarian. Siya yung teacher. Ako 'yung friend or more of kalaro ng mga bata. But when I put my foot down on certain issues, they stop and listen."
Antonio Francesco (Nio) was an answered prayer with the help of now-Saint Padre Pio.
Tintin: "Indeed! Sakto naman Sept. 23 is the Feast Day of Saint Padre Pio. Pray. Hope. Don't worry. Thank you Lord for giving Padre Pio to us, Catholics, to remind us to live a life of prayer. Padre Pio prayed the Rosary 30 to 50 times a day during his lifetime. Kami, as a family, we pray the Rosary nightly without miss."
Julius: "Yes and it's because of you! Remember? During one of our conversations, you randomly told us to visit the Philippine Center for St. Pio Shrine in Libis, Quezon City. I believe you were used by Padre Pio as a channel to reach out to us. Since then, we have become devotees and have actively shared Padre Pio's miracles and his teachings in the media. Tintin was having a problem getting pregnant so we asked for Padre Pio's intercession. We specifically prayed for a baby boy and months later, Nio came into this world! God is good! Padre Pio is good! Padre Pio loves prayer intentions that involve babies and children."
Anything else you can ask/wish for?
Tintin: "Yes, for Nio and Anya to have long, happy, healthy, charitable, spiritual and productive lives. Ever so kind and showing empathy to people."
Julius: "For this pandemic to end. It's as worse as a World War because it victimizes the whole world. I pray for all this evil to end. We lost a lot of our loved ones and friends to COVID. What made 2020 worse was the shutdown of ABS-CBN. People lost access to their favorite TV and radio shows at a time when most people are quarantined in their homes and dependent on information and entertainment. My friends lost their jobs and livelihood. Press freedom is under threat. It's terrible. So pray. Pray unceasingly. Hindi natutulog ang Diyos."
Tintin: "There is such a thing as Divine Justice. We just have to trust and wait."
(To Tintin): When Julius proposed to you during a moonlit night, the song The Way You Look Tonight was playing in the background. What memories pop up in your mind when you hear that song today?
Tintin: "The first time Julius asked me to dance with him, with the movie Father of the Bride as backdrop and that specific scene had the song The Way You Look Tonight playing in the background. So romantic. I was crying at that moment. K-drama feels."
Julius: "Yes. When I played it to Tintin for the first time, we danced. That's when I knew she was the one."
Tintin: "Awww! Eh, 'yun, teary-eyed na naman ako! That was an unforgettable true-to-life scene, not just in the movies. Like a romantic movie scene but played out in real life."
Through the years, have you already fully discovered each other or does the adjustment process go on and on?
Tintin: "As we grow older and enter different chapters in our lives, we change in many aspects…physically, most especially. Andyan na ang wrinkles, grey hair and all! But essentially, our core remains the same: loving each other deeply, being soulmates and best friends, strong spiritual core, anchored on faith and love. Truly, the heart never grows old. Even if it stops beating someday, the soul will continue to love. Na-teary-eyed na naman ako sa part na ito!"
Julius: "Physical change is inevitable. But what's important is the heart and soul. They do not grow old."
What are your common interests?
Tintin: "Movies, travel, food trips."
Julius: "Same."
How how do you compromise on your differences (in preference for music, movies, food, etc.)?
Tintin: "It's a happy compromise. Both of us, we adjust sa trip ng isa't-isa. Minsan, walang choice. Si Julius kasi 'pag nasa Netflix na ako at nanonood na ng K-drama or Grey's Anatomy hanggang madaling araw, na-curious na rin siya! Ako naman, I get to know about all these art, home, sneakers, adrenalin-rush action movies because of Julius. Ang hindi ko lang maatim sakyan eh ang mga horror movies!"
Julius: "I am not into K-dramas, but she loves them. Sometimes, I give in to her requests to watch these series. Like CLOY (Crash Landing On You), one million times na pinanood! Kailangan mo lang sakyan para walang tampuhan. LOL!"
How do you envision life 15 or more years from now, when the kids get married and have their own families away from you?
Tintin: "Ayos na, the empty nest syndrome. I fear it. Nasa-sad ako just thinking of it. But looking forward to our grandchildren someday! Masaya 'yun! When we are already retired, we will all travel together nonstop and check more in our bucket list."
Julius: "Sometimes, I wish that time would move slower. I want to spend more time with my kids as babies, as children. I dread the day when they will feel uncomfortable hugging and kissing us. If there's one good thing this pandemic has given, it has brought families together. Forced them, in a good way to spend more time as a family. Families are now eating together, praying together and getting to know each one better. It kinda made time move a little slower for many of us."
(E-mail reactions at rickylophilstar@gmail.com. For more updates, photos and videos, visit www.philstar.com/funfare or follow me on Instagram @therealrickylo.)