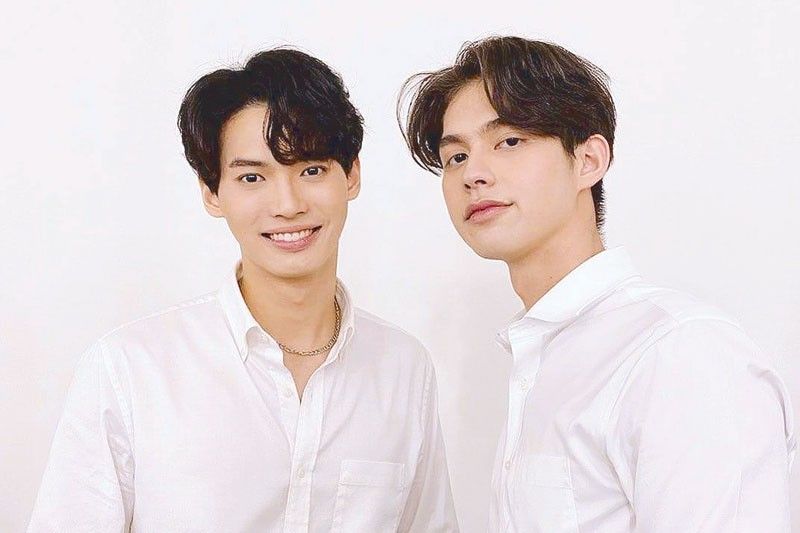 Thai actors Vachirawit Chivaree (Bright, 22) and Metawin Opas-iamkajorn (Win, 20) are 'very thankful' for having international fans, including from the Philippines, thanks to their BL series 2gether. Left: The fast-rising stars entertain questions during their first digital conference with Filipino press and fans last June 26, as hosted by ABS-CBN and Dreamscape Entertainment.
BrightWin on int'l success of 2gether: 'We were lucky everyone was staying at home'
The stars of the popular Thai series 2gether, Vachirawit Chiva-ree (Bright) and Metawin Opas-iamkajorn (Win), readily admitted that the timing of the show's release was a major factor of its success overseas.
Here in the Philippines, 2gether: The Series was one of the shows many tuned in to (outside of perhaps Netflix) for entertainment and stress-relief during the imposed COVID-19 lockdown. It was uploaded by its producer GMM TV on YouTube with English subtitles. Their hit tandem was dubbed BrightWin.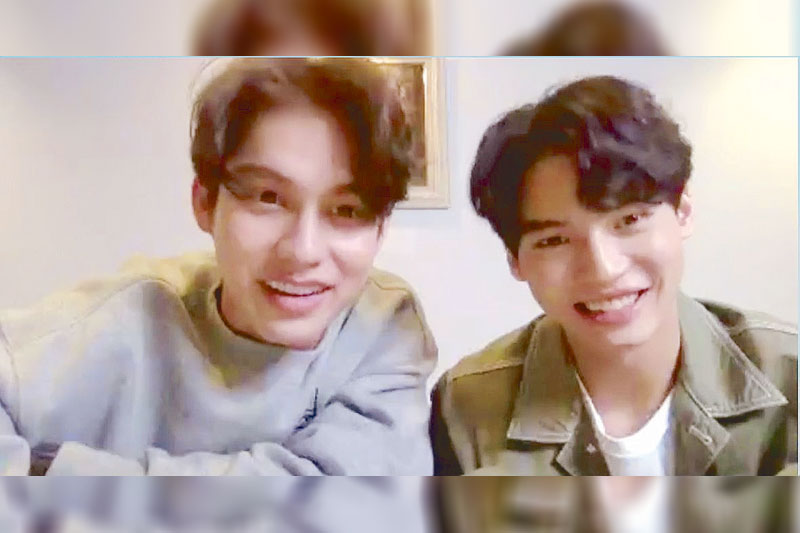 "We were lucky everyone was staying at home (laughs)," said Bright during a digital presscon hosted by ABS-CBN and Dreamscape Entertainment last Friday, June 26.
"But we were happy to help you guys get through this situation," he added, referring to the pandemic.
For those who are not familiar yet, 2gether is a BL (short for "boys love") series, a genre focusing on romantic narratives between the male leads. 2gether tells the story of Tine and Sarawat, two college students who start a fake relationship and fall for each other.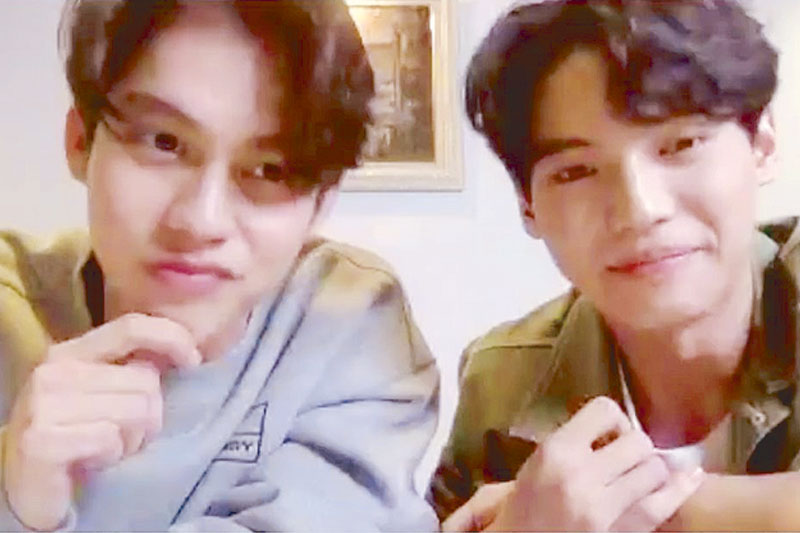 BL as a genre is reported to be around for about two decades, originating in Japan and targeting the female audience, but it was during the ECQ here that it gained traction and became a "top trending topic" because of 2gether (now there are Philippine BL series like Gameboys, Hello Stranger and Sakristan), watched not just by gay viewers, but also straight fans. Why it's patronized and what it means about the Filipino audience are still being debated, while its mainstream appeal still needs some "hard numbers" as some pundits point out.
Nevertheless, ABS-CBN recognized the interest in 2gether and the genre itself by partnering with GMM TV to air the series — dubbed in Filipino — on the new Kapamilya Channel (on cable and satellite TV) and streaming service iWant. This marked the network's first acquisition of titles of the Thai BL genre, after it aired the Thai movie Crazy Little Thing Called Love starring Mario Maurer in 2011.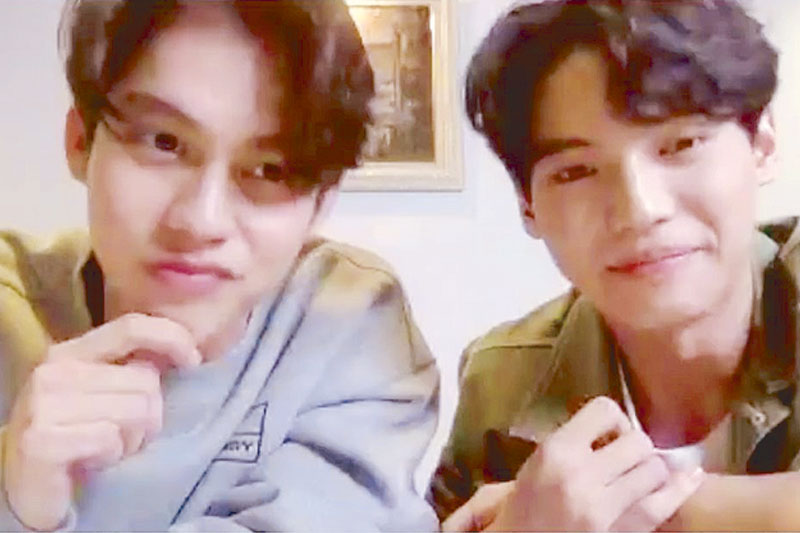 The reception to Bright and Win's first digital conference with Filipino press and fans also says a lot about their fandom. The livestream amassed over 500K combined views.
And entertain the fans they did. They answered some top questions from them, but first some answers they gave to the media.
Here's what The STAR learned.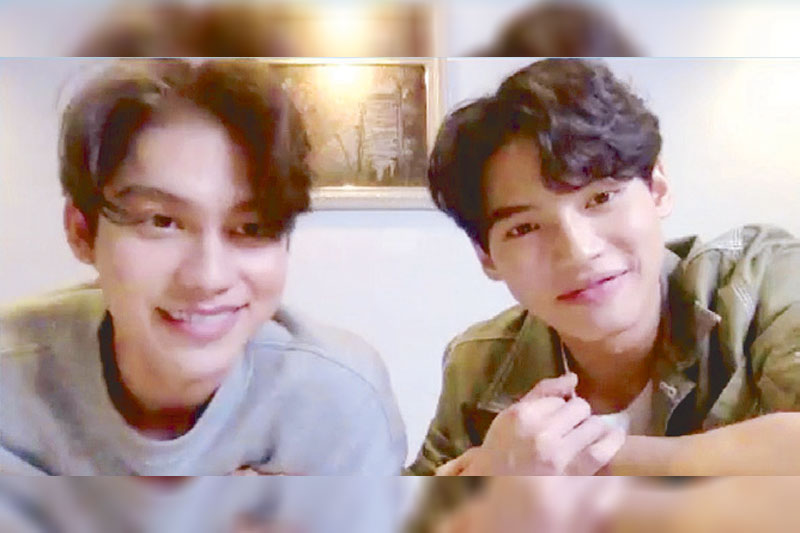 The Thai-American Bright, 22, started acting in 2016, while Win, 20, just debuted as an actor via 2gether.
The actors still couldn't believe they have fans beyond their home country. They're very aware and thankful that they have "so many fans in the Philippines."
Bright said, "Honestly, we were so surprised that we have so many overseas fans."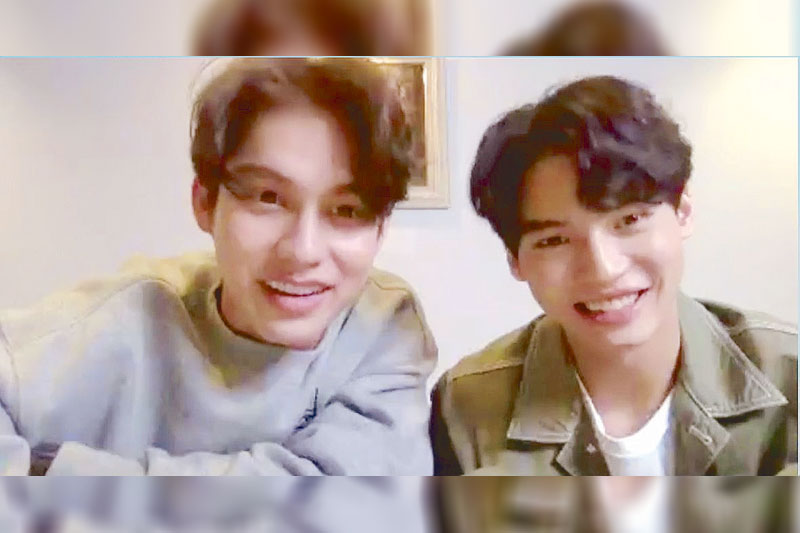 "At first, we didn't expect that we will have overseas fans. We feel very thankful for the fans supporting us," said Win.
Despite the growing fandom, they try not to let the fame affect or change them, and instead to just focus on their jobs.
One thing that's changed though is how they behave on social media. The young stars said they're "more careful about what we post now (on social media) because we have many people watching us, including children. That's why we have to think carefully before we post something."
While they have other dream jobs — Win wants to be an architect, while Bright wants to be a successful singer — they want to continue acting and do other projects beyond the BL genre. Bright would like to do a romcom similar to British film About Time. Win, on the other hand, wants to star in action films ala John Wick.
The two confessed to being family-oriented, and their success so far has made their respective families proud. Bright shared, "I just told my mom that she doesn't need to work anymore. I would take care of her."
"I will continue to work hard so I can support my family," he added.
Win also said, "Me, too. I want to work hard so I can support my family, too. And I want my dad to take a rest."
They also intend to give back to the community. Bright has environmental projects in mind, while Win donated to a COVID-19 project and is looking to support groups that take care of "orphans" in the future.
If they find themselves on a trip to the Philippines, Win wants to see Mayon Volcano and the island-paradise of Boracay.
For Bright, "I want to go there, too. But for me, I have seen this island called Cebu. Because it has a really great diving spot. They have beautiful waves. I want to go diving there."
Now on to the fans' questions, they asked them if they had a magic lamp, what would be their three wishes.
Both said that "first, we want everybody to be happy. And we want everybody to have good health."
Bright: "For the third one, can I have 10 wishes (laughs)? If only one, I want this pandemic to end. Because I want to go overseas now."
How would they like to be remembered by fans a few decades from now?
Bright: "For me, if nobody hates me, that's okay. Just that."
Win: "I think that nobody hates us is good enough."
They ended the digicon with a name for the Filipino fandom.
Bright said, "First, thanks for all the support. I think BrightWin is good enough. Let's just keep it as that. BrightWin, we love that name."
(2gether: The Series has started streaming on iWant for free since June 28.)