England wins Mr. World 2019 in Manila; Philippines lands in top 12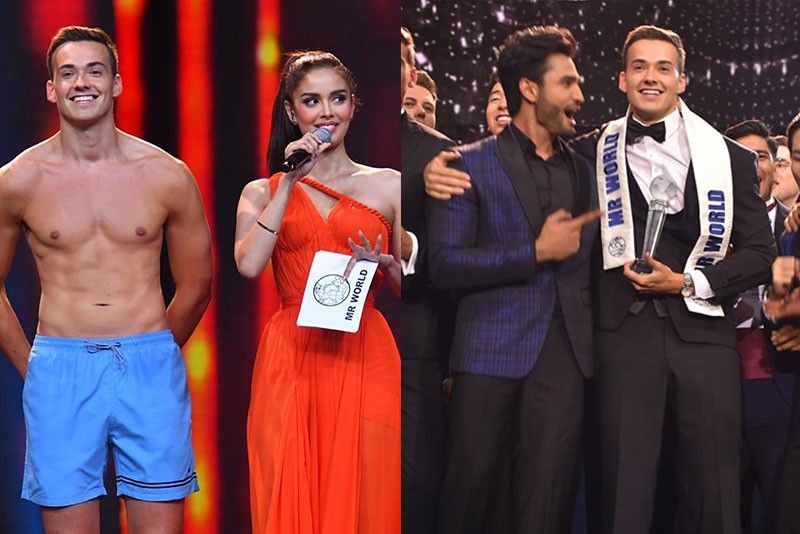 MANILA, Philippines — For its 10th edition, Mr. World has crowned Jack Heslewood of England as the winner during the finals last August 23 at the Araneta Coliseum.
Jack succeeded Rohit Khandelwal from India, who won the last Mr. World title in 2016.
READ: Hunk with 181 IQ is 2019 Mr. World
The Philippines played host to about 70 delegates from around the world in the biggest staging yet of a major global pageant for men.
JB Saliba, our homegrown bet, made sure every foreign delegate felt welcome and comfortable. The Bench model landed in the pageant's top 12 finalists.
Mr. Austria, Alberto Nodale, is a half-Filipino whose mother hails from Laguna.
The handsome, muscular, articulate contestants were presented to the press on August 8 at the Novotel Hotel in Araneta Center. Up close, there were contenders that immediately stood out for their physical appearances, breezy rapport with the press and sheer force of personality.

The contestants, unlike at the usual pageants, did not wear sashes. They instead wore pins of their flags, an inspired idea. But one would do double takes on Czech Republic's Jakub Krau? and Learie Hall of Sint Maarten, constituent country of the Kingdom of the Netherlands in the Caribbean, not to be confused with Saint Martin, the overseas collectivity of France, bear flags resembling the Philippines.

The United Kingdom was split into England (Heslewood) and Northern Ireland (Adam Steenson). Wayne Walsh of Ireland was a press favorite. The French territory of Guadeloupe (Luigy Manyri) was also represented. Denis Pavlevich Khadyko of Russia was from Crimea, a place recognized as part of Ukraine but claimed by Russia.

The Asian sensations---Japan (Kenta Nagai), Kazakhstan (Adilbek Nurakayev), Thailand (Anakin Nontiprasit) and Indonesia (Radityo Wahyu Senoputro)--basked in the warmth of an adoring crowd.

The Hispanics came in hot and heavy---Mexico (Brian Arturo Faugier González), Argentina (Leonardo Díaz Alincastro), Venezuela (Jorge Eduardo Núñez Martínez) and Puerto Rico (José Humberto Cotto Rodríguez).
An enderaing moment happened when Spain (Daniel Torres Moreno) humbly admitted that he could not speak English, and reigning Miss World Vanessa Ponce de Leon offered to translate his responses to press questions.

The hulks and hunks caught attention quite early. They included representatives from Montenegro (Nemanja Kaludjerovi?), Oliver Staykov of Bulgaria (on the radar because his countryman, Daniel Georgiev, recently won Man of the World 2019 also in the Philippines), Kenya (Robert Cula Budi), Korea (Na Gi-wook) and Dominican Republic (Alejandro Martinez).
Cameroon (Makala Nganda Courtez) is a tall drink of chocolate. Lebanon (Jean-Paul Bitar) has a lethal charm. Russia, at 6-foot-6, is a tattooed tower of a man.

Also making the giddy guests swoon were the model types, the pretty boys who can be covers of magazines and stars of brand campaigns. Bosnia & Herzegovina (Darko Milovi?), Serbia (Nikola Bo?anin), Equatorial Guinea (Joselayt Ebana Miko), South Africa (Fezile Mkhize), Mauritius (Alexandre Curpanen), Brazil (Carlos Wilton Teodoro Franco) dazzled with their presence.

The crossovers should not be ignored. Their experience from previous pageants would give them an edge on how to play the game. England's Heslewood was Top 15 at Manhunt International 2018; Latvia's Edv?ns Lo?melis competed in 2011 at Mister International, where Czech Republic's Jakub Krau? was Top 5 in 2015 and Spain's Daniel Torres Moreno was Top 9 in 2016.
Mr. Supranational 2017 had Ethiopia's Tewolde Kiflom Bekele. At Mister Universal Ambassador 2016, Dominican Republic's Alejandro Martínez was Top 5 while in 2017, Sweden's Johannes Leonidas Ulmefors was second runner-up. At Mister Model International 2018, Italy 's Marco d'Elia was first runner-up.

Our Mister World Philippines may be one of the shortest candidates, when most breach above six feet, but he packed the biggest smile and is genuinely happy to play the gracious host.
Christopher Celis was our first rep, in 1996. He was followed by Rico Lee Miguel (1998), Roderick Dilla Salvador (2000), Marco Antonio Tamayo (2003), Emmanuel Mago (2007), Alvin de Joya (2010), John Spainhour (2014) and Sam Ajdani (2016). Our highest placement was courtesy of Andrew Wolff, who was first runner-up in 2012.