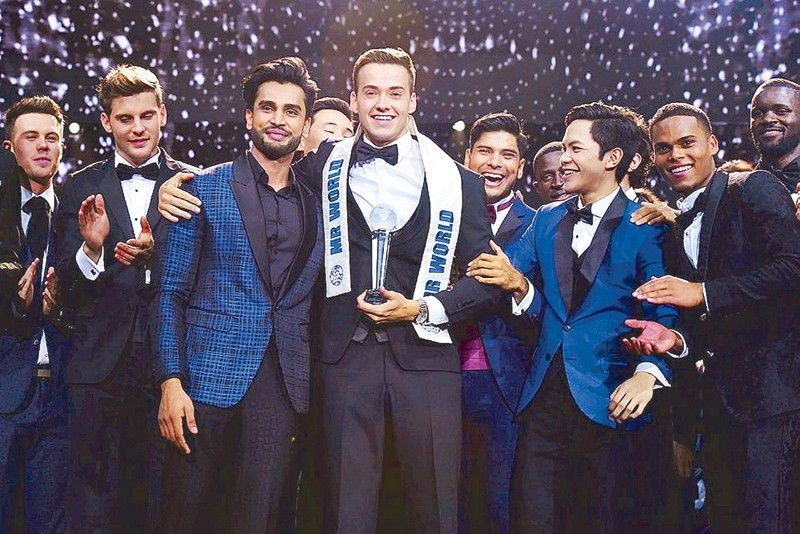 Aerospace engineer Jack Anthony Heslewood of England won Mr. World Friday night (Aug. 23) at the grand finals held at the Smart Araneta Coliseum. To his right is 2016 Mr. World Rohit Khandelwal of India, along with the other contestants.
Photo by Mr. World Org
Hunk with 181 IQ is 2019 Mr. World
MANILA, Philippines — Jack Anthony Heslewood, 27, from Bishop's Stortford, Hertfordshire, England, became the 'World's Most Desirable Man' after he was proclaimed 2019 Mr. World during the finals held at the Smart Araneta Coliseum on Aug. 23.
He inherited the title from India's Rohit Khandelwal who won in 2016 and reigned for three years.
Heslewood defeated 71 other candidates from the same number of countries. He was adjudged Best in Barong Tagalog during the Charity Gala Fashion Show at Novotel on Aug. 21.
With an IQ of 181, he's an Aerospace Engineering graduate from the Kingston University and completed a Business diploma at Stanford University. He was 2017 Mr. Hertfordshire, 2017 Mr. England first runner-up and was named Best Runway Model and top 16 semi-finalist in the 2018 Manhunt International held in Gold Coast, Australia.
For the meantime, he gave up his lucrative job as a rocket scientist to become a successful full-time ramp and commercial model. A sports enthusiast, he's a runner, swimmer and cyclist and had participated in Ironman Switzerland in 2017. On the side, he's an entrepreneur doing business on advance technology.
It is interesting to note that Jack Anthony is the younger brother of 2013 Miss England Kirsty Rose Heslewood who was a top 10 semi-finalist in the 2013 Miss World won by homegrown beauty Megan Young in Bali, Indonesia on Sep. 28, 2013.
South Africa's Fezile Mkhize was first runner-up, Top Sportsman and Mr. World Africa while Mexico›s Brian Arturo Faugier Gonzales was second runner-up, Top Model, Mr. Photogenic and Mr. World Americas. Rounding up the top 5 were Alejandro Martinez of Dominican Republic (also Mr. World Caribbean) and Carlos Wilton Teodoro Franco of Brazil.
Meanwhile, Philippine bet JB Saliba managed to enter the top 12 round and was named one of the continental winners, Mr. World Asia Pacific. Other special awardees were Alberto Nodale of Austria, Mr. World Europe; Wayne Walsh of Ireland, Extreme Challenge; Akshay Jung Rayamajhi of Nepal, Multimedia Challenge and Mikaele Henry Ahomana of Tonga, Top Talent.
2013 Miss World Megan Young and Kapuso actor Mikael Daez hosted the affair produced by ALV Productions headed by Arnold Vegafria. Judging panel included Miss World Org. chairperson Julia Morley, Miss World winners Vanessa Ponce of Mexico (2018), Stephanie del Valle of Puerto Rico (2016) and Ksenia Sukhinova of Russia (2008). Entertainment numbers were performed by Viva artists Kris Lawrence, Kim Mugford, and Alyssa Muhlach.