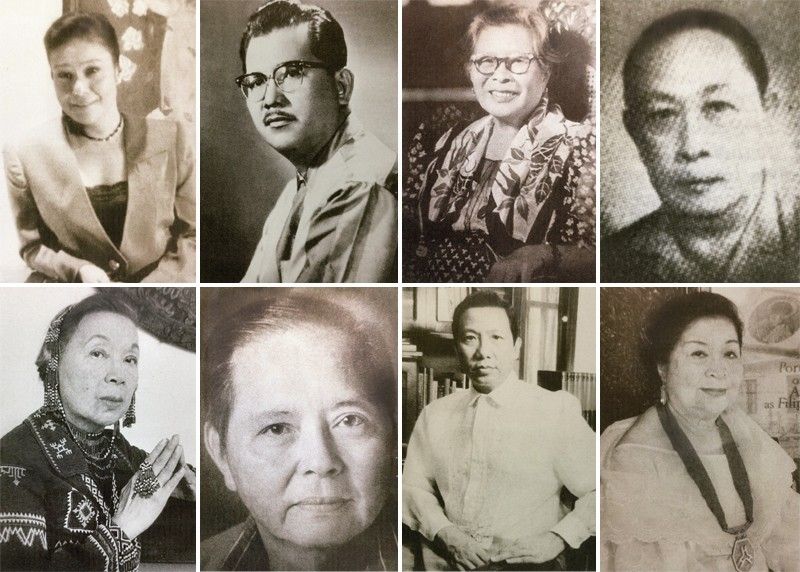 Clockwise from upper left: Nora Aunor, Dr. Jose R. Perez, Doña Narcisa Buencamino vda. de Leon, Constancio de Guzman, Naty Crame Rogers, Nicanor Tiongson Luis Araneta, Rosalinda Orosa
Parangal Sentenyal sa Sining at Kultura
REMEMBER WHEN?
-
Danny Dolor
(The Philippine Star) - July 14, 2019 - 12:00am
On Feb. 2, 1999, the Cultural Center of the Philippines and the National Centennial Commission honored 100 outstanding Filipinos in various fields of arts and culture, literature, journalism, music, cinema, theater, dance, painting, architecture, among others.
The event carried messages from President Joseph Ejercito Estrada and Dr. Salvador Laurel, former Vice President and chairman of the National Centennial Commission.
Remember When? features eight of the 100 awardees, recipients of the Parangal Sentenyal sa Sining at Kultura, marking the 100th year of Philippine Independence.
Nora Aunor — Superstar of local movies, admired by colleagues and the masses. Actress without equal.
Dr. Jose R. Perez — Builder of Stars, among them Gloria Romero, Nora Aunor, Lolita Rodriguez, Dolphy, Susan Roces, Tessie Agana. Sampaguita Pictures producer.
Dona Narcisa Buencamino Vda. de Leon — The movies she produced for LVN are reflective of the mores, taste and culture of Filipinos.
Constancio de Guzman — Composer of immortal songs, the most memorable of which include Bayan Ko, Maalaala Mo Kaya, Babalik Ka Rin, Ang Tangi Kong Pag-ibig.
Rosalinda Orosa — Critic, essayist and journalist. Her coverage of the arts brought to national and international attention the distinguished talents and potentials of the Filipino artist.
Luis Araneta — Art patron and collector, pioneer in art preservation. His untiring promotion of Filipiniana art inspired interest in Philippine culture.
Nicanor G. Tiongson — Cultural administrator and scholar, pioneer in the mergence and creation of the pro-Filipino view of Philippine culture.
Naty Crame Rogers — Actor, director and educator. Organizer of traditional and alternative theater groups. — RKC