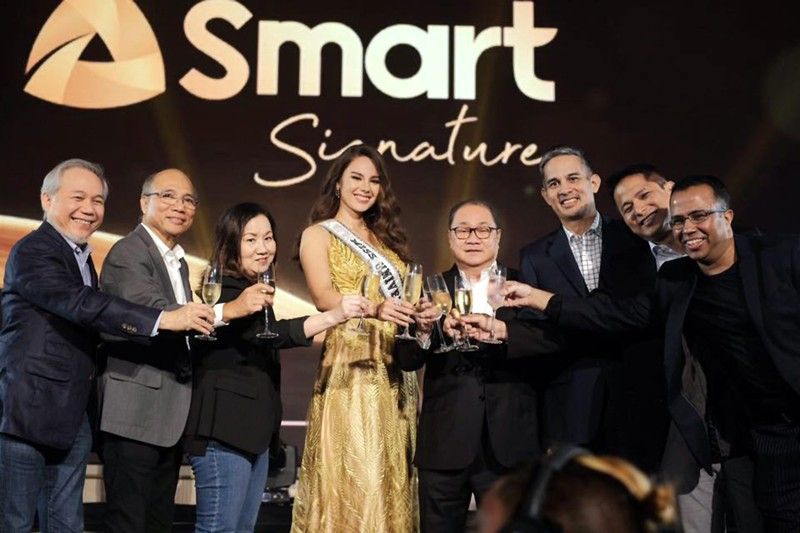 Miss Universe Catriona Gray (fourth from left) and PLDT chairman and CEO Manny V. Pangilinan (fourth from right) with (from left) Meralco president and CEO Ray Espinosa; Smart co-founder and CEO of Voyager Innovations and PayMaya Philippines Orlando Vea; PLDT-Smart People group head Gina Ordoñez; PLDT-Smart chief revenue officer Al Panlilio; PLDT-Smart SVP Oscar Reyes Jr.; and PLDT-Smart chief product and consumer value management advisor Muhammad Ali.
MANILA, Philippines — Covering product launching of fastidiously designed, if, high-end smartphones was like entering the set of Martin Scorsese's The Wolf of Wall Street.
The night's color was black and the music was raunchy, even provocative as dancers gyrated in a sea of strobe light.
PLDT president and CEO Manuel V. Pangilinan (MVP) entered with proper escort and trailed by TV cameras. His aura was always congenial and surrounded by millennials and their music, he set the tone for the evening. The company had something new to offer and he was behind it.
Out of the blue, another music was played and here came Miss Universe Catriona Gray wrapped in gold fabric sashaying her way on stage with a touch of pure élan and infinite grace.
One caught up with her spiels and one was particularly quotable. "No two journeys are the same," said she. "Don't compare yourself with others. We are all unique in our own way."
Friday night with bad traffic and a hint of rain, PLDT mobile services arm Smart Communications introduced what it described as a "reimagined postpaid experience that puts customers first with the launch of Signature Plans."
Smart underlings explained the new product as something perfect for goal slayers who need a plan that can keep up with their fast-paced lifestyle. It is going to be a worry-free and in control in-control mobile experience for customers.
Then MVP along with Smart executives joined Gray in a photo op that launched what it calls the "prioritized" network experience.
Added Oscar Reyes Jr., PLDT-Smart SVP and head of Consumer Business Market Development: "This is our way of catering to a new generation of goal slayers who need a plan that prioritizes their needs while they are busy ticking off milestones in their career or life."
And so, one left this millennial product launching and quite aghast that one could be in the company of goal slayers who aim deliberately high.
You know this was one of those showbiz events keeping millennials on the go with host Raymond Gutierrez interviewing the Miss Universe as though he had known her all his life.
It is enough to make you wish you have one of those smartphones with the latest flagship handsets bursting with big-sized allocation for data, calls and texts.
It is enough to ward off thoughts that — like someone wise wrote — this product could be another addictive device which traps a soul into a lifeless planet full of lives.