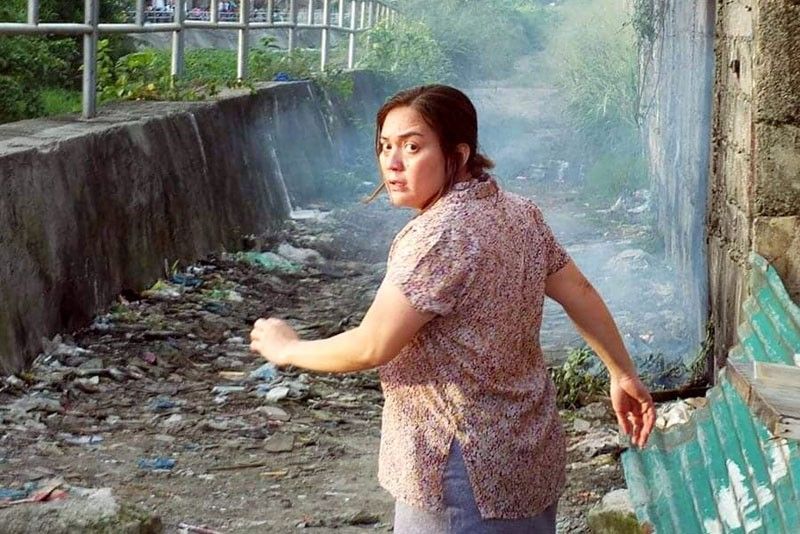 Sylvia Sanchez as Jesusa in the film of the same title. The eyes expressed it all.
Film review: Jesusa
MANILA, Philippines — Many things work in favor of Ronald Carballo's Jesusa, an entry in the recent edition of the Sinag Maynila Film Festival.
It has a realistic setting that makes production design less onerous.
It has a fairly good ensemble composed of Allen Dizon, Malu Barry, Mara Lopez, Vince Tanada and Beverly Salviejo, among others.
As you wind up your viewing on this hot summer night, it is obvious it has a lead star that quietly shines on her own and fully in control of her character.
That simply sums up Sylvia Sanchez's portrayal as Jesusa in the film of the same title. She has very little dialogue but as she interacts with the ensemble, you see an actress honed by experience and good instinct and gradually carving a character that need not be a caricature as seen in today's teleseryes. Truth to tell, she acquits herself very well but the story deprives the audience of that memorable moment when her quiet rage explodes into anger and then evolves into quiet acceptance and forgiveness. This is the crucial scene when Jesusa looks at another daughter of philandering husband and embracing her out of maternal instinct.
That moment would have been the sole reason for the existence of that film. It would have been a timeless moment of compassion and final redemption for Jesusa.
But as the director would have it, she aimlessly meanders after that scene and visits the place where she underwent the ultimate degradation and vanishes into thin air as tongues of fire end her worldly existence.
Jesusa has a fairly good script but its execution also needs good editing. That long introduction defining the location is indeed moments of unnecessary boredom. That rape scene should have been shortened because there is a kid looking at the scene with shock and disgust.
In the hands of another director, Carballo's story will likely be fine-tuned and can still be transformed into something visually stimulating.
From what we know, this is Carballo's debut as a film director. His vision doesn't escape the viewer's eyes but his kind of storytelling leaves the audience restless and poignant moments lost in the process.
Dizon as the philandering husband turns in a good portrayal matching Sanchez's stoic character. Tanada manages to give audiences a slice of the character of a good neighbor. Uno Santiago carved a good portrayal of a good son Jesusa never had.
But as it is, the main character went through so much and her life you won't wish on your friends and neighbors. After so much suffering, the character ends up the big loser and with a storyteller not keen on giving her an ounce of redemption.
Sanchez is one of two Best Actress awardees in Sinag Maynila filmfest awards night for her role in Jesusa.
The trophy is well-deserved but we thought after going through so much, the character needs a more redeeming ending.
In 2015, my only choice for Best Actress in Sinag Maynila filmfest was Ces Quesada (Imbisibol).
After watching Jesusa, my only choice as Best Actress is Sanchez.
Her portrayal found a perfect setting which is reminiscent of Lino Brocka's Insiang and Ishmael Bernal's City after Dark.
Jesusa, produced by Oeuvre Events and Production Management, is still showing in selected cinemas.