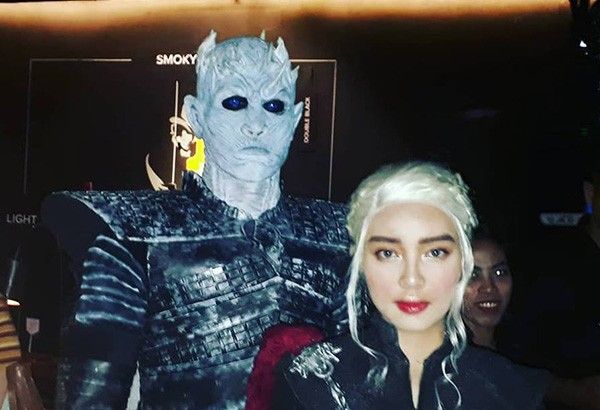 Filipino cosplayers portraying the Night King and Daenerys during a "Game of Thrones" viewing party organized by Sky Cable in Makati on Monday.
Philstar.com/Deni Rose M. Afinidad-Bernardo
#FortheThrone: Filipino fans vote who should win 'Game of Thrones'
MANILA, Philippines — Who will win the battle for the Iron Throne?
If according to an AFP report Bran Stark (Isaac Hempstead-Wright) is the current favorite in New York, with King in the North Jon Snow (Kit Harington) and Mother of Dragons Daenerys Targaryen (Emilia Clarke) "also very much in the conversation," in Manila, Filipino "Game of Thrones" fans have also spoken.
During a Season 8 premiere viewing party organized by Sky Cable in Makati on Monday, the press and some fans of the series were asked to cast their votes on who among the drama series' major players should win the Iron Throne.
Here are at the top of fans' list:
Daenerys Targaryen
The "Mother of Dragons," who just showed Winterfell her massive army and artillery, is at the top spot among fans to win the saga.
The season's second episode, titled "Stormborn," which is one of her many monikers, will probably reveal more about her.
Jon Snow
Now that the "truth" has been revealed to him, what will he do? Will he change his name (and hairstyle)?
Will he still fight for Daenerys? Are they really going to have a love child that will also be born during a storm? If this happens, is their child going to be blonde or brunette?
The Night King
Thanks to fans' prophesies that Bran Stack is behind the Night King, many Filipino fans are also now rooting for the living's ultimate nemesis.
That is if Bran can really control the Night King's mind. But what if he can only read it and still remains an enemy of the undead?
Cersei Lannister
With Jamie away, Cersei got to play… with fire!
It's surprising that the Night King is even more popular than her among Filipino fans, and that means the actress that plays her, Lena Headey, must be good at keeping her bad.
Fans might be beginning to bite into predictions that the show's think-tank and also a top favorite, Tyrion, would be the next to die in the series, which probably explains why Cersei still has some nods to keep the throne. But that remains to be seen.
Apart from those in the viewing party, Filipino Twitter fans have also cast their votes (ahead of the May elections). Right after the season premiere on Monday, hastags related to the series filled Twitter's top 10 topics for the day.
According to Twitter's top trends, Bran Stark is Filipino Twitter fans' top choice to win the throne, followed by Jon Snow, Arya Stark, Sansa Stark and Daenerys Targaryen. Jaime Lannister was also in the top 10 most trending.
"Game of Thrones" Season 8 airs every Monday at 9 a.m., with a replay at 10 p.m., on HBO.