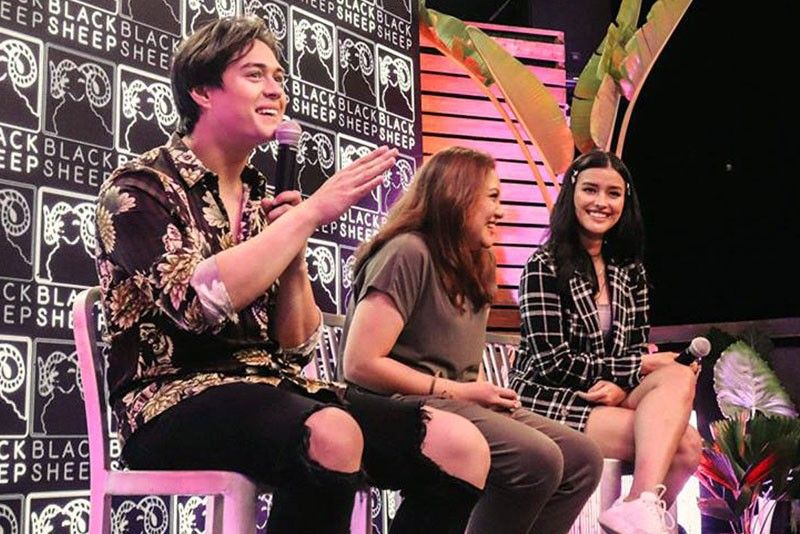 Direk Antoinette Jadaone (center) with Alone/Together stars Enrique Gil and Liza Soberano: From college life and beyond
Direk Antoinette: Once upon a campus life
MANILA, Philippines — Direk Antoinette Jadaone's latest romance film Alone/Together has a campus setting with the trailer showing the lead stars seated on a bench overlooking what looks like University of the Philippines (UP) Diliman's Sunken Garden.
It is enough to get her to reminisce her campus days in what was once known as The Diliman Republic. Someone asks her if her film writing in the latest project was influenced in any way by her campus life? What does she think of UP students turning revolutionaries? Did she once harbor an idealistic viewpoint on the way to finishing a university course?
The director takes a long pause as she tries to recall what's left of that campus life. "Once in your student life," she admits, "you want to change the world. You want to make it a better place to live in. But I suppose, it is better said than done. When you leave the campus, it is a totally different world altogether. It's like falling in love for the first time only to end up facing an uncomfortable reality after a breakup. That is why my latest film is about a relationship that has evolved from the campus to the outside world. It is a more mature film in the sense that the characters have outgrown their school mindset and are more in touch with the world as we see it now."
Turning to her actors Liza Soberano who plays Christine Lazaro, the aspiring museum director, and Enrique Gil who is Rafael Toledo, the carefree med-tech student, direk Antoinette has to go back to school literally to get the real feel of his story.
They visited the University of Santo Tomas campus and interacted with the students while Enrique as the med-tech student had to do actual immersion from Philippine General Hospital to East Avenue Medical Center.
Adds the director: "This is a more mature role for Enrique (Gil) and Liza (Soberano) in the sense that their characters have gone through the first phase of love and years later after breaking up, they find themselves reconnecting. They have left the campus and are now living in a real world with real problems totally detached from the campus notion of romantic love."
The actors admit the campus was a scary test for their young lives. "I am not the type who'd enter the best schools just to prove myself," says Liza. "I cannot see myself as a lawyer but more like a psychologist and I hope to pursue (it) when I am done with showbiz."
Surely, the director herself must have evolved from the label "breakout romantic comedy director of 2014" to a more discerning one wary of marketing labels.
Will her new outlook retain its box-office clout?
As writer-director, she insists on doing something beyond a love story that everyone knows.
She likes to write and rewrite and hone her characters to that critical phase after going through disillusionment.
Her last word: "What I learned in the last 10 years is that cinema is a powerful medium. Hence, I cannot be content with the common story of romantic flings. I have to show something beyond that stage, something that I know will enable characters to come to terms with themselves."
Alone/Together — produced by Black Sheep and also starring Sylvia Sanchez and Nonie Buencamino — opens today in cinemas.