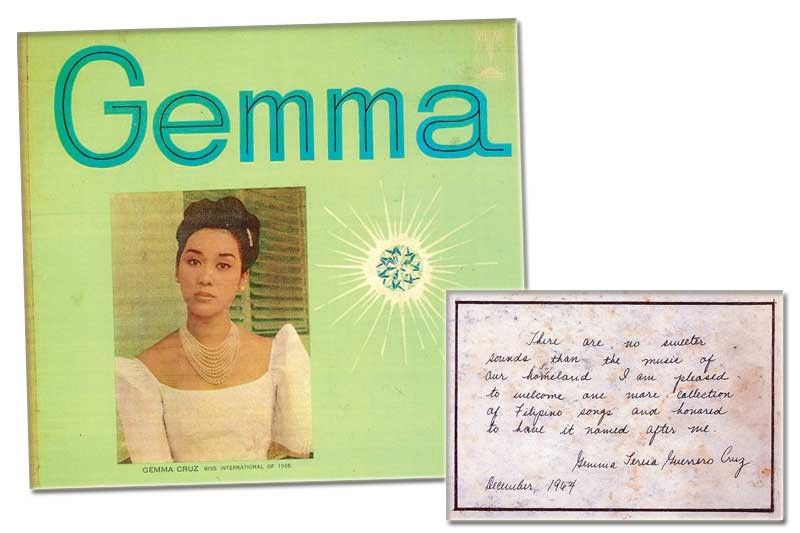 Gemma Cruz is the very first Filipina to win an international beauty title: Miss International of 1965. Actually, she won the title in California in 1964, but her reign as Miss International started the following year, 1965.
As expected, Gemma was warmly welcomed in Manila as a conquering heroine. She was feted, honored everywhere in the country.
One of them was a long-play album simply titled Gemma, with 12 songs sung by Ruben Tagalog, accompanied by Leopoldo Silos and his Orchestra.
The songs, starting with one simply titled, Gemma, followed by Iibigin, Mamahalin Kita, Ngayon at Kailan Man, Isang Taon, Di Na Mauulit, Pusong Naulila, Ito ang Aking Daigdig, Hinala, Sawing Palad Ako, Hindi Niya Nalalaman, Ikaw ang Buhay Ko, Nang Ikaw'y Malayo.
The long-play album carried a sweet handwritten note from Gemma. It reads: 'There are no sweeter sounds than the music of our homeland. I am pleased to welcome one more collection of Filipino songs and honored to have it named after me.'
It is signed: 'Gemma Teresa Guerrero Cruz December 1964.'
The long-play album also carried an article penned by Luisa Ma. Trinidad, dated Nov. 17, 1964.
Here it is:
'No other event in the year 1964 has fired the imagination, stirred the national pride, and stimulated artistic and cultural interest of the Filipinos more than the spectacular victory of Gemma Guerrero Cruz as Miss International of 1965.
'Her regal beauty, so typically Malayan and yet truly international appeal…her poise, education and self-evident dignity…her 'magnificent disrespect for money' (as one equally famous newspaper columnist phrased it)…her genuine and every personal concern for Boys Town…and the inner beauty that could not help but radiate from her and set her apart from ordinary beauty queens who were merely pretty and glamorous in a purely physical sense…all these qualities worked like magic to build up overnight an image so distinctive and grand that Gemma has become a household word and everyone will swear that she shall become part of history.
'The event naturally triggered off an avalanche of artistic works — poems, short stories, musical compositions. Everyone of them an eager, sincere and conscientious effort to produce an artistic tribute to her beauty and stature. And everyone of them really inadequate in the sense of doing full justice to the greatness that is Gemma. Like each of these attempts, this album — we admit right off — must likewise be inadequate. But like all others, there is almost a compulsion to express in some way or another, in this case musically, the admiration and regard which all Filipinos necessarily feel for our own Miss International.
'It is therefore in this spirit of humility that we offer this musical bouquet. The songs herein incorporated will have to speak for themselves. We hope everyone will understand that these compositions — where they would normally be presented with pride — are now being proffered as a modest but very sincere tribute to Miss International of 1965, the Philippines' very own — Gemma Guerrero Cruz.'
To date, Gemma remains as beautiful and gracious as ever. She remains active in the fields of art and culture, literature and journalism. — RKC