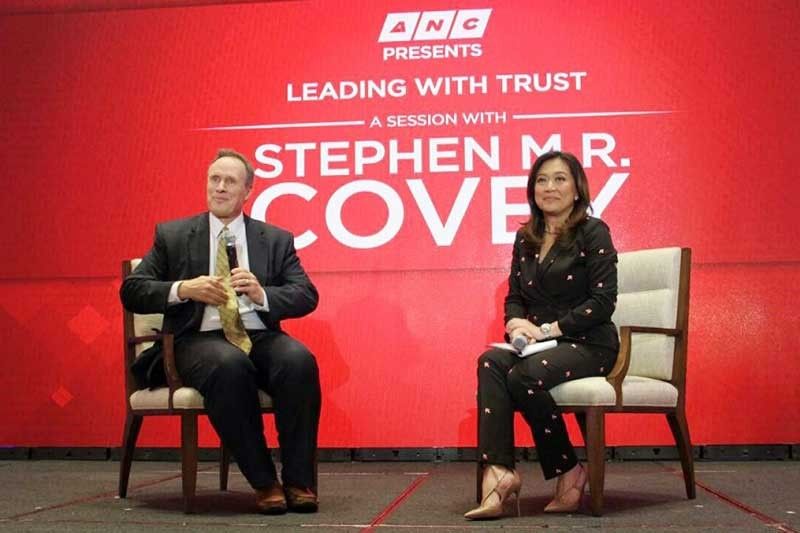 Stephen (with Karen Davila) explains how trust can have an economic impact on organizations
ANC brings Stephen M.R. Covey to Manila
The concept of trust is deeply-rooted in Filipino culture. As a people, we are known to put our trust in God, our family, and our friends, especially when it comes to personal matters.
However, for world-renowned leadership guru Stephen M.R. Covey, trust is more than just a valuable religious or social virtue. He believes it is also the most important currency in business, and a key to achieving financial success.
Stephen expounded on this topic in the recent Leading with Trust: A Session with Stephen M.R. Covey workshop organized by ANC, the ABS-CBN News Channel at Dusit Thani Manila.
With business executives, organizational leaders and HR professionals in attendance, the best-selling author of the book, The Speed of Trust, explained thoroughly how trust can have an economic impact on organizations.
"When trust goes down in a team, in a company, in a culture, the speed goes down with it. Everything will take longer, and the cost will go up. When the trust goes up in a relationship, on the team, in the company, with the customers, in society in any circumstance and relationship, here's what you find: The speed goes up. Everything will happen faster, the cost will go down. Speed happens when people trust each other. That is the speed of trust."
Building a culture of trust in companies, of course, falls on the shoulders of the leaders. That's why he said, trust should be the No. 1 competency every leader should possess, for having confidence in one's people encourages them to be innovative, creative and able to trust others as well.
"I've seen many managers on that track where they say 'it's too risky to trust people. I'll just do it myself.' If we don't trust people, how will we engage them? How can I collaborate, innovate and create? How are we going to inspire them? How are we going to be a team? We can't do any of those unless we invest in trust. So yes, you can trust too much and get burned. But you can also not trust enough."
To help the attendees have a better grasp of his trust framework, Stephen led a workshop wherein the audience discussed and reflected on different concepts in trust leadership based on their experiences in their own organizations. These included "the four cores of credibility" and "13 behaviors of high-trust leaders," which detailed how leaders can inspire and extend trust.
"To be a trusted leader or organization, you must be credible for the stakeholders. You have to earn their trust by having integrity, intent, capabilities, and of course, results," stressed the leadership guru, who is the son of Dr. Stephen Covey, the famous author of the book, The 7 Habits of Highly Effective People.
During the moderated forum with journalist Karen Davila, Stephen was able to explain the concept of trust leadership further as applied in real-work situations. Asked how it is to trust someone who has betrayed you, he said it is important to practice "smart trust," or being open to trusting again but maintaining good judgment.
"Separate the person from the behavior. I don't attack the person, instead, I address the behavior and then I make a behavior-specific request of what I want him to do. The point is you get him to an opportunity to do that," he said.
Another guest asked how it is to handle conflicting views with co-workers. Stephen answered that understanding does not mean agreeing, but trying to see things from another perspective.
"The strength of understanding is that person will receive your viewpoint differently if they feel understood about their viewpoint," he said.
To wrap up the session, Stephen had one last reminder to the audience. "Don't blame on others. Be the change. Yes, it takes two to trust but it takes only one to start and each one of us can be that one."
Stephen is the fourth international speaker brought by ANC to the Philippines in the past three years as it aims to raise the level of discourse on pressing world issues in the country.
ABS-CBN Integrated News head and ANC managing director Ging Reyes said his talk is very useful and relevant for organizations in this age of "disruption, negativity, doubt and distrust."
"It's important to build a culture of trust in organizations whether you are in the private sector, in media, in government, or even if you are just a small team. It's important to remember how character and behavior help in the building of trust and in making sure that members of your team are on the same page," she explained.
Karen, who was on her second time moderating an ANC forum, added that it is important for leaders to continue learning and finding ways to improve their organization.
"The enemy of growth is lack of innovation. And that's powered by people," she said.
Learn more about trust leadership as ANC will soon air the award-winning journalist's one-on-one interview with Stephen in Headstart with Karen Davila.