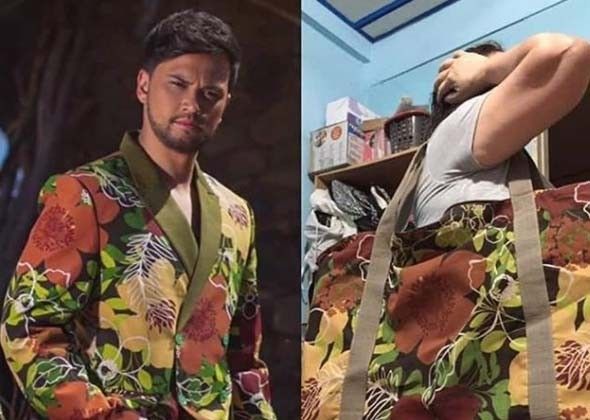 Celebrity couple Billy Crawford and Coleen Garcia caught the netizens' attention when their prenup photos went viral on social media over the weekend.
Instagram/Billy Crawford
Billy Crawford reacts to netizens comparing prenup outfits to similar prints
MANILA, Philippines — Over the weekend, celebrity couple Billy Crawford and Coleen Garcia caught the netizens' attention when pictures of their prenup went viral on social media.
It was taken in Ethiopia, Africa, where the couple wore colorful prints that were conceptualized by stylish Adrianne Concepcion.
However, one Facebook user shared a picture of her mother who had a bag that shares the same print of Billy's outfit.
Janelle Payumo wrote, "Pangprenup ni billy, bag lang ng nanay ko HAHAHAHAHAHAHHAHAH."
It caught the television host's attention, who shared the same picture on his Instagram account and simply captioned it with, "Goodnight y'all."
He added an amused emoji to emphasize his delight.
Another Facebook user named Rhum Lee Homrich also shared a picture that showed the same print as a sofa cover.
Homrich jokingly wrote that Payumo's picture had nothing against him.
Billy also took note of his reaction and wrote through his Instagram, "All around pala ang telang eto..."
He also shared a picture of Regine Velasquez as she hugged a throw pillow that had the same print as well.
He tagged the singer in his post and wrote that it was an "official #songbird unan" (pillowcase).
The outfits of Coleen didn't escape his attention, where he shared her pictures juxtaposed against a pillowcase, a bag, and what appeared to be a blanket or a bed sheet.
It was evident that the host was entertained at the netizens' posts. It featured their prenup outfits being pitted against regular items that brought to attention the case of who wore it better.
Their stylist, Concepcion, said that the concept came after realizing that they do not have "specific African prints" to showcase the native Ethiopian fabric.
Thus, she enabled her local designers to create their own interpretations of the prints and gave them "creative liberty," according to her reply in an Instagram direct message to Philippine Entertainment Portal (PEP).
Concepcion noted that Billy's coat was designed by Ryan Uson.