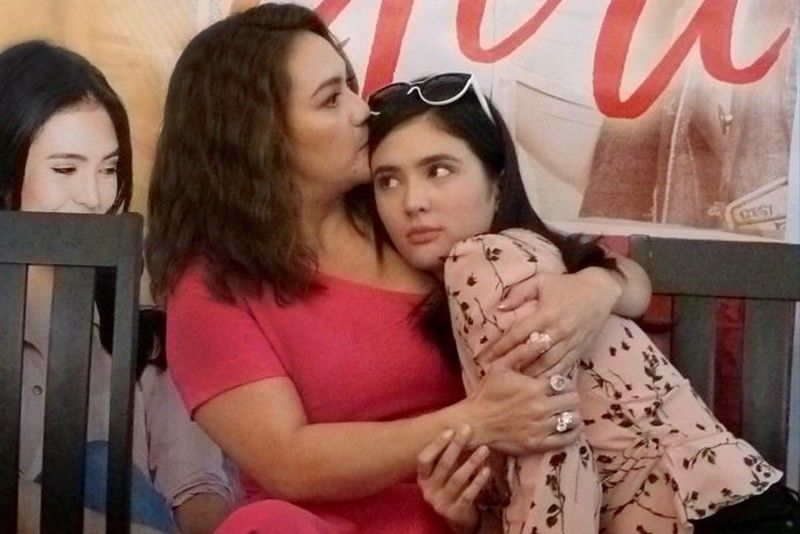 Sylvia Sanchez (left) and Sofia Andres in a scene from the film. Good portrait of a mother in the digital generation.
Film review: Mama's Girl Lessons from a millennial's mother
MANILA, Philippines - Those who have closely followed Sylvia Sanchez in the top-rating teleserye The Greatest Love and now, Hanggang Saan will see another type of mother in Mama's Girl.
In all the three, there is an image of the mother who cooks very well from the warmth of her abode to her carenderia.
In the New Year offering of Regal Films, the mother is not too old looking, not too conservative and a little bit more informed about how millennials live. Still, there is a level of tolerance on the mother's side that separates the open-minded and the old school of motherhood.
Thus, you see a younger-looking and a more hip mother who can see through what her daughter's growing-up pains, be it love or career choices.
Indeed, you can't find any trace of this mother in the teleseryes where her role is most loved.
In her latest film, Sylvia has gone over the fence in the world of millennials going gaga over corporate dreams.
This is my first viewing of a Connie Macatuno film and she delivers with simple storytelling that hit the emotional mark without fanfare. Although the big moments always get drowned by too much musical scoring, the film registers very well and paints a good portrait of matriarchs of the Internet generation.
In Mama's Girl, Sofia Andres takes the big role of reliving life with a mother who succumbs to ovarian cancer. Her growing-up pains are tenderly chronicled. When it is time to live her own life, she discovers a letter from her mom asking her to do essential things for her life. Everything was in that yellow box and as the story goes, she moves on from disappointments with first love and becomes a level-headed entrepreneur.
Sofia registers beautifully on screen and lives up to the part. But one felt she could have given more. Or did I just see a sampling of millennial angst that is neither moving nor essential?
As for Sylvia, her portrayal is a big departure from her mother martyrdom image in the teleseryes she is identified with — obviously due to their popularity on television.
In Mama's Girl, her new role cares a lot, too, but hews closely to the lifestyle of today's millennials. She departs from her carenderia owner portrait to that of a pasta restaurant owner with her own original recipes.
In the end, the mother of a millennial leaves a good lesson on love and career and moving on from difficult trials. In this sense, La Sanchez has left her title as Queen of Tearjerkers to become a well-connected, if, liberated mother of a confused millennial. Her transformation leaves one in awe.
No doubt it, the film gives birth to a very refreshing love team in the person of Sofia and Diego Loyzaga. The third party — portrayed by Jameson Blake — does very well, too, without the hysteria.
With a good screenplay by Gina Marissa Tagasa, Mama's Girl has a good lesson for everyone in the cyber-age generation.
Mama's Girl is now showing in cinemas. It also stars Allan Paule, Yana Asistio, Heaven Peralejo, Karen Reyes, Arlene Muhlach and Alora Sasam, among others.