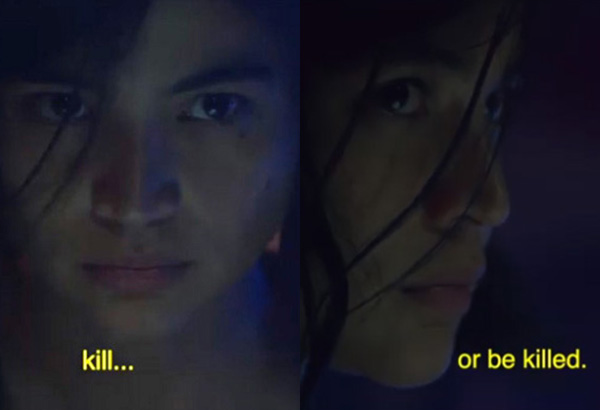 Scenes from 'Buy Bust' starring Anne Curtis.
Anne Curtis kicks ass as action star in new trailer
MANILA, Philippines — Actress, TV host, sold-out concert performer and entrepreneur Anne Curtis has added a new feather to her cap: as an action star.
In a Facebook post on January 2, the "It's Showtime" host showed her kick-ass side in a mini trailer for upcoming action film "Buy Bust."
In the trailer, Anne can be seen showcasing her martial arts skills, beating up armed male attackers one by one. She showed the fruits of her months-long training in Filipino martial arts Pekiti-Tirsia Kali, which teaches self-defense using improvised weapons.
"This is the beauty of pekiti-tirsia kali - when you're disarmed of an actual weapon, you can use anything you can find to defend yourself because you become the weapon," Anne said in the post, which has, so far, reached over 13,000 Facebook views in less than 24 hours.
Working out has become harder for Anne now that she has to spend long hours filming for "Buy Bust." Nonetheless, she makes sure to warm up every day before shooting the film by running and going to the gym, as preparations for the intense battle scenes.
"'Buy bust' is an action film, so it compensates for my lack of exercise!" Anne quipped in a recent interview with Philstar.com for Shiseido Collagen.
Anne has been reportedly working on "Buy Bust" for over a year now. The action thriller is director Erik Matti's first full-on action flick in years. It follows the timely story of an anti-drug enforcement agency's two teams tasked to investigate illegal drug operations in Manila slums. Anne plays as an anti-drug enforcement agent.
The film also stars Joross Gamboa, Brandon Vera, Mara Lopez, AJ Muhlach, Nonie Buencamino and Victor Neri.
The movie was submitted to the Metro Manila Film Festival 2017 as an entry but did not make it to the final cut, resulting in Matti's tiff with the MMFF's Executive Committee.
Anne, however, has nothing but praises for Matti.
"How he works is crazy! Hands down for him," she said of the film's director.
In fact, she said, because of her respect and good experience working with Matti, if she would be offered to play Valentina, she would gladly accept. The snake woman Valentina would be Liza Soberano's nemesis in the upcoming revival of "Darna," following reports that Matti and Soberano want Anne for the role.