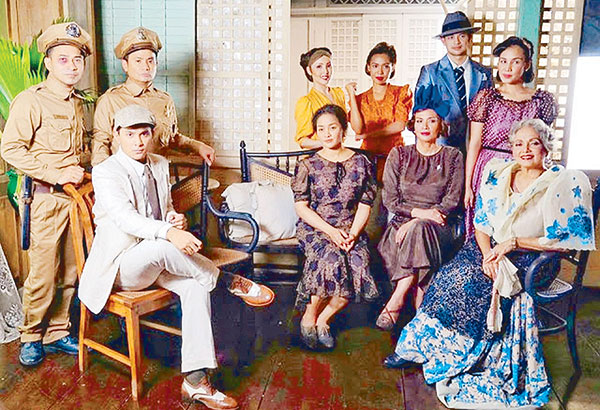 The cast of Ang Larawan. The film is both a symbol and allegory on the passing away of good old virtues.
Nonie on playing his opposite in Ang Larawan
MANILA, Philippines — Ang Larawan — the musical based on Nick Joaquin's play A Portrait of the Artist as Filipino ­— has many things going for it.
For this viewer, the film is a good introduction to the powerful, if, well-nuanced libretto of Rolando Tinio (now National Artist for Theater) and provides an excellent sampling of the sound of the ABS-CBN Philharmonic Orchestra under the baton of Gerard Salonga. The orchestra ­— which accompanied the singers and interpreted Ryan Cayabyab's haunting musical score ­— was a highly-inspiring presence in the film.
In terms of intrinsic film realism, it was the performance of Sandino Martin (as Bitoy), Paulo Avelino (as Mr. Javier), Nonie Buencamino (as Manolo), Menchu Lauchengco-Yulo as Pepang, Cris Villonco as Susan and Robert Arevalo as Don Perico who registered very well on the screen. Their contrasting, if, evenly layered characterizations were perfect foil for the financially distraught Marasigan sisters played well by Joanna Ampil and Rachel Alejandro. They, however, looked quite young for the part. Their costume and make-up ­— making them look a few years older — would probably be better appreciated in the stage version but tended to look quite contrived on film.
The singing of Rachel and Joanna along with Celeste Legazpi (Doña Loleng) was on the whole commendable but the late, if, brief appearance of Doña Upeng played by Dulce was deeply felt with her natural acting and spectacular singing. That moment was like hearing her sing Memory from Cats and Bali Hai from South Pacific all over again.
But on the whole, Ang Larawan is worth watching if only to remind us that there is dignity in the nurturing of the arts which are still looked down as immaterial to national progress.
The sight of the great painter's daughters woefully coping with bills is a reflection on how artists still live today. And to even consider catching rats and giving piano lessons to survive is the supreme irony and tragedy of the Filipino artists.
As it is, Ang Larawan is both a symbol and an allegory of the overpowering evil of materialism and with it the quiet, if, unheralded passing away of old world virtues.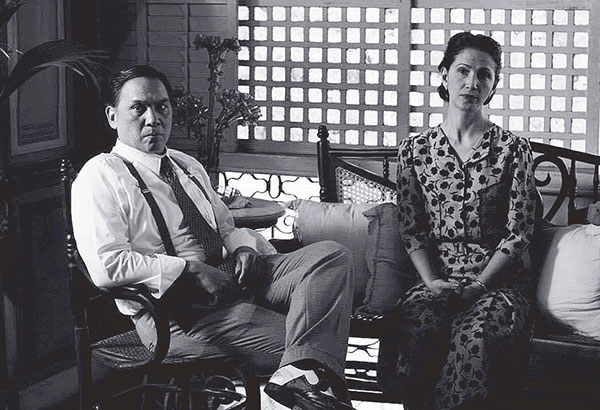 Nonie Buencamino (left) with Menchu Lauchengco in Ang Larawan. Closer ties with family.
Nonie, who plays the older brother Manolo who wanted to sell the ancestral house for a lucrative price, said he is the opposite of his role in Ang Larawan.
He confided to The STAR: "In the beginning, I couldn't relate that much to my role as Manolo because in real life, I am the baby brother of the family, not the older one. In real life, we siblings don't have money or property to fight over. So, I did a good research and tried to remember some people I know who go through a lot of disagreements with their siblings."
On the whole, what Nonie enjoyed on his first filmed musical were the rigid rehearsals before the shoot, finding the Manolo in him and the big scenes with his theater friends. "I also enjoyed studying the emotional make-up of my character and trying different approaches. Yes, this is my first musical on film and I found it very demanding. First, we recorded the singing and the music. During the shoot, the music was played back, and we sang with it. We had to approximate what we did during rehearsals and recording. That's why it was necessary to rehearse. We had to look spontaneous and yet be precise and in time with the music."
Come Christmas, Nonie will share simple preparations with his family which greatly energized him as an actor. "As a family man, I became more focused on my craft because I knew that if I became competent and reliable, I could sustain my family better. On the other hand, personal joys and tragedies have also helped me as an actor. I was also forced to be a little bit more selfless as our kids grew up, so I think my habit of observing human behavior increased."
In the coming year, he will welcome opportunities to coach or direct young people in Bulacan as a way for him to help develop talent and increase their sense of self-worth. "I want to direct a play that involves young adults in Bulacan where I live. I also want to help Shamaine with our advocacy on mental health and do something more concrete for the Julia Buencamino Project."
Their idea of a meaningful Christmas remains a quiet one and a bit introspective. "I share a passion for good simple Christmas menus with my wife Shamaine. We long for time together with family, time to chat, joke with each other and laugh, give a few gifts. Christmas and New Year should also mean a time for us to reflect and come up with resolutions that will help us become better people."
Directed by Loi Arcenas, Ang Larawan ­— where Nonie plays the materialistic big brother — opens on Christmas Day. It also stars Aicelle Santos, Cara Manglapus, Jojit Lorenzo, with the special participation of Ogie Alcasid, Rayver Cruz, Zsa Zsa Padilla, Bernardo Bernardo, Jaime Fabregas, Noel Trinidad and Nanette Inventor, among others.