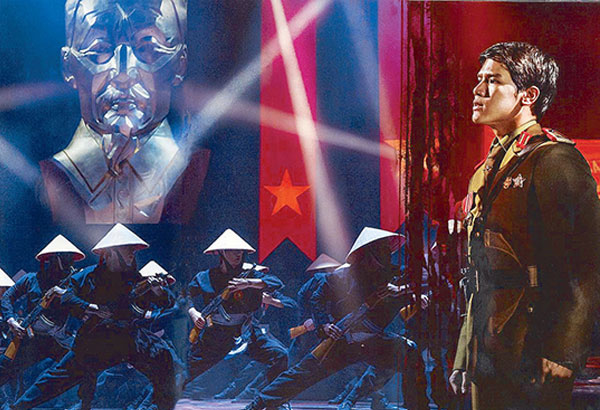 Gerald Santos as Thuy in a scene from Miss Saigon: I was so nervous during the gala night. Thank God I was able to pull it off.
Gerald almost lost his voice in 1st show of the Miss Saigon UK tour
FUNFARE
-
Ricky Lo
(The Philippine Star) - November 19, 2017 - 4:00pm
Something not-so-funny happened to Gerald Santos on opening night of Miss Saigon last July in Leicester, the first leg of the long-running Cameron Mackintosh mega-musical's UK tour.
"I almost lost my voice," Gerald Santos, who plays Thuy, told Funfare three days after arriving Monday last week for a two-week break. "Sobrang pagod because of the continuous rehearsal as soon as we arrived in Leicester."
That was aside from the rigorous rehearsal and training that began in May as soon as he arrived in London from Manila to fulfill a contract that expires in April next year, together with three other Filipino actors who passed the auditions conducted in Manila late last year ­— Red Concepcion (Sam's brother) as The Engineer, Joreen Bautista (from Pampanga) as cover for Kim and Christian Rey Marbella as cover for The Engineer.
"I felt a big relief when I was able to pull it off without any hitch," added Gerald who was incredulous when Mackintosh congratulated him, saying, "You did a great job. You made me emotional."
After more than 100 performances in four months in Birmington and Dublin (seven weeks), Gerald said that the Thuy character has become like second skin to him.
"I am Thuy eight days a week, with an extra performance in some days," he noted. "So I am Thuy as soon as I wake up, I am Thuy when I'm eating, I am Thuy when I leave home (15-minute walk to the theater in Dublin). I am Thuy all days of the week."
But not on Sundays, his rest day, when Gerald sleeps for as long as he wants, does groceries and laundry and cleans the apartment he shares with a Korean actor (also in the musical). "Sometimes, when I have free time I take a walk or I work out in the gym. I am a member of a health club that has jacuzzi and a sauna. Besides the workout, I make sure that I get enough sleep. The performance usually ends at around 10:30 in the evening and I get home with my energy level still high so I take Melatonin to put me to sleep."
To preserve his voice, Gerald said that he has included all kinds of English tea in his diet (no meal at least two hours before he goes onstage and no chocolates except when he performs twice a day to help sustain his energy) and "steaming" his vocal cords before bedtime.
Although he cooks, Gerald really has no problem with food because of what he described as "the massive support" of kababayan who gives him pansit, pandesal, adobo, suman and other Filipino delicacies.
"The mom of the boy playing Tam (son of Kim) is a Filipina and she has been very supportive and very helpful. The boy is the third Filipino to play Tam in the UK tour and he's very good. Mahusay umarte even if he doesn't have any dialogue."
Aside from the Filipinos, there are other Asian artists in the cast including a Malaysian, a Vietnamese and an Indonesian.
"Christian Rey told me that I was very fortunate to be in my group, one of the best and the kindest daw, kaya maganda ang bonding namin. Sila at ang ating mga kababayan make me feel at home so I got over my homesickness easily. I have done shows abroad but it's the first time that I'm living abroad and doing things myself."
By now, Gerald (who rose to fame after winning Season 2 of the GMA talent search Pinoy Pop Superstar; the first winner was Jona) shall have finished recording an album for Star Records.As soon as he's back in UK, he will join the cast in the Cardiff leg of the tour until April next year.
Beyond Miss Saigon, what?
"I want to audition for other musicals," said Gerald. "I am keeping my options open and my fingers crossed."
Winwyn used sign language during the Bolivia pageant
Because she wasn't well-versed in Spanish, newly-crowned 2017 Reina Hispanoamericana Teresita Ssen '"Winwyn" Lacsamana Marquez admitted that she had to use sign language in communicating with fellow candidates in the Latina-dominated pageant held in Bolivia.
"I felt so lost because of the language barrier," Winwyn confessed in an interview in New York where she took a much-needed break before flying back to Manila. "I really wanted to visit NYC again. It has been a long time since I have been to the Big Apple. I want to explore NYC again."
The interview was held in Wyandanch, Long Island, where she was staying during her vacation.
Winwyn revealed that during the first few days of the Reina Hispanoamericana pageant she would cry every night.
"My Tita Ailyn and Kuya Yeoj kept me sane. I was so grateful that the other delegates really helped me out. Some of the ladies would translate for me most of the time."
Then, Filipinos living in Bolivia started showing up.
"They visited me and boosted my confidence. There are around 30 Filipinos living there and they really went full force in supporting me, especially during the finals night. Hearing them cheering for me made me do my best throughout the pageant. It felt like the whole Philippines was there!"
The first Filipino to compete in the pageant and the first Asian to win the crown, Winwyn said that she learned many things in Bolivia.
"I became a stronger person. Now I can face any challenge. Being with the Latin beauties made me strive to give everything during the competition. I only had three weeks to prepare for the pageant and I will make sure the country's candidate will be more prepared next year."
Winwyn believed that being cooperative, friendly and receptive helped her win. Her answer to the question (about how she would promote Latin culture since she didn't know much Spanish) came from her heart.
"I experienced it first hand. The organizers and fellow candidates made me feel loved despite my limited knowledge of Spanish."
She also revealed her plans of partnering with her alma mater, Southville College, in projects that will involve teaching students in the near future.
"I already have my teaching certificate so I would really love to influence people by sharing what I know. I have a bigger voice and can influence more people." — Felix Manuel
5th Ginoong Dapitan chosen on Nov. 26
The 5th Ginoong Dapitan search will be held at the Cultural and Sports Center, Dapitan City, Zamboanga del Norte, on Sunday, Nov. 26, at 7 p.m., as the highlight of the celebration of the city's 454th founding anniversary.
The annual search commemorates the legacy of the valiant Datu Pagbuaya who came from Panglao, Bohol, with more than 800 families and settled in Dapitan after a search for a new settlement way back in 1563. Mayor Rosalina Garcia Jalosjos ordered the yearly commemoration when she started her term in 2013 to attract more tourists.
According to Dapitan City Tourism Officer Apple Marie Agolong, the judges will look for fit and athletic contestants who display the "proper shape and symmetry combined with muscularity and overall condition." The contestants will be asked by the head judge to perform the mandatory poses: Front Double Biceps, Side Chest Pose, Rear Double Biceps, Triceps Pose, and Oblique Abdominal Pose. — Reported by Celso de Guzman Caparas
(E-mail reactions at entphilstar@yahoo.com. For more updates, photos and videos, visit www.philstar.com/funfare or follow me on Instagram @therealrickylo.)