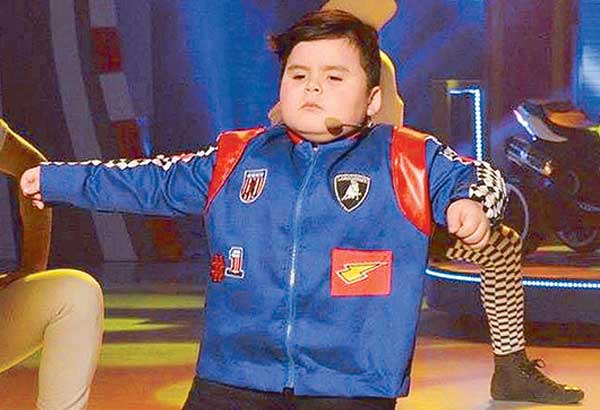 Dabarkad Baste is a recording artist
Moving like this with Bastelicious
Kids as recording artists is a fairly common occurrence in the Philippines. Most of the winners of the talent show The Voice Kids like Darren Espanto, Lyca Gairanod and others got to record their own albums. Of course, not one of them was as young as Blue Ivy Carter when she came out on record. Credited as B.I.C. on the label, she recorded her cries and coos as soon as she was born out of Mommy Beyoncé and was only two days old when her Dad Jay-Z released the song Glory featuring B.I.C. or Blue Ivy Carter. But she was not the first newborn to be featured in a song. Stevie Wonder's daughter Aisha can be heard in his now classic Isn't She Lovely.
I researched young recording artists because I wanted to find out if Dabarkad Baste of Eat, Bulaga is indeed the youngest recording artist at the age of five around here. Could be. But I cannot say he is because until I find out how old Niño Muhlach was when he recorded Dick And Jane with Fernando Poe Jr. Do you remember that song which like the school primer goes "Look Dick look, look at Jane…?" It was a big hit for Bobby Vinton during the '70s although I do not recall the name of the little boy who sang with him. But Niño who was then a true box-office king helped make their version a hit.
If Niño back then was four years old then, Dabarkad Baste is not the youngest recording artist. Still he is the youngest at five to record a full-length song on his own complete with a music video and which was released in digital platforms. This means that if you go to Spotify, you can listen to Baste's song titled Bastelicious there. Then if you want visuals you can catch him on YouTube where he must be the cutest little boy ever to be featured in a music video.
Baste is Sebastian Benedict Granfor Arumpa. His family comes from General Santos. He was discovered while watching Eat, Bulaga. Smart and chubby, he was an instant hit with the audience. It later turned out that he is a natural singer with a confident voice and an excellent ear. Soon he was singing in the show and his versions of hits by Justin Bieber and the Chainsmokers were big audience pleasers. It was not long after that he got his own "concert" portion in the show. He passed this with flying colors and was billed as the youngest concert artist in the Philippines.
And now he has released his own original which like him is aptly titled Bastelicious. The song was composed and produced by Jimmy Antiporda. It is a simple tune that goes "Move your tummy like this/ move your head like this…." and Baste does it very well. Watch this kid. He can really sing. He has the moves. In a few years or so, he could be a hot singing idol.
Meanwhile, here are the Top 20 Filipino songs as per Billboard Philippines' latest hit list. And all you record producers and all you singers, I think you should set up a meeting with TJ Monterde quick to ask the guy how he does it. TJ has six singles in the Top 20. That is quite a feat. To be fair. TJ has a nice voice and his songs are really good. Still, everybody should strive to do the same.
And here are the current hit singles as per streaming and downloads are concerned: Two Less Lonely People In The World by KZ Tandingan; Dahil Sa 'yo by Iñigo Pascual; Pasensiya Ka Na by Silent Sanctuary; Dating Tayo by TJ Monterde; Maghihintay Ako by Jona; Pusong Ligaw by Jona; Mahal Ko O Mahal Ako by KZ Tandingan; Tulad Mo by TJ Monterde again; Mobe by Enrique Gil; Sila by Sud.
Hayaan Mo Sila (inspired by I Am The One) by EXB x OCDAWGS featuring JRoa; Ikaw At Ako also by TJ Monterde; Hiling by Mark Carpio; Ikaw At Ako Pa Rin also by TJ Monterde again feat. KZ Tandingan; Haypa (Hayup Ah) by MMJ MM and MJ Magno; Bakit Nga Ba Mahal Kita by Cacai Bautista; Pagsuko by Jireh Lim; No Games by Ex Battalion feat. King Badger and Skusta Clee; Mahiko by TJ Monterde; and to close, Kahit Kunwari by who else but TJ Monterde.