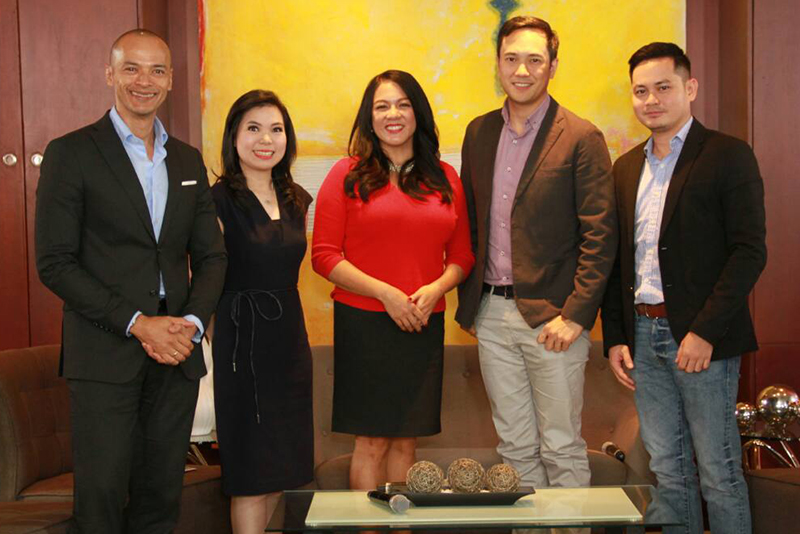 "The Early Edition" team in full force. From left: Paolo Abrera, Michelle Ong, Annalisa Burgos, TJ Manotoc and Christian Esguerra, deliver the latest local and global news every 5:30 a.m. from Monday to Friday. Photo release
ANC's Annalisa Burgos: International journalist rediscovers her roots
MANILA, Philippines — It is easy to have a sense of entitlement when you have spent 17 years covering news, business, and lifestyle beats in the US, and had stints with Channel NewsAsia, HGTV, Forbes, CNBC, and Bloomberg (all in Asia).
But Los Angeles-born journo Annalisa Burgos prefers to be a team player on ANC, the ABS-CBN News Channel. As co-anchor of the morning news show, "Early Edition," the bubbly Fil-Am is learning the names of the country's politicians, local events, streets and other areas, fast.
She gets a lot of help from everybody, and gets to practice her Tagalog as well. Pronouncing politicians' names correctly is one thing. Striving for credibility at a time when the country's leaders question media is another.
"It (credibility) is necessary, especially when you're in Asia, where a lot of corruption is going on," she notes.
The other challenge, especially in anchoring a morning show, is enlivening the early hours with wit and spunk that gives news and trending topics an added spark.
That is why Annalisa is glad she is a morning person, with incisive, credible journalists to swap ideas with on cam.
"Oftentimes, you just see pretty faces on TV. That's not the case here. People know their stuff. I appreciate that."
The award-winning journalist (CableFAX Best of Web's Best Original Content winner) may be the new kid on the block. But she has the ideas of someone who has covered news and events in the US, Singapore, and Indonesia.
She is on the outside looking in. She boldly called former US president Bill Cinton "Da Bomb." She interviewed a convicted murderer in prison. She discussed movies with Morgan Freeman. She feels at home in the New York Stock Exchange as she does in real estate offices. And she thinks sitting down with President Rodrigo Duterte and asking questions only someone with a global perspective like her can ask, would be great.
"I'd like to challenge the way people see things," she says.
Now, she herself is facing the challenge of adjusting to a place and a culture she knows only through online stories and other people's anecdotes. But Annalisa is learning fast. It is a labor of love and a commitment to her roots, and to the news channel she is now a big part of.