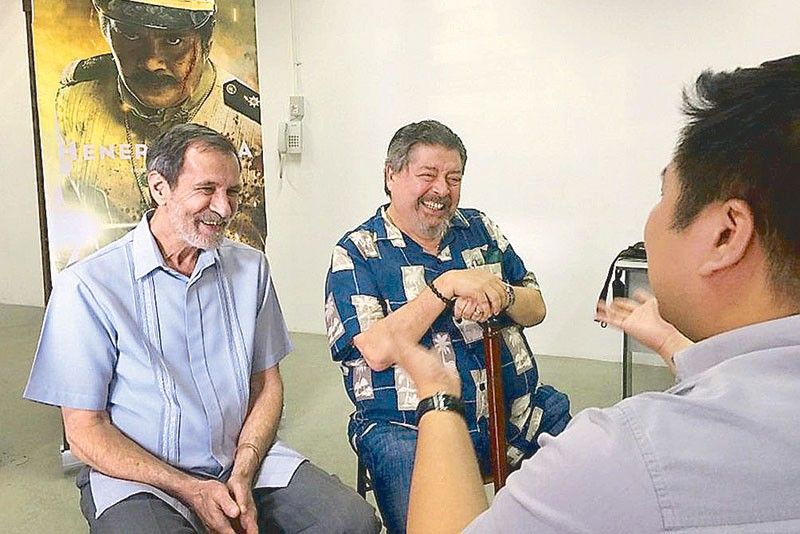 TBA executive producers Fernando Ortigas and Eduardo Rocha: Give them a good story and they will deliver
An obsession with good films
MANILA, Philippines - There is something quite fascinating about these two film lovers who made the well-received Heneral Luna apart from contributing immensely to its good writing.
From out of the blue, E.A. Rocha and Fernando Ortigas — film producers behind TBA (Tuko Film Productions, Buchi Boy Entertainment, Artikulo Uno Productions) — have suddenly emerged as the film producers of consequence with the quality of their output and the quality of their film imagination and creativity.
Apart from John Arcilla's tour de force, Jerrold Tarog made a towering film out of the blockbuster historical opus with his deft direction and thoroughly absorbing musical scoring.
As it is, there is no one quite like them in Philippine cinema who deliver great ideas and the most important of all — good financing.
"We are always on the look-out for good stories," Rocha told The STAR. "How do we screen our projects? First, we have to like the story. Second, it should be something not regularly explored in mainstream cinema. We have nothing against rom-com materials but if it is different and the treatment will challenge the imagination of moviegoers, we go for it once the problem of financing has been ironed out."
To be sure, they didn't expect the avalanche of support for the Luna biopic. Sure, of their hard work, they expected to be noticed at least by thinking cineastes.
But becoming a blockbuster and the film to be embraced by various sectors of society was not quite what they expected of the project. After all, it was not an easy project to do, knowing that Filipinos are not exactly fans of historical movies.
The first historical movie that made box-office history was Marilou Diaz-Abaya's Jose Rizal, which also ran away with most of the awards in one literate edition of the Metro Manila Film Festival.
As it was, they got more than what they expected.
Rocha acknowledged the overwhelming public acceptance, thus: "We cannot thank the public enough for making Heneral Luna one of the biggest films in Philippine cinema. This is just one of the many ways we can show how proud and thankful we are to everyone who embraced this film.
"Filipinos deserve to see good, quality movies. I think we brought back frustrated Filipino moviegoers back to watching Filipino movies after ignoring them for obvious reasons."
Their latest output is a twin-bill film offering with contrasting subjects — I'm Drunk, I Love You and Angelito.
The first is an offbeat romantic comedy and the second a short film which is a good link to one part of Tarog's historical trilogy this time dwelling on Gregorio del Pilar.
After watching the two films one after the other, one wondered if it was a good idea to lump together two well-made films with contrasting appeal.
Both have the benefit of excellent musical scoring by Tarog and both have a unique appeal of their own that is simply hard to ignore.
There is no doubt that Angelito is a powerful short film touching on a historical figure that resonates with the present.
Simply told, it deals with Luna's aides-de-camp Jose and Manuel Bernal right after Luna's assassination.
Excellently played by Alex Medina and Art Acuña, the Bernal brothers decipher the difference between an "idol" and a "leader" and succeed in putting into scrutiny the anatomy of the Filipino electorate. We all vote for our election idols without taking into account if they have the desired qualities for leadership.
The absorbing conversation portrays the idol as one who encourages idolatry while a good leader inspires people to do their bit for the country.
It took a while for me to find out the film might as well be talking about present and past brands of Filipino leadership.
The message of Angelito is so powerful and historically engrossing you wonder if you have anything else left to appreciate a romantic comedy.
But as it turned out, I'm Drunk, I Love You is not the franchise rom-com film you expect it to be.
The film makes a very good use of silence as it shows what transpires deep inside someone likely to be in the receiving end of unrequited love.
Paulo Avelino as Dio turns in a credible performance as a frustrated filmmaker turning to a law course as he eyes a more stable future.
Maja Salvador makes something both sublime and tragic about her character (Carson) and gives us a kind of acting that is once natural and spontaneous.
The music of some youthful OPM composers gives us a good clue as the kind of angst their generation is capable of nurturing. Carson copes and copes very well.
The good touch of writers JP Habac and Giancarlo Abrahan is all over the movie from the way audiences react to every line of the characters.
On the other hand, the supporting cast beautifully blends with the acting ensemble notably Dominic Roco, Jasmine Curtis-Smith and with the special participation of Irma Adlawan and Jim Paredes.
JP is a sensitive director who needs another follow-up project. He connects with his audience very well and with a special notice that there is more to pre- and post-millennials than we think they are.
I'm Drunk, I Love You and Angelito are now showing in cinemas.