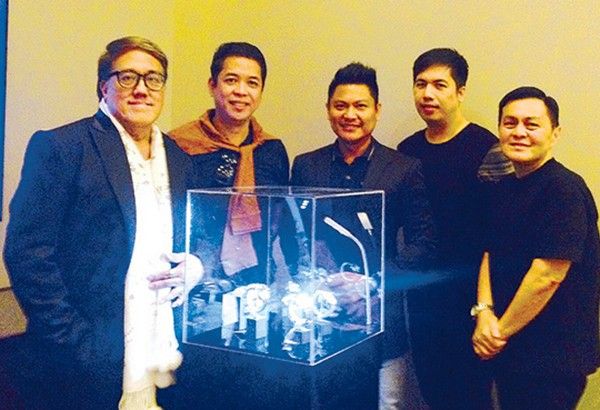 From left: Danilo Franco, Joel Pros, Ulysses King, Christopher Munar and Arnold Galang
Fashion designers tie up with René Mouris
MANILA, Philippines - 'A watch says a lot about the personality of the person. It speaks of power. A watch brings out the best in your over-all look'
Five top-notch fashion designers have collaborated to bring in a whimsical and stylish fashion show that showcased the timeless elegance and functionality of French luxury timepiece brand René Mouris.
The fashion show was part of grand launching of René Mouris to the Philippine market, held at the City of Dreams Grand Ballroom last Sunday.
Danilo Franco, Arnold Galang, Joel Pros, Christopher Munar and Ulysses King have lent their creativity to highlight the elegant René Mouris watches. They were commissioned to do a particular design for each timepiece collection.
Franco said his gowns reflect the fine art work and craftmanship that were put in every René Mouris watch.
"I used circles and discs on the dresses to mirror the details on the timepiece. I also used corsets which have big coins, which look like the parts of a watch," Franco told The STAR in an interview.
Galang, on the other hand, said his designs highlighted the edginess and chic elegance of the René Mouris green collection.
"I showcased my Spring/Summer 2017 designs, which echoed the brand's green collection. My designs are casually opulent, young and modern," Galang said.
Ulysses, a men's wear designer, said the René Mouris fashion show was a fusion of modern designs across all seasons. His designs were all about street wear.
"I put in my holiday collection focused on men's wear. The fashion wear that I've designed is actually based on the streets of Myeongdong and Roppongi. It's marrying Japan and Korea into one capsule collection. I put on some camouflage elements on the fabrics to make it more masculine," Ulysses said.
Christopher, on the other hand, took care of the accessories for the girls, choosing romantic pieces to complement the feminine, fancy and classic look of the ladies' watches.
"We all know that women have different tastes and they want romance and everything. I've studied how my pieces would match René Mouris' lady timepiece collection," Christopher said.
Joel, on the other hand, made an ensemble matching René Mouris' red collection for women.
"It's basically my personal take on the couture pieces. I have laces, satins and some crystals," said Joel, who is a wedding gown designer.
They all agreed that the watch has evolved into something more than a utilitarian accessory.
"I think watch-making has turned into an art itself, it is a perfected craft. I think by appreciating a timepiece and keeping it for a lifetime to be handed down to the next generation is a good idea. You're only safekeeper of time piece," Franco said.
Christopher said a ladies' watch is definitely an important fashion accessory.
"In fact, the watch becomes the main accessory to the wardrobe of every woman today. That's why I think, René Mouris watches match the needs of the ladies at these times. Unlike before when watches are considered utilitarian pieces, now it's the accessory that will complete the look of a woman or a man," he said.
John and Ulysses agreed.
"A watch says a lot about the personality of the person. A watch speaks of power. A watch brings a certain impact on the total ensemble. I mean, you can wear a simple shirt but if you have a nice watch, it brings out the best in your over-all look, it completes the total look," they said.