Filipinos join Fit for Fashion Season 2
BINTAN, Indonesia — Meet Jackie Zapata and Kyle Ramirez, the two Filipino contestants on Star World's latest reality TV series Fit for Fashion Season 2.
Buoyed by a successful first season, Fitness First Asia has once again partnered with international TV production company Imagine Group and Asia's online fashion destination Zalora to hold a new season of Fit for Fashion TV, the first-ever reality show that brings together fitness and fashion. The show will air tonight at 8 on Star World.
A total of 14 contestants from different countries have been chosen from auditions held last year to compete in the show, which was shot on the picturesque island of Bintan in Indonesia, a one-hour ferry ride from Singapore.
Jackie, 32, is a Filipino-American banker from New York who decided to join the competition to be fit again after indulging in an unhealthy lifestyle, following an injury from crossfit at a gym last year. Fashion model Kyle, 23, on the other hand, said he joined the show "for a chance to amp his fitness level and stay healthy."
The $4M production will see contestants face and hurdle a series of physical and mental challenges. Each week, one contestant will be eliminated until the grand finale. The winner will take home $100,000.
The show will be hosted again by fashion journalist Louise Roe (MTV's Plain Jane and NBC's Access Hollywood) who is also a judge on the show. Fashion photographer Todd Tyler and stylist Fernando Barraza will train, advise and challenge the contestants on the show.
International fitness trainers Mitch Chilson and Christine Bullock will take care of the physical transformation of the contestants in becoming not just fit but strong as well. They are judges on the show as well.
Jackie was born and raised in New Jersey by his Filipino parents; his dad hails from Tarlac.
"My mom's relatives are all in the US but my dad's relatives are in the Philippines. The last time I went home to the Philippines was when I was 19," she told The STAR.
Jackie said it was her Filipino-American boyfriend Rusty Thompson, a contestant on Season 1 of Fit for Fashion, who motivated her to join the contest. Thompson got eliminated on the fifth episode.
"We were introduced by a common friend back in New Jersey. When we were dating, he told me that he participated on the show. He was chubby before and said the show helped him become fitter," she said.
Jackie admitted to indulging in an unhealthy lifestyle after she broke her left arm from a workout at the gym.
"I was in a cast and I was giving up on myself. I was gaining weight, eating all the unhealthy food and I didn't want to do just the simplest exercises. Rusty saw me first hand that I was neglecting my health and losing my self-esteem because of my injury. He said, 'You need to do what I did, you need to join Fit for Fashion because it changed my life. Try and come back even stronger,'" Jackie recalled.
It didn't take long for her to decide, knowing that it's going to be good for her. She's always been a go-getter from the start and loved going to the gym and staying fit. "I'm getting older and I want to be strong. I knew that this is what I needed to do, to change my life and get stronger again," she said.
After passing the auditions, she flew to the island of Bintan for the eight-week challenge.
During the first few days on the set, she felt a little nervous toward the other contestants because they were her competitors. But she became more relaxed when she started to befriend them.
"Everybody in the house was very nice, everyone had a good personality and my apprehensions went away, and it became an exciting journey because back home, in New York, it was such, I don't want to call it boring, but it was a monotonous life. I work very, very hard because I have to. I mean, you wake up early, you work, you get home late, you eat a little bit, sleep and you wake up again. Being in this competition made me feel so much more alive. When I came here, I said, wow God, this is a beautiful island, the stress went away," she enthused.
Winning is definitely on Jackie's mind.
"I'm an American but first and foremost, I have Filipino pride. Yes, winning is my goal because I've set my heart to it, but it also means the other side of the coin, I want to feel good inside again, I want to feel healthy. I don't wanna feel weak with my injury and feel old, I just turned 32 and my metabolism has become slow, I'm not eating right. I want to change all of that," Jackie said.
"I want to win and I'm gonna win it. Winning is the best proof that I've done everything possible to win. They've already called me as the fierce Filipina from New York but I also want to show them my fun side," she said.
Jackie also shared her game plan which includes learning as much as she can from her fellow contestants, and adopting it. She said her weakness is the fashion part and thanked Kyle for giving her pointers on how to walk, pose and project.
Kyle, for his part, said he came to know about the show from his talent agency in Manila. The idea of meshing fitness with fashion appealed to him, since he loves to work out and enjoys doing fashion shoots.
"Being in this competition will give me the chance to amp my fitness level and give me the drive I need to get me started. It will give me new ideas on workout that will keep me fit and healthy," Kyle said.
"And of course, I also joined because of the prize money, I mean I'm not gonna lie about that — $100,000 is a big amount of money. If I win, I will start my own business. The money is good capital for a business," he said.
Like Jackie, he's in it for the win and his game plan is focused on winning on every challenge at the set.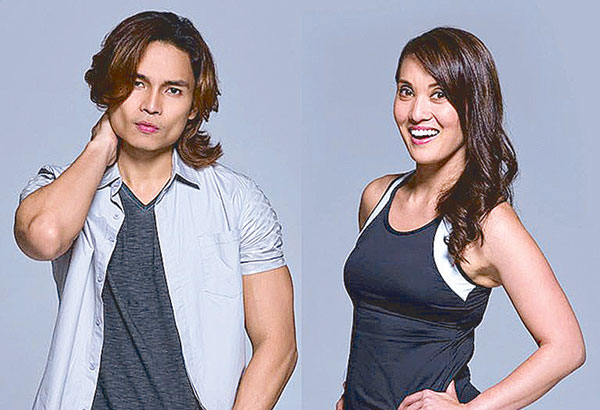 Kyle Ramirez (left) and Jackie Zapata are hoping to win the reality TV show
"I think I'm strong in both fitness and fashion. I have a substantial experience in fitness because now I know how to do the many forms of workout. In fashion, I can say that I have a little bit experience kasi makapal ang mukha ko, in every fashion shoot, I just push for it. As for my weakness, I think I have to improve on my endurance. At first, I thought the challenges were very easy but they're hard as hell," Kyle said.
Being in a house with 13 other contestants, who came from different cultural backgrounds, is also no joke, Kyle attested.
He shared that there were moments when he got into arguments with his fellow contestants because of mood swings, especially when they're hungry (they're on a strict diet.)
"I think it's normal to be furious when people call you names like stupid even if they're just joking and you're hungry, you kinda snap right? We call this conflict 'hangry,' pag gutom ka at biniro ka, syempre mapipikon ka," he said.
On the set, he openly expresses his affection to fellow contestant, Deena Marzuki of Malaysia.
"I don't know but Deena is not the usual girl na sweet or maarte. She's feisty and I like feisty girls and she is Asian, we feel we have a connection, we're very comfortable with each other," he said.
Both Kyle's parents are in the US and he was raised by his grandparents.
Fitness First Asia CEO Simon Flint said the show is anchored on the philosophy that there's a better version of everybody.
"We bring fitness and lifestyle together, healthy eating and fitness regimen to make people feel better about their body both psychologically and when they look in the mirror. Viewers will see both the physical and psychological transformation in the contestants. Everybody on the couch at home can relate to and hopefully, recognize that they could be, perhaps, inspired by what they see," Flint told The STAR.
The other contestants include American Anthony Walker, 25, a motivational speaker, who has never traveled out of the US before. Hungarian businessman Attila Szekely is the oldest at 42 and currently resides in Malaysia. At his age, Attila said he is finding it harder to maintain his body and feels like he's letting himself go. His biggest phobia is to grow old and lose his good looks and body.
Confectionary baker Deena, 25, said she has always been called the fat kid in school. But she decided to lose weight and now wants her story to inspire others who may be fighting the same problem. Now, she faces a different dilemma, her two loves — food and fitness — often collide with one another, especially when she has to sample her own baked goodies.
Former Indonesian pop star Freska "Cika" Dernadi said she gained a lot of weight after giving birth to her daughter. In the midst of going through a divorce, Cika wants to regain her confidence and Fit for Fashion Season 1 winner, Citira Corrigan, is her inspiration.
Australian dancer Jess Punch once dabbled in acting and played a bit part in the Australian TV series Home & Away. Now based in Singapore, she feels joining the reality show will motivate her to lose weight.
Another Aussie, 30-year-old Katherine Patrick used to perform on TV and starred in the kids show The Wiggles. Katherine said she's fed up of being single and sees Fit for Fashion as the key to getting back on top of her game and finding true love.
Thai singer Lookpong Punyabhuti, 27, won fourth runner-up at the Thai singing competition, Academy Fantasia. But her career lost its luster and being on the show could mean her passport to returning to her showbiz career.
Marlon Dance Hoo, 30, is the Chinese-Malaysian Australian geek from Australia's 2010 series Beauty and the Geek. Now based in Singapore, Marlon admitted neglecting his fitness and hoped the show will help him get back on track.
Michael "Mikey" Gelonesi, 29, is from Sydney and works for the family business. Dance teacher Sam Gaskin, 31, is a mixed Maori, New Zealander, who lives in Australia. He wants to be fit and healthy for his two children. Victoria Wheeler is another Australian, who has neglected her health and now wants to make a U-turn toward a fitter lifestyle.
Lastly, dancer Vladimir Musson, 29, is a Russian who once starred in the 2010 reality show Big Brother in Australia. He loves fashion, singing and dancing but his main vice is that he loves partying and that comes with smoking. He wants to quit all his unhealthy habits and start anew.
Riaz Mehta, president and founder of Imagine Group, shared Flint's aspiration that the new season will inspire people to start their own journey to a healthier, happier and more stylish life.
"We believe in helping contestants transform their lives for the better. It is about rediscovering your true self and we want to help them in that regard. I personally love this message of self-empowerment and growth, because at the end of the day, it is in our power to change our lives," Riaz said.
"Just like what the Fit for Fashion show displays through its contestants and unrelenting support from the team, we must simply have the will to change and that change will undoubtedly come out within us."