How Salubong painting became controversial and viral
MANILA, Philippines – In an ambiance of rural peace and prosperity, visual artist Dante Hipolito, tagged as the "Smile Painter," depicts Gov. Vilma Santos in the 29" x 24" oil on canvas titled Salubong (2015) as a farmer leading Gary Valenciano, Sen. Grace Poe, Marian Rivera, Dingdong Dantes, Coco Martin and Kris Aquino who are also costumed as country people in the festive welcome.
Dante, who is observing his 25th year of celebrating Filipino heritage this year, set work on the painting two months before Pope Francis was to arrive for his first Pontifical visit of the country. Wife Carmen who is an avid follower of local entertainers suggested to make film and television actors dressed as farm workers welcome him. As her request followed self-created Composite Realism style, the idea appealed to him.
Marian posted the painting in her Facebook account that accumulated 149,000 likes from the article titled Vilma leads Papal welcome by this writer as published in this section on Jan. 8, 2015. Then television, large-format dailies and online portals gave it primary exposure. It was inevitable to go viral... and controversial despite its pacific message.
Turning out as his most celebrated painting, this gave Dante major media exposure. ABS-CBN's Umagang Kay Ganda broke out the news. Television crew sought him for interviews in his Cavite residence and invited for live appearances such as GMA 7's Unang Hirit and during TV5's live coverage of the Papal visit as a resource person.
What is basically a depiction of farmers welcoming Pope Francis on his Papal visit turned a convoluted issue. Clearly, many commenters missed the spiritual dimension of Salubong, a non-sectarian approach to spirituality, turning it into a free-for-all bashing from the banal to the weighty only possible in social media. Selected quotes are:
Carlos Celdran is logical: "The vanity of this painting is exactly what Pontifex is against. And Gary Valenciano is a born again Christian. WTH?"
Ma. Isabel Ongpin articulated in her Manila Times column that the painting had the power to "move the obscenely rich, the comfortable rich and the middle class in this country to share more with their poorer countrymen without whose help they would not be where they are... Otherwise, the visit will just be a celebrity bash, a Pope Francis and me story for the usual suspects and the favored few, albeit using a cast of thousands, with no good and transformative effect."
Netizen Nathan Briones (via the Rappler website) thinks the artist intended the painting to be a satirical artwork. "You decide. 'Blessed are the poor in spirit, for theirs is the kingdom of Heaven.' Blessed are the rich and famous, for theirs is an oil painting with Pope Francis," he commented.
It was unavoidable that Salubong would be compared to Mideo Cruz's Poleteismo instillation at the Cultural Center of the Philippines which turned controversial and eventually banned. This was an unfair comparison as Dante's painting did not have anti-religion content. But Mideo's statement about the issue opens the mind: "'Yung sinasabi ko lagi na walang limitasyon ang imahinasyon ng isang artista, bakit hindi ang tumitingin?"
After all the exercise in the freedom of expression, the discussion about Salubong turned highfalutin, a dire effort to intellectualize a simple issue. Dante stated it best by bringing it back to Earth level: "Isa lang po ang naging mensahe ko sa painting na yon... ang pagmamahal ko sa aking kabiyak ng puso."
Salubong, no doubt, spawned in the process partial truths, confused interpretations and plain lies. And doing so resulted to bending information and purposely misinterpreting them. For sure, they were done in the logic or illogic of freedom of expression most of the time without obligation or remorse.
The Information Age necessarily has been twisted and mangled, resulting to the Age of Misinformation.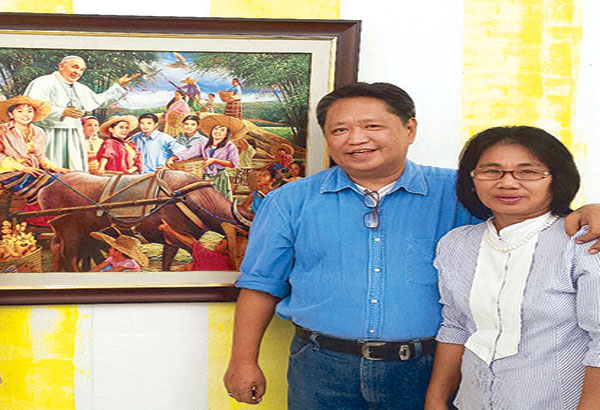 Dante and wife Carmen on the set of Unang Hirit