Caparas by Caparas
November 30, 2015 | 9:00am
MANILA, Philippines - In this noon day presscon, Carlo J. Caparas appears in a spirited mood and willing to share the transitions in his life.
His wife, Donna Villa, is with him and on the same table are his grown-up kids who are now part of the production staff.
His latest project is the remake of his story, Angela Markado, one version of which was directed by National Artist for Film Lino Brocka many years back.
He was of course happy that the film under Brocka reaped great acclaim here and in Cannes.
This time, he is not just the storywriter but the director as well.
Wearing two hats in a project isn't complicated for Caparas. "When others direct my story, I tend to be always looking for details left out in the film version. It can be very frustrating because you own the story and I believe no one has the right to change it in any way. But here I am finally directing my own story and in a film version close to my own instinct as storyteller and director. It presents so many challenges. First you have to find someone who can go through what the heroine went through and it is not an easy one. Second, you have to find a supporting cast who can project evil and will have no qualms being devil's advocate at least in this film."
The violation of the heroine will call to mind scenes from his earlier movie, The Maggie de la Riva Story, which is about a celebrated rape case some decades back.
And now he is reviving a story from his own imagination and giving it a new reel life.
He can't help it.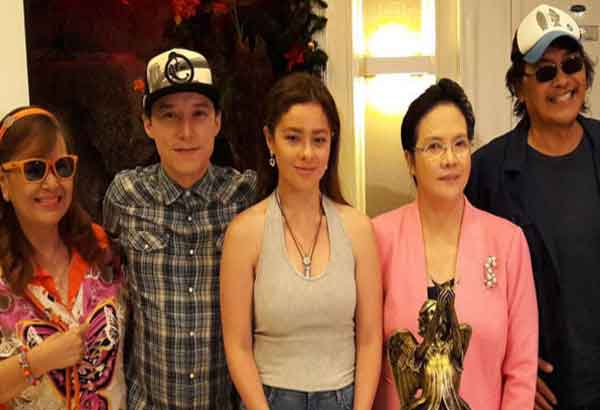 With direk Carlo J.'s wife, Donna Villa, and Angela Markado stars Epy Quizon, Andi Eigenmann and PAO's Persida Acosta
In his own book, films should mirror reality and even in the present dispensation, he can see crimes happening right and left even as TV viewers are bombarded with commercials about the good path.
As in the past, good and evil will highlight his new film and he is happy he found the perfect cast.
It wasn't easy luring Andi Eigenmann into this role but at this stage of her acting life, she feels she is ready for a full-blown adult role. "The story is make-believe but I know it is happening all the time. No one will wish this on your loved one but at the same time some lessons should be taught. It can happen in the most peace-loving family and I thought it is about time I accept a new challenge. The rape scene was of course difficult. Direk Carlo would talk to me before a take and after the scene, everyone — including the supporting cast — is so protective of me."
Direk Carlo thinks he has the perfect cast even for the evil figures that will hound Andi in the film. "They may have the boy-next-door look, clean-shaven and all but in this film, you will be surprised they will portray the opposite of what they are in real life. They are the dregs of society in my story and the rape scene is something straight from Lower Depth. I didn't have to motivate them because they were such good actors."
With only five more years before he turns senior citizen, Carlo can only look back at his past like scenes from his own comics serial. "Of course, everybody knows I came from humble origin. My schooling is basically from life itself and I have no regrets I didn't go far as a student. But I look at life as everyone's story. I had my share of personal crisis and controversies but I suppose they all have to happen as part of my earthly existence."
He took some six years off from showbiz and he is glad he did. "That vacation allowed me to take stock of my own life and see where I was heading. I traveled a lot, enjoyed life in secluded islands, enjoyed every moment with my family and realized I still have a good life. What it taught me is that nothing comes to you if you don't work at it. I also realized that directing film is still my calling and decided I will give it everything when I go back to showbiz."
So what did he learn from that vacation?
"I have directed many blockbusters but this time, I decided to direct my own life. I reviewed what happened to me, the countless blessings and the curse and I realize you can direct your own life in the manner of how you want your movies to be accepted by the general public. At the bottom of it all is acceptance of what happened to you. You can't unmake them obviously because the negative things have something to teach you. Carlo J. Caparas directed by Caparas is what I am now. What happened in the past will be part of the past but the good thing is that you learned a lot from them. Back in showbiz now, I feel renewed with all my energy in the right place. My kids are now grown up and now part of the movie world I grew up with. You can only be grateful life didn't turn out such a disappointment. In the end, you believe this to be true: Life is a good teacher."
Angela Markado opens in all theaters on Dec. 2.