MANILA, Philippines - After a year-long absence from showbiz, Sharon Cuneta returns as a Kapamilya again.
The Megastar found her way back to ABS-CBN, her home network of over two decades, before she signed up with TV5 in 2011.
Sharon said in a presscon yesterday, "It is overwhelmingly wonderful! There's really no place like home. I don't belong to anywhere else," likening the time apart from the network to simply a vacation, "and now I'm back home, safe and sound."
ABS-CBN president and CEO Charo Santos-Concio, COO Carlo Katigbak, Free TV head Cory Vidanes, chief financial officer Aldrin Cerrado, TV production head Laurenti Dyogi and business unit head Lui Andrada were on hand for Sharon's contract-signing and official homecoming yesterday.
The actress-singer had been dropping hints since early this year about her comeback, even telling her followers in her more recent Facebook posts that it was going to happen earlier than expected.
According to Sharon, she had been through a lot in the last three years that humbled her, and she is happy and grateful that ABS-CBN has welcomed her with "open hearts" and without question.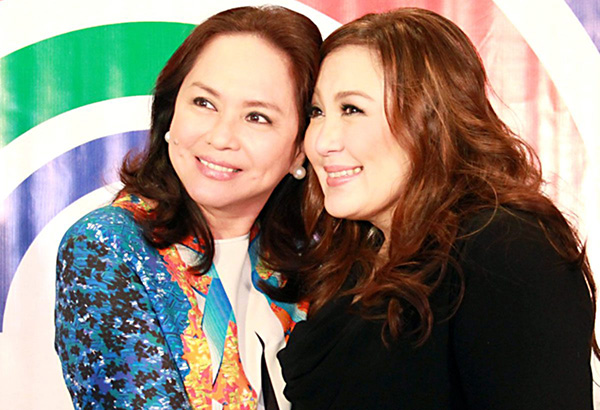 Sharon with ABS-CBN president and CEO Charo Santos-Concio
Sharon inked a five-year contract with TV5 reportedly worth P1B, then around August of last year, it was mutually agreed by Sharon (then managed by Viva) and TV5 to pre-terminate the contract. Her last show ended in February 2014.
She said of her network transfer, "I can't say I regret (it) a hundred percent because I made friends also in the other station. I was able to do a comedy, I had fun doing that. I love my co-stars and everybody. Pero parang fish out of water then pagpasok ko kanina dito (in ABS-CBN) I'm back to breathing normally parang binalik ka sa (dagat). Like a fish, you're able to breathe again."
Sharon also said that even before the media got wind of the news that she was no longer with her previous network, it was Santos-Concio who was the first to know about it. About two months after that, she said that they started having "secret meetings and planning."
During the time she wasn't visible in the entertainment scene, Sharon revealed that she thought of quitting showbiz but it didn't take her long to snap out of it. "Admittedly (I thought about it) but only short-lived, because I really wanted to act again. You built a career in over four decades, this is not the way you go out... I owe it to the (fans) Sharonians."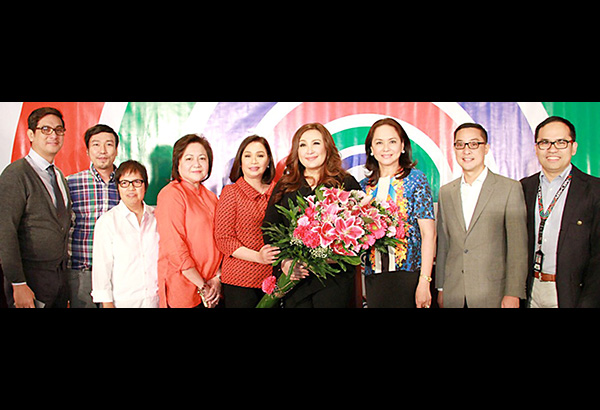 Sharon and manager Sandra Chavez (fourth from right and third from left, respectively) with ABS-CBN big bosses (from left) Laurenti Dyogi, Lui Andrada, Cory Vidanes, Charo Santos-Concio, Carlo Katigbak and Aldrin Cerrado
It will also be recalled that during her hiatus, Sharon publicly admitted via her Facebook page that she was going through one of the "lowest points of my life," dealing with mid-life, weight woes, family concerns. Looking back, she said it was mostly because of being affected by the things that happened to her loved ones, particularly her mom Elaine Cuneta, who passed away last year.
"I was never self-destructive, praise God for that! Pag may nasirang parte ng buhay ko, may nag-su-succeed na iba… It was like, okay, just give it time, I have to lick my wounds. I was really humbled… Siguro God wanted to give me a good shake to wake me up, 'You have to appreciate everything that I have given you.'"
Right now, she's thankful for the opportunity to be on TV again, an added motivation now that she's on track to her health goals. She has since lost 40 lbs. to date, jokingly adding that "I still need (to lose) several more to fulfill my dream of becoming a bold star."
She confirmed that her first project for ABS-CBN will be the Philippine version of Your Face Sounds Familiar where she sits as a juror alongside Gary Valenciano and Jed Madela. After that, she hopes to finally star in a TV drama, saying she's open to anything and open to work with anybody, whether it's her daughter KC, ex-husband Gabby Concepcion or other ABS-CBN stars, even actors who have been linked to her daughter, like Paulo Avelino.
When asked about the actor, Sharon said that when they met "he was respectful towards me. Anybody my daughter introduces to me, as long as she's being treated well, is welcomed in our lives. But I hope KC will take the time, because she's relatively young, to maybe reconnect and then maybe connect with people in circles outside showbiz. I just don't like na parang when I was very young, yung mga nakikita ko ay katrabaho ko, so my relationships were with my leading men. I just want something better — not a better person — but elimination process (laughs), a better, fairer one for her, para makikita niya people in showbiz and people outside of showbiz."