The morons in our midst according to direk Wenn Deramas
November 8, 2014 | 12:00am
Film review: Moron 5.2 The Transformation
MANILA, Philippines - It must be tough doing a film on morons.
Like it or not, their presence elicits discomfort and if your tolerance borders on the unchristian, you begin hating them the very day they shoot their mouth off and you instantly wish they drop tons of dumb bells on their feet this very moment.
What is it in their anatomy that they keep repeating the same faux pas and not even apologizing for the major ones (morons always hope you forget the minor ones).
"I'd like to think of myself as smart," says film director Wenn Deramas. "But when I meet people less than that, I don't judge them. After all, we can't all be smart and we can't always decide on what your brain dictates. At certain stages of your life, you follow your heart and then you begin doing moronic things. Morons are humans and they teach us something the so-called intelligent people can't dispense. They are generally sensitive for one and not all intelligent people are like that. I see them for what they are and not as what society expects them to be."
Deramas is so close to the subject that he did Moron 5 in 2012 and it was a blockbuster.
The other night, its sequel, Moron 5.2 The Transformation had its star-studded premiere night.
Judging from the unruly audience reactions, the movie has the makings of a blockbuster. It elicited guffaws right and left and audiences left the theater teary-eyed — from too much laughter.
For one, the storytelling is brisk and unobtrusive.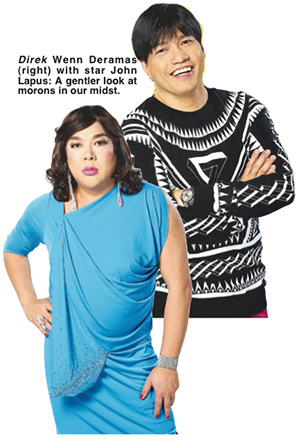 As swiftly as one could blink an eye, you see their transitions from bachelorhood to parenthood and how they ended up marrying the apples of their eyes.
However, one of them — the character played by Matteo Guidicelli — is still looking for his love partner and found it in a lady framed by flower-tinted umbrella.
When the camera gave the lady a close-up, the theater broke into mass guffaws.
The Wenn Deramas film was pure mayhem from beginning to end.
The sound design of Mike Idioma was apt and highly competent, the cinematography was at the service of storytelling and the film scoring was downright wacky.
The truth is the child actors did just as well as the riotous adult ensemble composed of Luis Manzano, Billy Crawford, Marvin Agustin, DJ Durano, Guidicelli and John Lapus.
To be fair, the adult actors were able to carve one cohesive acting ensemble freely mouthing comic lines taken from real life.
The mere mention of the word presinto (jail precinct) sent Crawford in panic (the actor figured in a jail episode in Taguig while shooting the film). Guidicelli just had to repeat the word to have fun for himself and privately, to get his comeuppance for his being "bullied" off camera.
Right from the very beginning, you can see how at home the director is handling films of this genre. He showed morons for what they are but he also made sure they get good treatment from their children who disowned them during a school recognition program. The brilliant kids apologizing to their moronic parents was the director's way of teaching kids that even morons deserve respect.
There is something in the way the film was crafted that put morons in a more compassionate perspective. Their antics were sources of fun and laughter but in the process, we see people in our midst in one of them.
The presence of someone who looked like scam queen Janet Napoles (in a wheelchair and wearing bullet-proof jacket) gave one scene another hilarious turn and indeed the audience reacted as some characters carried the surnames of Aquino, Marcos and Macapagal, among others.
Lapus was a mime virtuoso in this film managing to talk and giggle like the presidential sister.
The gifted kids poking fun at dim-witted adults who can't keep track of correct time was obviously a pun on the management style of a politician whose nickname metamorphosed into "Noynoying" which means one who can't decide fast.
We need films like Moron 5.2 to help us develop a more positive mindset for morons in public and private sectors.
They may be hateful creatures for now but come 2016, go to the polls and decide pronto.
But that is another story.
Moron 5.2 The Tranformation is now showing in theaters.