FUNFARE
-
Ricky Lo
(The Philippine Star) - September 25, 2014 - 12:00am
Like all People Power babies born after that landmark EDSA Revolt, Mark Bautista wasn't even a glint in the eyes of his parents when Pres. Ferdinand Marcos and his wife, former First Lady Imelda Marcos, ruled the country in what was described as a "conjugal dictatorship."
Turned 31 last Aug. 10, Mark is now in London in the final preparation for Here Lies Love, the rock musical by David Byrne and Fatboy Slim which will have a preview on Tuesday, Sept. 30, before the start of its regular run first week of October at the National Theatre located at a huge complex south of London (while The Prince Edward Theatre, where the hit musical Miss Saigon is playing to record crowds, is on West End).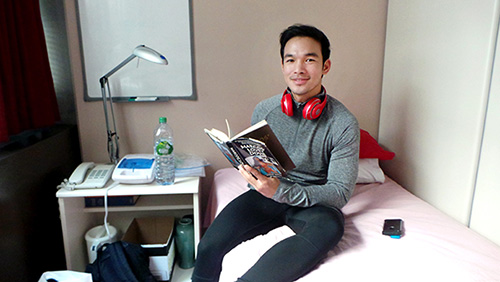 Mark plays Marcos (to Natalie Mendoza's Imelda) in the musical which revolves around the couple's colorful and dramatic love story that includes such other personalities as the late Sen. Ninoy Aquino (wonder how he's involved in the Ferdy-Meldy saga?) and Hollywood starlet Dovie Beams (find out how she was "sneaked out" of the country by a former senator).
"I have no childhood memory about Pres. Marcos and Madame Imelda, kaya medyo pressured ako to give justice to Pres. Marcos," admitted Mark during an exclusive interview with The STAR at his dressing room at the National Theatre complex ("Like our CCP," said Mark, "only much, much bigger.") "I am reading as many books on the Marcoses as I can. It helped that I was able to watch replays of Marcos stories on TV back home. Being Marcos is a big challenge at ayokong mapahiya."
During The STAR visit, Mark was reading a book about Dovie Beams ("It's only now that I'm learning about her"), who is played in the musical by a London-based Filipina actress Christine Allado with whom he will have a sizzling love scene. But just how revealing (read: sexy) that scene will be, Mark said he had no idea. Will he and Christine do it au naturel?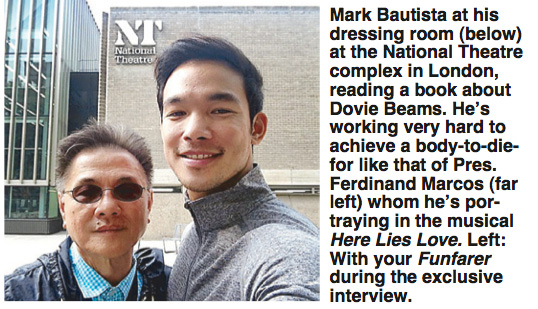 "Hmmmm, I still don't know," blushed Mark. "I might be in boxers or nothing at all. But I'm not taking any chances, so I'm preparing very hard for it. I got a picture showing how fit and how macho former Pres. Marcos was at ngayon pa lang ay parang nininerbyos na ako."
Aside from the daily rehearsals, Mark is also working hard on his body by going to the gym also every day, plus jogging around the National Theatre complex and supported by a Spartan diet ("Kasama sa diet no sex," Mark joked) that Mark himself prepares.
During a dinner with Madame Imelda (arranged by Marichu "Manay Ichu" Maceda), Mark invited her to watch Here Lies Love if ever she happens to be in London (and she just might be, for a speaking engagement at Oxford next month).
"I hope she will enjoy the show," said Mark.
He then showed me a picture showing him and Pres. Marcos bare from the waist up, two macho men from a generation apart.
"Ang ganda ng katawan niya, di ba?" said Mark. "Kaya puspusan ang workout ko para maging ganoon din ang katawan ko," adding, "kahit mahirap."
Miss Saigon
in Australia
As a nod to Miss Saigon which celebrated its 25th anniversary last Monday, Sept. 22, with a gala show at The Prince Edward Theatre in London (with Lea Salonga, the original Kim, leading special guests from the Philippines), Funfare is printing the following slightly-shortened story by my friend Renato Perdon, a Bicolano who used to work as a curator at the National Historical Commission back home and one-time editor of a Filipino newspaper in Australia where he migrated in 1989. It's part of Renato's book titled Connecting Two Cultures: Australia and the Philippines, which will be released in Manila in November.
Miss Saigon in Australia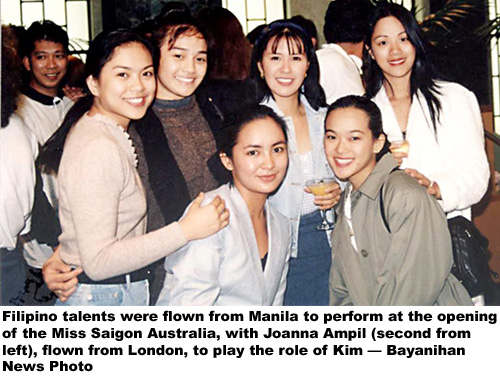 By Renato Perdon, Sydney, Australia
Miss Saigon is one of the rare international stage productions that paved the way to international fame for many talents from the Philippines, including those residing in other parts of the world, such as Australia when the show was first staged in Sydney in 1995. Broadway musical type shows became the new playground for many Filipino talents after the tremendous success achieved by Miss Saigon.
Many of the London original performers have successfully pursued their respective careers in the world of show business, while other Filipino talents were given the chance of showing their acting and singing prowess at various Miss Saigon productions held in Germany, across the United States, in Canada, Tokyo, Amsterdam, and other countries in Europe.
In an interview during the search for talent for the Australian Miss Saigon stage presentation, the ninth production since 1989, producer Cameron Mackintosh said he was inspired by the "unique presentation of the Filipinos, their gestures and musical talents."
The musical play, according to its creators, is not a musical story about the Vietnam War. It has a shade of Madame Butterfly story in a Vietnam generations setting. The play also symbolizes the end of the vision of America as invincible and how it suffered defeat and was brutally humiliated.
In Australia, as soon as negotiation for the $15 million Australian production of Miss Saigon was finalized, auditions for the Australian cast composed of 48 roles started in Perth, followed by Melbourne, Brisbane and finally Sydney.
The search was the "largest and most exhaustive in Australian theatrical history." In all these places, Filipinos were almost always competing with one another not only for the coveted Kim part but also for the other roles.
The hunt for talents turned up 34 locals, 16 of whom came from special training schools set up by Mackintosh. The last leg of the nationwide search for a talent to play Kim was held in Sydney, where a three-day hectic audition took place. The Filipino community had turned out in force to audition for the show's many of Asian roles.
Obviously, not all the Filipinos who auditioned passed the strict and demanding selection process for many of the Asian roles required in the musical presentation. At the end, producer Mackintosh decided to import three of the six principals and 13 other supporting players.
Radiant Filipina actor Joanna Ampil, a 19 year old who was then playing the role of Kim in London and Cocoy Laurel, a film and stage actor and graduate of the Julliard School of Music, who was back in Manila pursuing an active stage career were flown to Sydney for the show.
During the opening of Miss Saigon in Sydney, Ampil was praised for her "pure and powerful voice and a sustained and compelling characterization." As regards Cocoy's performance that night, guests were thrilled and considered his role as The Engineer as "rich in subversive charm."
Yet another critic Marjory Bennet said, "Ampil, with a sweet, soaring voice, turned in a moving performance." The same critic added, "If anybody stole the show it was Cocoy Laurel as the engineer—the hip-rolling, sleazy pimp with the big roguish grin and even bigger aspirations. His American Dream scene, complete with dancing girls and flashing Cadillac, was a high point..."
Given a major break in their careers were Filipino-Australians Alex Fernandez, 36 years old and married to an Australian, Robert Vicencio and Dexter Villahermosa, both 18, fresh faced and straight out from the Miss Saigon school. The three lucky thespians were part of the 14 Filipino artists selected from Australia and Manila.
The others included Ester Barroso, Cezarah Campos, Genaro Lopez, Bobby Martino, Natalie Jackson Mendoza, Rebecca Jackson Mendoza, Dean Salonga, Christine Sambeli, Rodel San Miguel, Racel Tuazon, Miriam Valmores, Joy Van Uden, and Ma-an Dionisio as understudy. She was also the Kim in the Canada production of Miss Saigon. The stage presentation on London's West End ended on Oct. 30, while the show in Stuttgart, Germany, closed in Dec. 30. At the time of this writing, the only one remaining show is the one staged on Broadway, New York, where Lea Salonga, the first Miss Saigon, is playing the role.
(E-mail reactions at entphilstar@yahoo.com. You may also send your questions to askrickylo@gmail.com.)