Embattled Facebook changes parent company name to 'Meta'
October 29, 2021 | 7:23am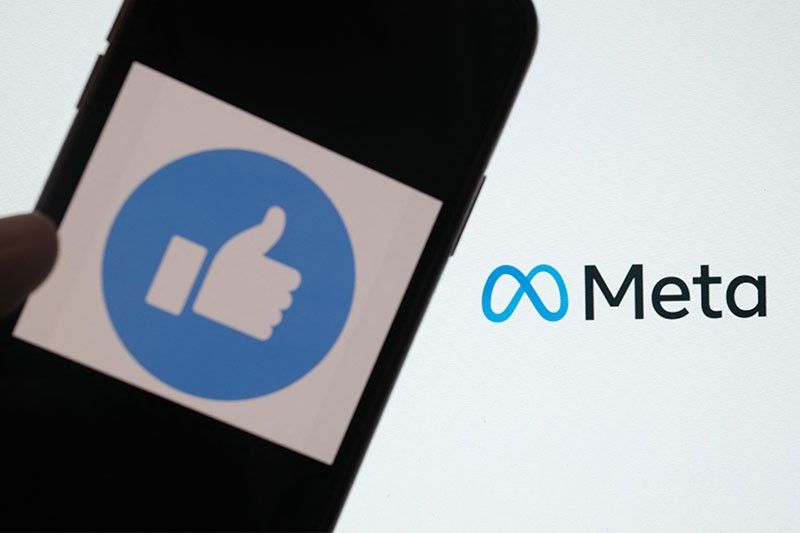 SAN FRANCISCO, United States — Facebook changed its parent company name to "Meta" on Thursday as the tech giant tries to move past being a scandal-plagued social network to its virtual reality vision for the future.
The new handle comes as the company battles to fend off one of its worst crises yet and pivot to its ambitions for the "metaverse," which would blur the lines between the physical world and the digital one.
Facebook, Instagram and WhatsApp — which are used by billions around the world — will keep their names under the rebranding critics have called an effort to distract from the platform's dysfunction.
"We've learned a lot from struggling with social issues and living under closed platforms, and now it is time to take everything that we've learned and help build the next chapter," CEO Mark Zuckerberg said during an annual developers conference.
"I am proud to announce that starting today, our company is now Meta. Our mission remains the same, still about bringing people together, our apps and their brands, they're not changing," he added.
The company's critics pounced on the rebranding, with an activist group calling itself The Real Facebook Oversight Board saying the platform is harming democracy while spreading disinformation and hate.
"Their meaningless name change should not distract from the investigation, regulation and real, independent oversight needed to hold Facebook accountable," the group said in a statement.
The social media giant has been battling one of its most serious crises ever since former employee Frances Haugen leaked reams of internal studies showing executives knew of their sites' potential for harm, prompting a renewed US push for regulation.
'Metaverse'
Reports from a consortium of US news outlets have used those documents to produce a deluge of damning stories, including blaming Zuckerberg for his platform bending to state censors and highlighting how the site has stoked anger in the name of keeping users engaged.
Facebook noted in a filing that from September "it became subject to government investigations and requests" relating to the documents leaked to lawmakers and regulators.
The company told AFP it issued on Tuesday to employees a "legal hold," which is an instruction to preserve documents and communications because it faces inquiries from authorities.
A Washington Post report last month suggested that Facebook's interest in a metaverse virtual world is "part of a broader push to rehabilitate the company's reputation with policymakers and reposition Facebook to shape the regulation of next-wave internet technologies."
However Zuckerberg, in a more than one-hour streamed message that showed him exploring virtual reality worlds, said the vision is the future.
"Within the next decade, Metaverse will reach a billion people, post hundreds of billions of dollars of digital commerce, and support jobs for millions of creators and developers," he said.
The company noted during Zuckerberg's presentation "a dozen major technological breakthroughs to get to the next generation metaverse."
Facebook has just announced plans to hire 10,000 people in the European Union to build the "metaverse," with Zuckerberg emerging as a leading promoter of the concept.
The metaverse is, in fact, the stuff of science-fiction: the term was coined by Neal Stephenson in his 1992 novel "Snow Crash," in which people don virtual reality headsets to interact inside a game-like digital world.
Facebook has been hit by major crises previously, but the current view behind the curtain of the insular company has fueled a frenzy of scathing reports and scrutiny from US regulators.
"Good faith criticism helps us get better, but my view is that what we are seeing is a coordinated effort to selectively use leaked documents to paint a false picture of our company," Zuckerberg said in an earnings call on Monday.
Google rebranded itself as Alphabet in a corporate reconfiguration in 2015, but the online search and ad powerhouse remains its defining unit despite other operations such as Waymo self-driving cars and Verily life sciences.
As It Happens
LATEST UPDATE: January 16, 2022 - 8:55am
Get the latest news about Facebook, Twitter, Instagram and other social media platforms. Main image from by Pixelkult from Pixabay
January 16, 2022 - 8:55am
Top bosses of Google and Facebook were directly involved in approving an allegedly illegal 2018 deal to cement their dominance of the online advertising market, US court documents revealed Friday.
The records, part of an anti-trust lawsuit by a coalition of US states targeting Google, make serious allegations against Big Tech giants long accused of holding monopolies.
According to the states' accusations, the online search colossus sought to oust competition by manipulating ad auctions — the ultra-sophisticated system that determines which ads appear on web pages based on the anonymized profiles of internet users. — AFP
January 2, 2022 - 9:27am
US authorities have asked telecom operators AT&T and Verizon to delay for up to two weeks their already postponed rollout of 5G networks amid uncertainty about interference with vital flight safety equipment.
The two companies said Saturday they are reviewing the request.
The US rollout of the high-speed mobile broadband technology had been set for December 5, but was delayed to January 5 after aerospace giants Airbus and Boeing raised concerns about potential interference with the devices planes use to measure altitude. — AFP
December 31, 2021 - 11:11am
Palestinian journalists have raised the alarm over what they describe as unjust suppression of their content on Facebook, a claim backed by rights groups but rejected by the social media giant.
On December 4, Palestine TV correspondent Christine Rinawi posted a video on her Facebook account in which Israeli security forces were seen shooting a Palestinian on the ground, killing him. He had just carried out a knife attack on an Israeli civilian.
Shortly after she posted her video, Rinawi, who has nearly 400,000 followers, noticed it had been removed from her account. — AFP
December 17, 2021 - 10:38am
Facebook parent Meta bans a series of "cyber mercenary" groups, and begins alerting some 50,000 people likely targeted by the firms accused of spying on activists, dissidents and journalists worldwide.
Meta took down 1,500 Facebook and Instagram pages linked to groups with services allegedly ranging from scooping up public information online to using fake personas to build trust with targets or digital snooping via hack attacks.
The social media giant also started warning about 50,000 people it believes may have been targeted in more than 100 nations by firms that include several from Israel, which is a leading player in the cybersurveillance business. — AFP
December 10, 2021 - 10:47am
When website addresses using writing systems like Chinese and Arabic were introduced back in 2009, it was hailed as a step that would transform the internet.
But 12 years later, the vast majority of the web remains wedded to the Roman alphabet -- and ICANN, the organisation in charge of protecting the internet's infrastructure, is on a mission to change it.
"The truth of the matter is that even if half the world's population uses the internet today, it's the elite of the world -- mainly those living in cities, mainly those with a good income," Goran Marby, head of the US-based non-profit, told AFP in an interview.
"Shouldn't we give people the opportunity to use their own scripts, their own keyboards, their own narratives?"
It's thanks to ICANN — the Internet Corporation for Assigned Names and Numbers — that when you type an address at the top of the screen, your computer can find the web page you're looking for.
These days it's theoretically possible to type an address in more than 150 scripts, including obscure ones like ancient Egyptian hieroglyphs, and watch the page load.
But large parts of the internet remain incompatible with writing systems other than the Latin alphabet. Many US websites, for example, would not allow you to make a purchase or subscribe to their newsletter if you entered an email address in Tamil or Hebrew. — AFP