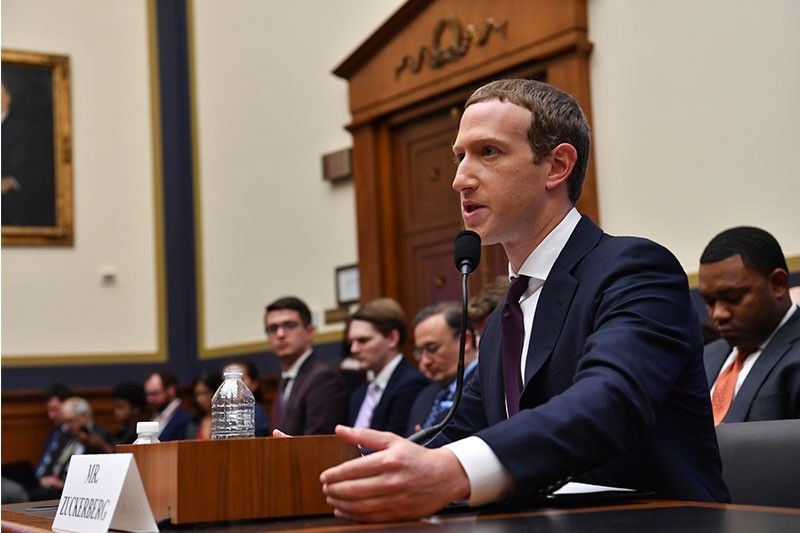 In this file photo taken on October 23, 2019 Facebook Chairman and CEO Mark Zuckerberg testifies before the House Financial Services Committee on "An Examination of Facebook and Its Impact on the Financial Services and Housing Sectors" in the Rayburn House Office Building in Washington, DC. Facebook chief Mark Zuckerberg will tell a major antitrust hearing July 29, 2020, that the internet giant would not have succeeded without US laws fostering competition -- but that the rules of the internet now need updating.
AFP/Nicholas Kamm
Zuckerberg to urge US to update 'rules for the internet'
SAN FRANCISCO, United States — Facebook chief Mark Zuckerberg will tell a major antitrust hearing Wednesday that the internet giant would not have succeeded without US laws fostering competition, but that the rules of the internet now need updating.
"Facebook is a proudly American company," Zuckerberg said in prepared remarks ahead of what will be a closely-watched House Judiciary Committee hearing.
"Our story would not have been possible without US laws that encourage competition and innovation."
But Zuckerberg also acknowledged "concerns about the size and perceived power that tech companies have."
"That's why I've called for a more active role for governments and regulators and updated rules for the internet."
Wednesday's unprecedented hearing will also feature chief executives Tim Cook of Apple, Jeff Bezos of Amazon and Sundar Pichai of Google and its parent firm Alphabet.
The CEOs of four of the most powerful companies in the world will testify remotely at the hearing, which comes less than 100 days before the US election.
The showdown in the House of Representatives comes amid rising concerns over Big Tech dominance, which has become even more pronounced during the coronavirus pandemic.
"Ultimately, I believe companies shouldn't be making so many judgments about important issues like harmful content, privacy, and election integrity on their own," Zuckerberg's prepared remarks read.
Big vs Bad
Questions at the hearing are expected to veer into issues ranging beyond whether the technology titans are abusing their power in marketplaces.
Current US antitrust laws make it difficult for enforcers to target companies simply for being large or dominant without showing harm to consumers or abuse of market power.
"We believe in values - democracy, competition, inclusion and free expression - that the American economy was built on," Zuckerberg is to say.
"Many other tech companies share these values, but there's no guarantee our values will win out."
He is to cite the example of China building and exporting a version of the internet focused on "very different ideas" from the US model.
"I believe it's important to maintain the core values of openness and fairness that have made America's digital economy a force for empowerment and opportunity here and around the world," Zuckerberg is to say.
Tech company chiefs are expected to stress how they benefit consumers, particularly during the pandemic, and face competition -- particularly from China.
The antitrust debate is being muddled by a rising "techlash" over a range of issues from privacy to economic inequality to political bias.
"Facebook is a successful company now, but we got there the American way: we started with nothing and provided better products that people find valuable," Zuckerberg is to say.
"As I understand our laws, companies aren't bad just because they are big. Many large companies that fail to compete cease to exist.
Social media giants face attacks for allegedly using their dominance to stifle conservative views -- a claim made by President Donald Trump.
Facebook has been accused of failing to curb hateful content promoting violence, including from Trump.
As It Happens
LATEST UPDATE: August 7, 2020 - 10:53am
The latest news about Facebook, Twitter, Instagram and other social media platforms.
August 7, 2020 - 10:53am
US President Donald Trump orders that a ban on interacting with popular social media platform TikTok or its Chinese parent company take effect in 45 days.
"The United States must take aggressive action against the owners of TikTok to protect our national security," Trump says in an executive order.
After taking effect, the order will bar "any transaction by any person, or with respect to any property, subject to the jurisdiction of the United States, with ByteDance Ltd" or any company in which it has an interest. — AFP
August 5, 2020 - 11:04am
President Donald Trump defends his demand for the US government to get a piece of the action to let Microsoft or any other company here buy popular China-based social media app TikTok.
Trump's stance was slammed by critics who said it appears unconstitutional and akin to extortion.
"We have all the cards, because without us, you can't come into the United States," Trump says during a White House press briefing. — AFP
August 4, 2020 - 7:36am
President Donald Trump says that Chinese-owned hugely popular video-sharing app TikTok will be "out of business" in the United States if not sold to a US firm by September 15.
"I set a date of around September 15, at which point it's going to be out of business in the United States," he tells reporters.
"It'll close down on September 15th unless Microsoft or somebody else is able to buy it and work out a deal." — AFP
August 1, 2020 - 11:16am
President Donald Trump says he will bar fast-growing social media app TikTok from the United States as American authorities have raised concerns the service could be used by Chinese intelligence.
Speaking to reporters on Air Force One, Trump says: "As far as TikTok is concerned, we're banning them from the United States." — AFP
August 1, 2020 - 10:47am
The hackers who accessed dozens of high-profile Twitter accounts in mid-July gained access to the system with an attack that tricked a handful of employees into giving up their credentials, according to a company update.
Twitter says in a security update late Thursday that the July 15 incident by bitcoin scammers stemmed from a "spear phishing" attack which deceived employees about the origin of the messages.
The hackers "targeted a small number of employees through a phone spear phishing attack," according to a Twitter Support statement. — AFP