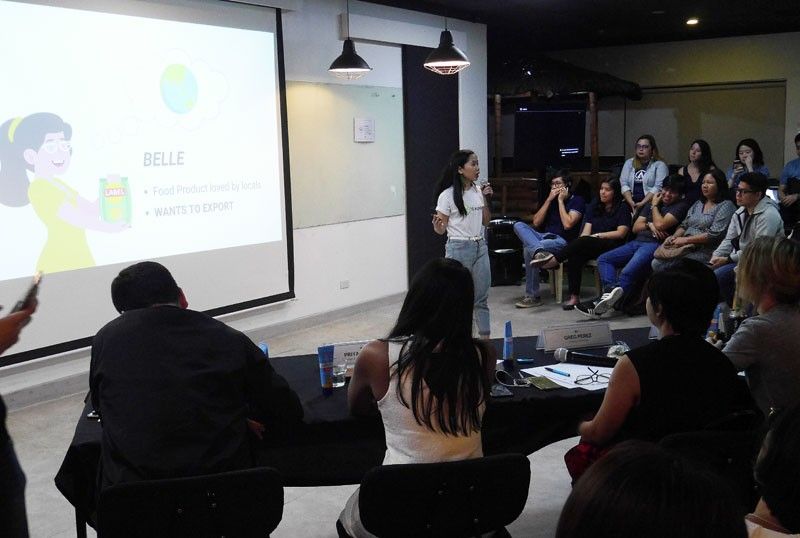 Mel Nava of 1Export, one of the three winners, presents her organization.
Three entrepreneurs win SoGal Manila bootcamp
(The Philippine Star) - January 13, 2020 - 12:00am
SoGal Foundation recently held the Manila pitch competition for startups with women and other underrepresented founders in a three-day startup boot camp with the chance to win investment capital.
SoGal Foundation, a non-profit is on a mission to close the diversity gap in entrepreneurship. The first Manila regional round of the SoGal Global Pitch Competition is the largest global pitch competition for women and underrepresented founders.
The winners from each regional round competition will travel to Silicon Valley to participate in SoGal's three-day immersive educational boot camp for guaranteed facetime with top Silicon Valley investors, curated educational programming, unparalleled mentorship, press opportunities, as well as compete on the global level to win a portion of $600K in investment capital.
Manila is one of over 25 regional rounds hosted in SoGal chapters across five continents. Other regional rounds were hosted in New York, London, Lagos, Chicago, Berlin, Singapore, and Tokyo, to name a few.
Manila speaks
At the end of the three-day boot camp the three winners that represent a range of industries, from trade services to skincare to aquaculture.
Magwai (@magwai.com.ph) is a locally produced reef-safe sunscreen that was born out of love and respect for the beauty of the coral reefs in the Philippines. 1Export (1Export-melnava@1export.net) is an online platform that helps businesses go global by removing the barriers of exporting in terms of compliance and trade. Isdabest (dominique_sy@dlsu.edu.ph) empowers coastal communities through the co-creation of self-sustaining seafood hubs with restorative and resilient ocean farming.
The panel of judges at the Manila round, including Priya Thachadi (Villgro Philippines), Paulo Campos (Zalora), Johanna Wiese (Mistletoe Global) and Greg Perez (xchange), selected the three winners who will move on to the final round in Silicon Valley in February.
The Manila pitch competition was held last December. Fifteen women-founded startups were selected to pitch, including Fortuna Cools Co., Suitd, MachiBox Inc., Isdabest, Magwai, Workbean, Olivia Technology Group, Inc, Dearest Ltd, Saphron, Container Living PH, Wayste, 1Export., Forth Co., Blue Skin, and Agrabah Ventures. The 15 startups pitching were selected out of a competitive pool of 37 applications, all from early stage women-founded startups.
SoGal Foundation's Global Pitch Competition represents the first and largest opportunity for women and diverse entrepreneurs and investors to connect worldwide.
* * *
For information, email Vera Lummis and Raya Buensuceso, SoGal Manila Chapter Leads at philippines@iamsogal.com.