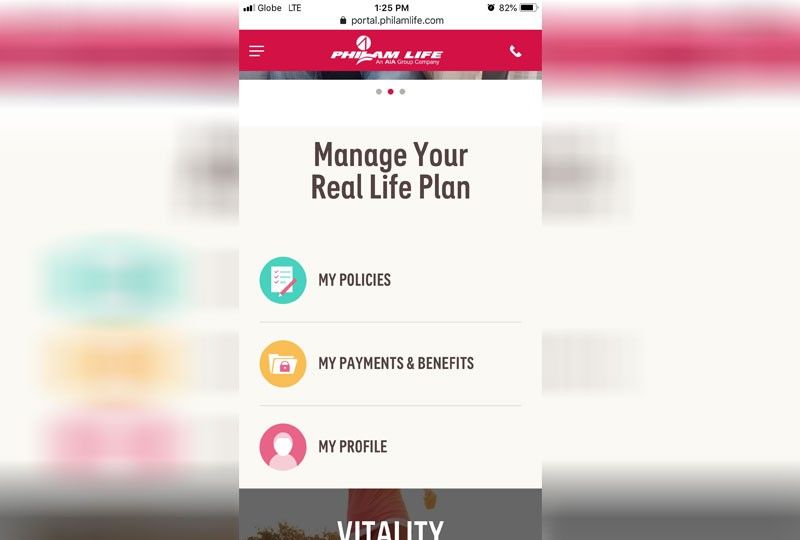 Policyholders can easily manage their policies, change payment terms or edit their profile online.
AIA Philam Life brings insurance to the future
MANILA,Philippines — After graduating from college in the early 2000s, I started my days both waiting for Kris Aquino's morning show to start and getting tossed chores by the parentals. My mom must have grown tired of seeing me vegetate in my room so she convinced me to go into insurance. My days which were once spent glued to the TV were now held inside a training room, learning about premiums, beneficiaries, maturity ages, life and death benefits, and riders.
When I finally passed the license exam, I went out and preached the importance of life insurance as the best thing you can do for yourself and your family. It was fairly easy at first to call people to meet up for coffee to "catch up" but it turned out harder than I thought. The challenge as a financial advisor back then was the shuttling to and from wherever the customer was, printing out and lugging pages upon pages of different policies based on a prospect's budget, and chasing them to get their John Hancock on documents which then had to be sent to the head office for processing. Selling was time consuming, tedious and totally not environmentally friendly.
Luckily, modern technology has made the entire insurance process easier for the financial advisor and the customer.
Going Digital
The digital journey of AIA Philam Life started in 2013 when it introduced iPos, a tablet-based, interactive point of sale platform. "It was then the first state-of-the-art, end to end selling tool in the local life insurance industry," said Kelvin Ang, AIA Philam Life CEO. A few years later, they began looking at digitalization from a more wholistic point of view.
"We designed our digital roadmap with the customer journey in mind by putting ourselves in their shoes. We asked how do they learn about AIA Philam Life? How do they buy a policy and what was their experience like? How do we service them? What is their experience when they file a claim?" said Gigi Pio de Roda, AIA Philam Life Chief Operations Officer.
The journey starts off with their website where one can learn about AIA Philam Life's products, purchase through iPos, and continue its after sales service and process claims through iServe and E-Plan while Liv, a self-help financial calculator on their website allows policyholders to quickly assess their financial needs.
Paperless Solutions
iPos makes the buying process seamless and convenient for both the customer and financial advisor by collecting the necessary information needed to instantly generate a policy proposal and close the sale immediately. "For the first time, our 8,000 financial advisors had a more efficient way of doing things. It took away a lot of the complexity and I think we even inspired other companies to do the same," adds Ang.
iPos, which the financial advisor can access using a tablet, makes sure the product being sold is based on careful assessment of a customer's financial goals, priorities, and risk profile. Once a proposal has been generated and the customer is ready to purchase, they can sign off directly on the device, set their payment terms, and they will instantly receive legally binding copies of their E-Policy and E-Receipt via email.
E-Plan is the 24/7 portal for policyholders who want to edit their details and perform transactions by themselves. When they want to file a claim, AIA Philam Life has E-Submission where they can process simple requests on a next day basis.
The relationship between financial advisor and customer continues even after the purchase of a policy with iServe, AIA Philam Life's digital customer service platform. It helps them be more self-sufficient in servicing the needs of customers, cutting down waiting time and reducing the need to go to the Customer Service Center. With it, they can receive payments (including through credit card), submission of requests, changes in details, and process claims, among others.
Pio de Roda says, "These innovations have resulted in benefits across all the stakeholders, providing faster, better and more consistent service, unlocking more time for our financial advisers to focus on meeting customers, and improved productivity of our operations team."
Another digital breakthrough AIA Philam Life uses to continuously engage its customers is Philam Vitality, the science-backed wellness program which incentivizes members with rewards for knowing and improving their health.
Although the digitalization of AIA Philam Life is attuned to more tech-heavy times especially with the company's sights to doing artificial intelligence in the future, it doesn't mean its financial advisors will play a behind the scenes role. "They continue to be very important and key to our business," Ang explains. "To us, they represent something technology would never replace — they are able to empathize, listen, and give advice to clients and make them understand their financial plan. Our digital tools just enable them to work more efficiently and professionally. We are doing this with the customer in mind, making things easier and assuring them of our brand promise of helping them live a healthier, longer and better life."
For infromation, visit philamlife.com, Facebook page at https://www.facebook.com/PhilamLifeAIA/, email at philamlife@aia.com or call 8528-2000.