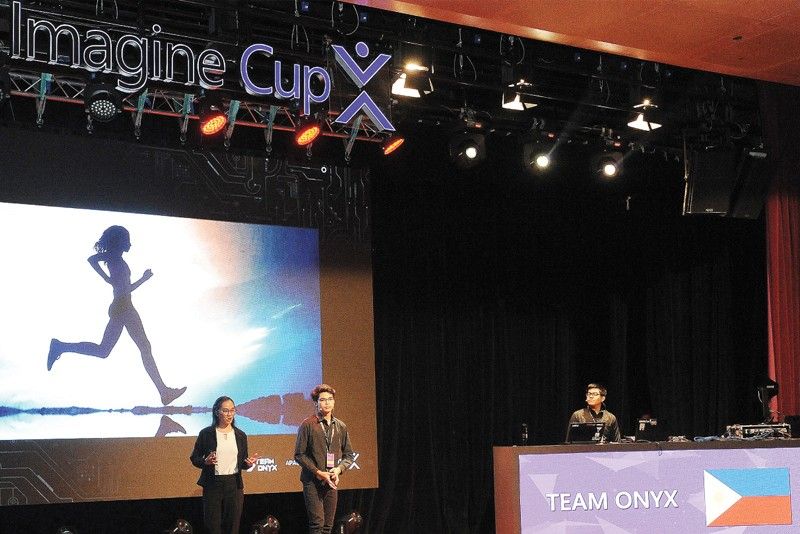 Presenting at the Imagine Cup APAC Finals 2018 in Kuala Lumpur is Team Onyx from the Philippines composed of students from Technological Institute of the Philippines- Quezon City.
Filipino students compete in Asia's premier technology competition
MANILA, Philippines — A team of three Computer Engineering students from the Technological Institute of the Philippines-Quezon City competed in the recently concluded Asia-Pacific Finals of Imagine Cup, Microsoft's premier technology competition, in Kuala Lumpur.
Romie Rey Santiago, Daniel Soriano, and Kyle Fretzie Regino created a mobile health application that can aid in the early detection of diseases using a detailed image of fingernails.
Called Bionix, the app scans a user's fingernail and the image is sent to Microsoft Cognitive Services and analyzed by a feature called Custom Vision. The image would then be compared to existing health data sets to determine what type of diseases the user may have.
Soriano explained that according to their research, there are many signs and symptoms of diseases in the body that could already be seen through the nail in the very early stage. However, the naked human eye cannot analyze nail color or texture nor compare it to data sets to provide an analysis.
Custom Vision analyzes the data using artificial intelligence and machine learning models. Regino said the goal is to allow users to easily identify diseases that they may have and apply immediate medication if needed.
On the business side, the students proposed that the basic functions of the app include getting scans and analyses and locating the nearest hospital or medical center where they can look for experts to discuss the results with. For a fee of as little as $2 per month, premium users can export the results of their scans to file types that can be presented to a doctor during a consultation, as well as a list of medical specialists they can consult with.
Santiago revealed that they came up with the idea in a class on Embedded Systems, where the project was initially focused on using the eyes to detect diseases.
One of the judges, Michael Teoh, founder-strategist and director of Thriving Talents and a former Imagine Cup winner himself, was given a demo of the application, which brought an enthusiastic applause from the audience.
"No matter how fit you are, you've got to be nervous because you really don't know what's happening in your body. I was nervous because I missed gym for the past few weeks," he commented.
"One thing, though, is it sparks hope. The idea that you could just use a fingernail to give you some indication of your health status, that blew my mind away. I was blown away by the fact that this is something so simple, yet it was conceived, thought of and is now being made into a prototype by a group of students with very limited resources they have at the time," he added.
Computational thinking
Who knows the possibility that this very solution may indeed grow to become a viable business in the future?
Dave Miller, commercial software engineering lead for Microsoft Asia-Pacific, however, refuses to attach a price tag to Microsoft's investment in the youth competition or to quantify the success rate of student teams who have won in the competition in the past.
"I reminded the students that these skills and the computational thinking that they are doing here today – the ability to look at complex problems, apply not just technology but creative thinking, building themes and developing collaborations and even speaking skills really help bring computational thinking skills together.
"We are moving from learning about technology to actually creating technology. There is a very big difference between literacy and the creation of technology and the creation of value," he said.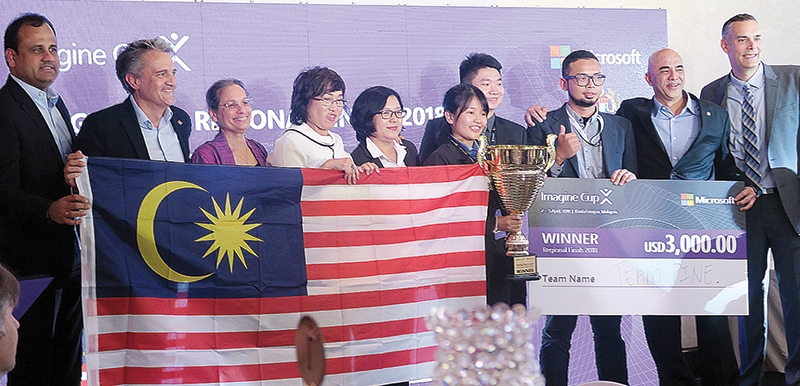 For developing a non-destructive device that enables pineapple exporters to test pineapples from the farm prior to harvest, Team Pine from Malaysia tops the APAC Finals and takes home the Imagine Cup.
Held annually since 2003, Imagine Cup is now on its 16th year and it has touched over two million students from over 190 countries. In Asia-Pacific alone, over 380,000 students have competed in the Imagine Cup in the last five years, according to Miller.
"The Asia-Pacific region has a very large percentage of youth. In fact, between the ages of 15 and 24, there are over 700 million youth, which is 60 percent of youth in the world. We see that as a tremendous opportunity," he said.
On to the US Grand Finals
The Philippines was one of 15 teams that competed in this year's Asia finals. Three teams bagged the top prizes ($3,000, $2,000 and $1,000 for the winner and runners-up, respectively). However, a total of seven teams were selected to move on to the grand finals to be held in Seattle in July.
The student team from Malaysia won the top prize for their work on developing a non-destructive device that enables pineapple exporters to test every pineapple from the farm to determine optimal internal quality and ripeness prior to harvest.
The first runner-up was the student team from Thailand, which developed a solution for beekeepers to manage hive productivity using IoT-enabled devices to collect sound, image, humidity, temperature, and weight within the bee box.
Named second runner-up was the Singapore team, which created ProXubeX, an autonomous interactive learning where dyslexic children learn through interaction with cubes.
Miller said that if one looks at students as true innovators, one could start to see them almost projecting a forward-looking view of where some of the issues the world is grappling with as well as technology that can be used to solve them.
"We are seeing healthcare, safety, agriculture, and some operational optimization (in these student projects)," he said. "When we look at this competition, they are kind of forward indicators where we are going to see some of this technology growth happening in the broader market and in a broader sense."