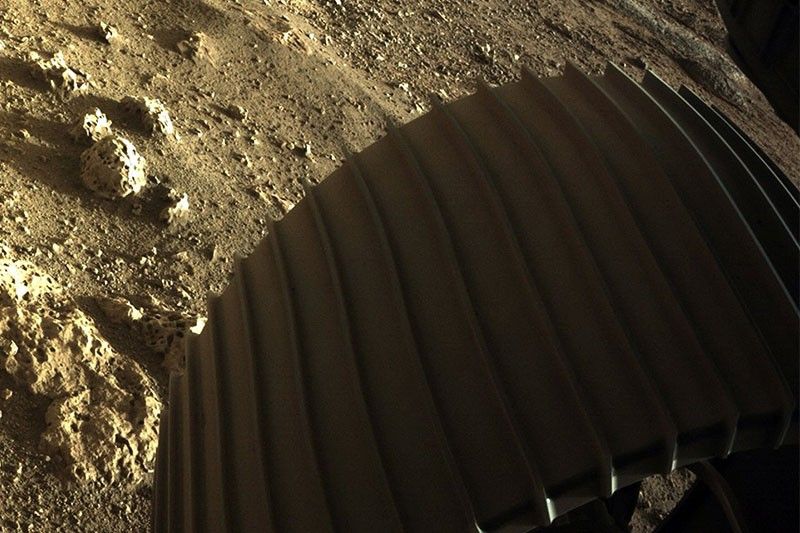 This NASA photo released on February 19, 2021, shows an image from NASA's Perseverance rover of the surface of Mars and one of the rover's wheels after landing on February 18, 2021. NASA said February 18, 2021 that the Perseverance had touched down on Mars after successfully overcoming a risky landing phase known as the "seven minutes of terror." "Touchdown confirmed," said operations lead Swati Mohan. The autonomously-guided procedure was completed more than 11 minutes earlier, which is how long it takes for radio signals to return to Earth.
AFP/NASA/JPL-CALTECH, Handout
NASA releases first audio from Mars, video of landing
WASHINGTON, United States — The US space agency NASA on Monday released the first audio from Mars, a faint crackling recording of a gust of wind captured by the Perseverance rover.
NASA also released the first video of last week's landing of the rover, which is on a mission to search for signs of past life on the Red Planet.
A microphone did not work during the rover's descent to the surface, but it was able to capture audio once it landed on Mars.
NASA engineers played a 60-second recording.
"What you hear there 10 seconds in is an actual wind gust on the surface of Mars picked up by the microphone and sent back to us here on Earth," said Dave Gruel, lead engineer for the camera and microphone system on Perseverance.
The high-definition video clip, lasting three minutes and 25 seconds, shows the deployment of a red-and-white parachute with a 70.5-foot-wide (21.5-meter-wide) canopy.
More sounds of Mars: https://t.co/wRrDvkUxeC

— NASA's Perseverance Mars Rover (@NASAPersevere) February 22, 2021
It shows the heat shield dropping away after protecting Perseverance during its entry into the Martian atmosphere and the rover's touchdown in a cloud of dust in the Jezero Crater just north of the Red Planet's equator.
"This is the first time we've ever been able to capture an event like the landing on Mars," said Michael Watkins, director of NASA's Jet Propulsion Laboratory, which is managing the mission.
"These are really amazing videos," Watkins said. "We binge-watched them all weekend."
Thomas Zurbuchen, NASA's associate administrator for science, said the video of Perseverance's descent is "the closest you can get to landing on Mars without putting on a pressure suit."
'Perseverance is healthy'
Jessica Samuels, Perseverance's surface mission manager, said the rover was operating as expected so far and engineers were conducting an intensive check of its systems and instruments.
"I am happy to report that Perseverance is healthy and is continuing with activities as we have been planning them," Samuels said.
She said the team was preparing for a flight by the rover's small helicopter drone dubbed Ingenuity.
"The team is still evaluating," she said. "We have not locked in a site yet."
Ingenuity will attempt the first powered flight on another planet and will have to achieve lift in an atmosphere that is just one percent the density of Earth's.
Perseverance was launched on July 30, 2020 and landed on the surface of Mars on Thursday.
Its prime mission will last just over two years but it is likely to remain operational well beyond that. Its predecessor Curiosity is still functioning eight years after landing on Mars.
Over the coming years, Perseverance will attempt to collect 30 rock and soil samples in sealed tubes to be sent back to Earth sometime in the 2030s for lab analysis.
About the size of an SUV, the craft weighs a ton, is equipped with a seven-foot-long robotic arm, has 19 cameras, two microphones and a suite of cutting-edge instruments.
Mars was warmer and wetter in its distant past, and while previous exploration has determined the planet was habitable, Perseverance is tasked with determining whether it was actually inhabited.
It will begin drilling its first samples in summer, and along the way it will deploy new instruments to scan for organic matter, map chemical composition and zap rocks with a laser to study the vapor.
One experiment involves an instrument that can convert oxygen from Mars' primarily carbon dioxide atmosphere, much like a plant.
The idea is that humans eventually won't need to carry their own oxygen on hypothetical future trips, which is crucial for rocket fuel as well as for breathing.
The rover is only the fifth to set its wheels down on Mars. The feat was first accomplished in 1997, and all of them have been American.
The United States is preparing for an eventual human mission to the planet, though planning remains very preliminary.
As It Happens
LATEST UPDATE: July 20, 2021 - 12:53pm
Monitor major developments on space explorations and the status of missions.
July 20, 2021 - 12:53pm
The wealthiest man on the planet Jeff Bezos will ride his own rocket to outer space on Tuesday, a key moment for a fledgling industry seeking to make the final frontier accessible to elite tourists.
Blue Origin has planned its first crewed mission, an 11-minute hop from west Texas to beyond the Karman line and back again, to coincide with the 52nd anniversary of the first Moon landing.
Virgin Galactic founder Richard Branson made the voyage on July 11, narrowly beating the Amazon magnate in their battle of the billionaires.
But Bezos, like Branson, insists it wasn't a contest.
"There's one person who was the first person in space — his name was Yuri Gagarin — and that happened a long time ago," he told the TODAY show on NBC on Monday, referencing the Soviet cosmonaut's 1961 milestone. — AFP
July 12, 2021 - 8:02am
Champagne flowed, guests cheers and Grammy-nominated singer Khalid debuted a new single: British billionaire Richard Branson threw himself a party in the desert to mark his successful first flight into space.
The eccentric septuagenarian founder of Virgin Galactic arrived before dawn at Spaceport America, built in large part at his initiative, in the US state of New Mexico.
The sun rose on the building's futuristic glass facade, located in a region that boasts 340 days of good weather per year.
A small crowd of invited guests, baking under the hot sun, cheered as the space crew climbed into a black SUV and headed for the rocket, which sat at the end of a 3.6 kilometer (2.2 miles) track. On board were Branson, two pilots and three other Virgin Galactic employees.
Also on hand, though unseen by the cameras, was SpaceX founder Elon Musk, another billionaire with galactic aspirations.
A TikTok star, a celebrity television presenter and a Canadian astronaut were among those poised, ready to commentate on the momentous event.
After the launch, the huge carrier plane climbed through the air for about 50 minutes. The guests took refuge under a white tent, eating passed hors d'oeuvres while children ran about.
But they soon rushed back out again to witness the main event: the spaceship released from the plane, igniting its engine for a supersonic ascent to shouts of joy from the Earth-bound watchers.
"Welcome to space!" the commentator announced a few minutes later, just before the ship began its descent.
Branson's face filled the big screen, streamed in from the rocket: "I was once a child with a dream, looking up to the stars. Now I'm an adult in a spaceship!" he said to the crowd. — AFP
July 4, 2021 - 2:25pm
Astronauts at China's new space station conducted their first spacewalk Sunday, state media reported, as Beijing presses on with its extraterrestrial ambitions.
It was only the second time the country's astronauts have stepped out of their craft while in space.
Three Chinese spacemen blasted off in June, docking at the Tiangong station where they are to remain for three months in China's longest crewed mission to date. — AFP
June 15, 2021 - 10:35am
The first crew for China's new space station prepared to blast off this week for the latest step in Beijing's ambitious programme to establish itself as a space power.
The mission is China's first crewed spaceflight in nearly five years, and a matter of prestige for the government as it prepares to mark the 100th birthday of the ruling Communist Party on July 1 with a propaganda blitz.
A Long March-2F rocket carrying three astronauts in the Shenzhou-12 spacecraft is slated to lift off from a base in northwest China's Gobi desert on Thursday, according to experts with knowledge of the matter.
They plan to spend three months on the Tiangong station, China's longest crewed space mission to date, with spacewalks among their tasks.
The astronauts will aim to "get their new home in space kitted out and ready to use," said Jonathan McDowell, an astronomer at the Harvard Smithsonian Center for Astrophysics. — AFP
June 13, 2021 - 9:12am
An unnamed bidder pays $28 million at auction Saturday for a seat on board the first crewed spaceflight of Jeff Bezos' company Blue Origin on July 20, as one of four passengers including the Amazon founder himself.
The winner, whose identity will be disclosed in coming weeks, beat out some 20 participants in an auction launched in late May, and wrapped up with a 10-minute online bidding frenzy, livecast by Blue Origin. — AFP