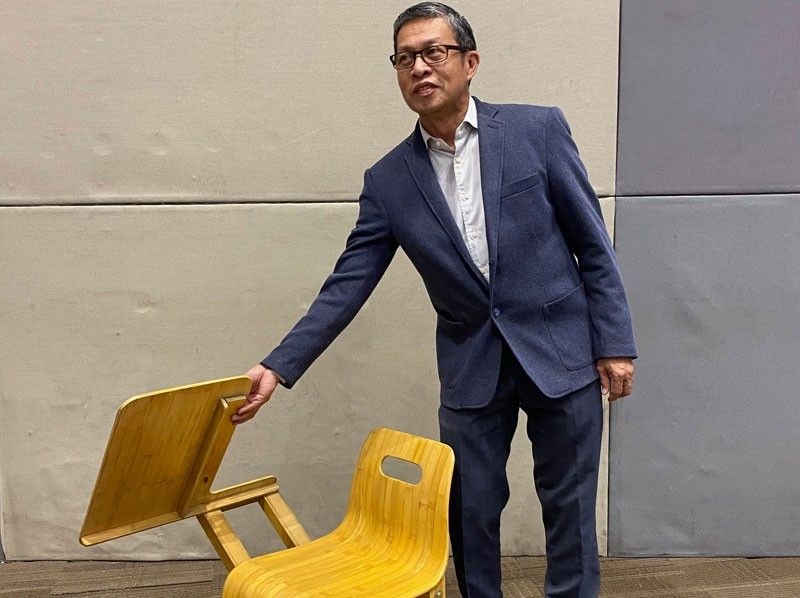 Pedro Delantar of Nature's Legacy of Cebu explains the features of the armchair for schools made from bamboo at the National Invention Contest and Exhibit 2020 held earlier this month at the SMX Convention Center at SM Aura in Taguig City.
Cebuano inventor develops sustainable armchair for schools
MANILA, Philippines — Award-winning Cebuano inventor-entrepreneur Pedro Delantar has developed a modern and more sustainable armchair for schools.
The bamboo schoolchair developed by Delantar as the entry of his Nature's Legacy corporate entity won second prize in the Outstanding Industrial Design category of the Department of Science and Technology (DOST) National Invention Contest and Exhibit held at the SMX Convention Center at SM Aura in Taguig City last week.
First prize was won by DOST-Metals Industry Research and Development Center (MIRDC) engineers led by Pablo Acuin and for their successful R&D work that came up with the Hybrid Road Train.
Using bamboo as raw material for schoolchairs, Delantar said, can greatly reduce the need to cut down industrial trees in the country's rainforests, making the effort an achievement toward the global push for environmental sustainability.
"Bamboo is very renewable, or rapidly renewable, and sustainable," Delantar, a winner of several NICE Tuklas Most Outstanding Invention Award in the past years mainly for development of his patented material from "agro-forestry debris" Naturescast, told The STAR.
"Bamboo is a grass. It grows anywhere. Anywhere you go in the Philippines, there's bamboo. Wala lang tayong development (of bamboo as material)," he lamented.
Delantar pointed out that there was even a law passed, the Bamboo Development Act, to develop bamboo as an alternative to wood.
"It's just being wasted. We have a lot of this resource but we do not develop it (as an alternative to wood)," he stressed.
Hence, his recent effort to design and develop a schoolchair made of wood.
"The concept I developed was to laminate the bamboo, make them into boards, bind them so you don't need to nail them together, and you can easily produce chairs out of them," Delantar said. "The chair is intended for Grade 1 to Grade 6 students. I made the desks bigger to allow computers to be put on top of them."
The bamboo school armchair developed by Delantar is also foldable, and designed so that components are easily replaceable.
Delantar expressed hope that the recognition given to his bamboo schoolchair will make the Department of Education consider it for use in the thousands of public schools all over the country.