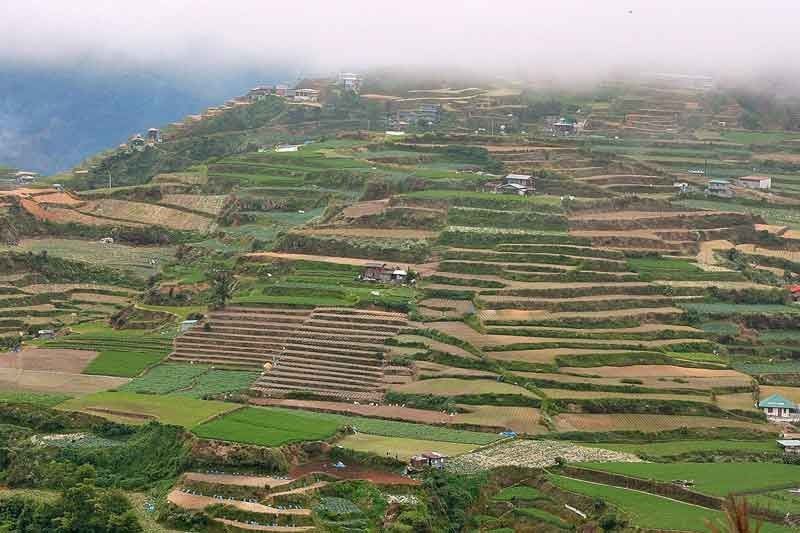 Photo shows the vegetable gardens in Atok in Benguet, known as the salad bowl of the Philippines.
Andy Zapata Jr.
'Vegetable gardens boost school children's performance'
LOS BAÑOS, Laguna, Philippines — About 150 government, academic and development officials from 11 countries convened here last week and shared experiences in their school garden programs that boost children's academic performance.
"The simple school garden can make significant contributions to children's nutrition and to some extent food and nutrition security at the community and national levels," Gil Saguiguit Jr., director of the Southeast Asian Regional Center for Graduate Study and Research in Agriculture (SEARCA) said.
In most countries in Southeast Asia, he said, school-age children are among the most vulnerable to malnutrition and nutrient deficiencies, which could lead to poor academic performance.
Saguiguit spoke at the International Conference on School Gardens: Leveraging the Multi-functionality of School Gardens, which was organized by Philippine government-hosted SEARCA, the Department of Education (DepEd)-Laguna and University of the Philippines Los Baños (UPLB).
The April 16-18 conference aimed to provide a venue for sharing the different models and approaches of school gardens in the participating countries.
Focusing on the multi-functionality of school gardens, Education Secretary Leonor Briones cited the progress of the government's 10-point education agenda.
Briones stressed that fostering "a better understanding of how school gardens help improve nutrition, education, and economic well-being of children, their families, and their communities, is not only aligned with, but even strengthens DepEd's education agenda."
She said that DepEd's Gulayan sa Paaralan program establishes and maintains school gardens as "ready food baskets" or sources of vegetables to sustain feeding.
Department of Agriculture Secretary Emmanuel Piñol, represented by Undersecretary Ranibai Dilangalen, also reported the progress of DA's Gulayan sa Paaralan, which aims "to reduce the number of adversely wasted malnourished children in the country."
DA's Gulayan program will be continued, Piñol assured participants.
For his part, Chancellor Fernando Sanchez Jr. said UPLB recognizes that poor health and malnutrition are serious national problems.
Malnourished children "are not only vulnerable to various illnesses, they are also more inclined to chronically miss classes and perform poorly academically," he said.
Thus, he said, five years ago DepEd-Laguna, SEARCA and UPLB launched the program "A Participatory Action Research on School and Community-based Food and Nutrition Program for Literacy, Poverty, Reduction, and Sustainable Development" to address and improve the youth's health and nutrition needs.