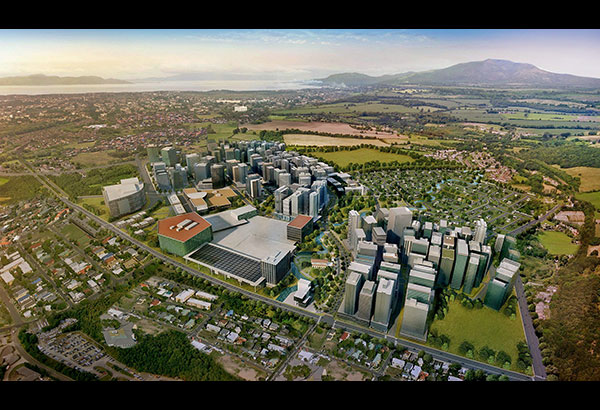 Artist's rendering of Evo City master plan.
An evolution starts in Kawit
MANILA, Philippines - The Ayala Group is jumpstarting 2017 with the launch of a new central business district in Kawit, Cavite that is said to rival the posh CBD in Makati.
Alveo Land, a subsidiary of Ayala Land Inc., launched over the weekend the 200-hectare Evo City.
In a recent press briefing, Alveo Land president Jennylle Tupaz, said the 200-hectare Evo City — short for evolution — will be a prime business district that will be at par with the Makati Business District and other Ayala CBDs.
Right at the heart of the district, Alveo will have an anchor residential project, The Residences, which will offer the affluent market in and outside Cavite a unique living experience.
The company is targeting to reach sales of P7.4 billion for the new residential subdivision.
"The Residences at Evo City will offer the ideal living experience in the South. With the seamless synergy of all the Ayala brands involved, Evo City will become a prime CBD that will drive growth and progress in Cavite. This will be an estate that delivers complete work and living experiences in a well-masterplanned and sustainable environment," Tupaz said.
Evo City in Kawit, Cavite will be the next CBD of the South, and one of the most prime commercial and residential destinations in the country, she said.
It is bordered by the Centennial Road, Kalayaan Road and the soon-to-be-developed Cavite-Laguna Expressway (Calax).
In terms of access, it can be reached through Cavitex, C5, EDSA, SLEX and NAIA Expressway.
Future government infrastructure projects such as Calax, Cavite C5 Southlink and the Southwest Integrated Transport System will also give further entry to the estate, Tupaz said.
The Residences will be the anchor residential projects of the estate which would also include a lifestyle mall by the Ayala Malls Group, a hotel by Ayala Hotels and Resorts Corp, office developments by Ayala Land Offices, and residential offerings by Alveo Land.
There will also be a private school, Tupaz said.
Furthermore, Evo City would include parks and plazas, a church, and hospital to complete the estate. In addition, other Ayala companies such as Globe Telecom and Manila Water will be lending their expertise in developing the communication and water systems.
The Residences at Evo City, meanwhile, is the first residential development in the area located in the southern portion of the district.
It will have a main park and smaller cluster parks situated around the subdivision. There will also be a clubhouse with a lap pool, lounge pool and a children's pool for residents to enjoy.
Phase 1 of the subdivision will offer 395 lots for sale with an average size of 326 square meters. Indicative average selling price is at P30,000/sqm, and average total contract price is P9.7 million. Turnover of The Residences at Evo City will be held in 2020.