Two Roxas Triangle: Second tower rises in Makati's most luxurious address
MANILA, Philippines - Roxas Triangle Towers, the most exclusive residential enclave right at the heart of Makati's central business district, will soon host a new 52-level structure to complete what its developers boast as their trophy project.
Two Roxas Triangle, set to be completed in 2019, follows in the footsteps of the upscale One Roxas Triangle building which, since it opened in 2001, has maintained one of the highest occupancy and lease rates in the nation's financial capital.
Ayala Land Premier (ALP) head Jose Juan Jugo said the project provides a discreet location that brings prime access and exclusivity. "Today, Two Roxas Triangle presents another opportunity to live in one of the country's most esteemed premier residential communities."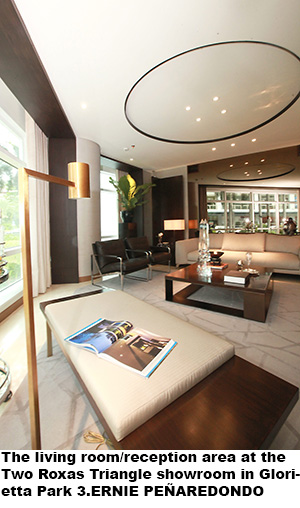 The entire 1.1-hectare development is situated at the corner of Paseo de Roxas and Cruzada St., surrounded by lush landscaping vegetation. It forms an infinity symbol – or the number 8 – with Ayala Triangle, enriching its appeal to buyers in the luxury residential market.
The project is being developed by Roxas Land Corp. , a joint venture among Ayala Land Inc. (ALI), Hongkong Land and Bank of the Philippine Islands.
Jugo, who heads ALI's high-end development unit ALP, said Two Roxas Triangle represents "a special cocktail of luxury living" whose prime location and amenities are geared up for the uppermost residential market segment.
Each floor consists of only four units with elevators opening directly to their own private lobby. Spacious residences of three-bedroom and four-bedroom apartments start from 302 square meters, with the largest four bedroom penthouse units at 633 sqm, complete with balconies.
Each unit has walk-in closets for the master bedroom, designer gourmet kitchen systems, and utility kitchens with a separate service entrance.
Jugo said around 70 percent of the units have already been pre-sold, with price ranging from P60 million to P190 million, inclusive of parking slots and value-added tax.
"Overall, Roxas Triangle Towers is a singular residential development that is in a class of its own. Since One Roxas Triangle's opening in 2001, this development has set the benchmark for luxury living in the country's financial capital," he pointed out.