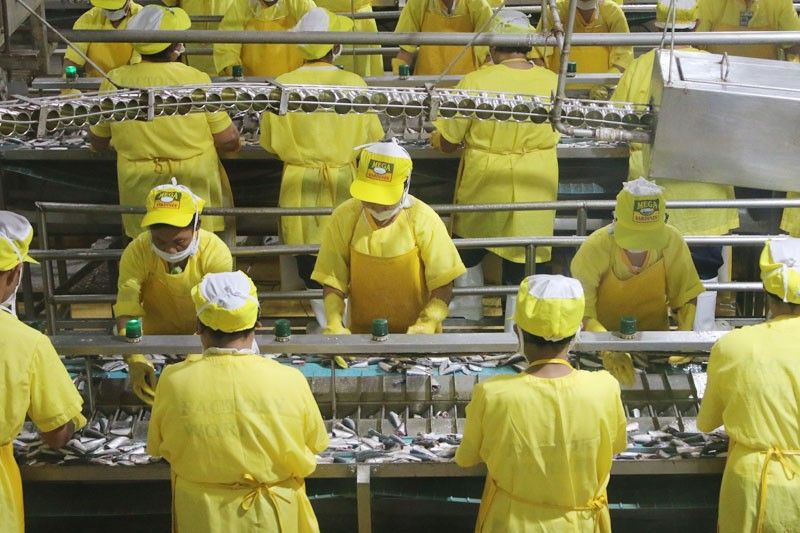 Workers at Mega Global canning plant grade the fish according to size in preparation for further sorting.
Modern technology keeps Mega sardines fresh 'from catch to can'
MANILA, Philippines — Canned sardines are a staple in almost every Filipino household's kitchen due to their affordability and convenience. As they can be readily found in any grocery or the corner sari-sari store, canned sardines remain one of the most affordable and convenient options for a no frills Pinoy meal.
Despite how quickly this basic commodity can be consumed, producing a single can takes a longer process and a ton more hard work than one would expect. From catching the sardines to ensuring their freshness while being transported to production plant for canning and distribution, producing this canned good is indeed a tedious process.
But there's one local company, however, that is able to fulfill this process more efficiently with the help of new technology and modern machineries. Based in Zamboanga City, Mega Global Fishing and Canning continues to deliver its promise of a 12-hour catching-to-canning process to ensure the freshness of its products.
The process
The process begins with actual fishing of sardines through Mega Fishing Corp. (MFC), the fishing arm of Mega Global, at the helm. The team, equipped with state-of-the art sonar and fish finders, begins at sundown, when the fishing vessels head off to the fishing grounds. "Using side scanning sonar technology, a sonar boat looks for a healthy fish population. Once detected, green light is used to attract the fish. Then, the catcher boat comes and lowers its nets, circling these around the school of fish," Mega said. Once the net is pulled back up to the surface for loading, the team uses a fish pump that allows it to shorten the loading period from one hour to just two minutes.
"This is an important innovation, as the quicker loading times ensure that the fish is fresher and histamine levels are kept to a minimum, resulting in better taste," Mega said.
It added that this also extends the shelf life of the fish from just two days to seven days. The risk of contamination is also lower since the fish were not touched by human hands.
The caught fish are preserved in zero-degree chilled sea water in insulated bins that keep them fresh and free from contaminant.
On arrival at the fish port, the catch is mechanically unloaded using the vacuum pump to tanks in the holding dock, and are then transported to Mega Global's canning plant.
Once unloaded in the canning plant, the fish are cleaned in cold water, submerged in brine tanks and go through the process of agitation in conveyor belts to remove scales naturally.
"Workers then grade the fish according to size in preparation for further sorting. After this, the sorted fish go by a conveyor belt through a nobbing machine where the heads and tails are automatically cut, and where entrails are moved without human intervention, ensuring the sanitation of the products," the company said.While the fish are being sorted, the cans are simultaneously sterilized to ensure cleanliness.
The fish are then put into the can using an automated process, after which the filled cans are placed in an exhaust box for precooking at a high temperature. The cans then pass through decantering process, which removes water and oils and maintains the consistency of the sauce. After this, the cans go to the automated sauce filling tank and are then sealed hermetically. The next step is retorting or putting the sealed cans at a very high heat to ensure that the products are shelf stable. "After the cans are cooled, they are then labelled automatically, with batch codes added to indicate production batches and expiration dates. The cans are then packed and tagged, and the sealed boxes then go into warehouses for shipping and delivery," the company said.
Strong demand
Mega Global's one-hectare canning facility in Talisayan, Zamboanga produces about 1.1 million to 1.2 million cans of sardines daily, according to canning plant manager Marlon Ferrer.
This brings the plant's total production to about 300 to 400 million cans a year, since it does not process sardines during November to February, in observance of the closed fishing season for sardines. While the number seems huge, Ferrer said this is still not enough to cater to the local demand for canned sardines.
"There are times when we really run out of stock. Not a single can in our storage facility," Ferrer said.
Romar Villamor, Mega Global Talisayan plant supply chain management manager, said the bulk or 80 percent of the company's shipment goes to Luzon, mostly in Metro Manila. "Last month, our shipment reached 360 containers (about 3.6 million cans) on average," Villamor said.
He said that 260-270 containers of the shipment went to Luzon. "In Luzon, people live fast-paced lives. So they look for convenience when it comes to food," Villamor said.
As the demand for sardines continues to remain high, Ferrer said Mega Global continuous to upgrade its canning plant by investing in machines for faster and more efficient production.
"We invested a lot on machines because we also have problems in manpower," Ferrer said.
Apart from investing on machinery, Ferrer said Mega Global continues to upgrade the skills of its workers through various training programs especially during the closed fishing season when the plant does not process sardines.
"We have always been proud of our fishing technologies and practices and have been continuously innovating, which have made it possible for Mega Global to bring convenience and high quality products that are healthier, tastier, and affordable to Filipinos," Mega Global vice president for Sales and Marketing Marvin Tiu Lim said.