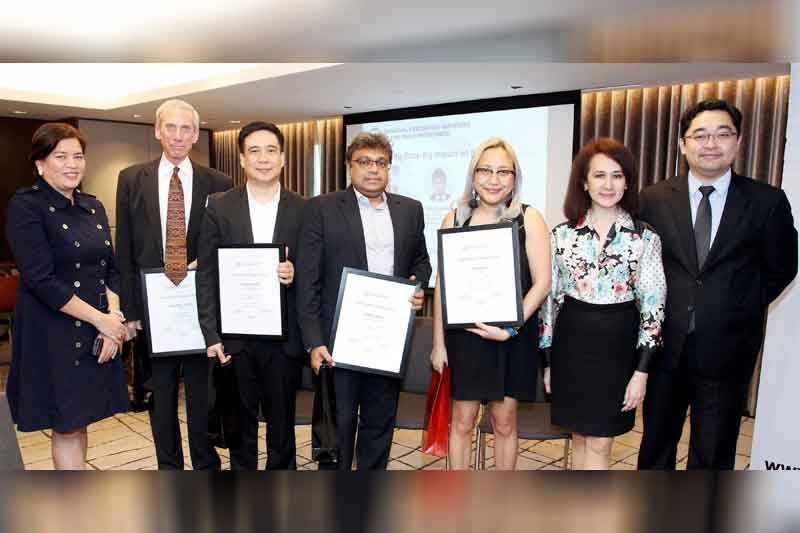 (From left) Financial Executives Institute of the Philippines (FINEX) president and Punongbayan & Araullo chairman and CEO Marivic Españo, event moderator Omnipay, Inc. compliance consultant Stephen Cutler, Accenture, Inc. managing director and digital lead in the Philippines JP Palpallatoc, IBM ASEAN fi nancial planning and performance management leader Deb Mukherji, Google Philippines industry analyst Geia Lopez, FINEX VP for Professional Development and First Credit Consultants Corp. president Grace Palma-Tiongco and FINEX PDC chairperson and KPMG R.G. Manabat & Co. (KPMG RGM & Co.) partner lawyer Michael Guarin
Making a big impact on business
The Financial Executives Institute of the Philippines (FINEX), through its Professional Development Committee (PDC), recently hosted business professionals for its latest event entitled Big Data-Big Impact on Business held at the New World Makati Hotel in Makati City. Led by FINEX PDC chairperson and KPMG R.G. Manabat & Co. (KPMG RGM & Co.) partner lawyer Michael Guarin and FINEX VP for Professional Development and First Credit Consultants Corp. president Grace Palma-Tiongco, the event tackled the effects of technology and the digital world in business. Pundits like Google Philippines industry analyst Geia Lopez, IBM ASEAN financial planning and performance management leader Deb Mukherji and Accenture, Inc. managing director and digital lead in the Philippines JP Palpallatoc presented their thoughts on how Big Data affects recent trends in the market, the importance of giving an enormous amount of data and analyses to CFOs, and harnessing its power to bring success to companies' endeavors. Congratulations to Financial Executives Institute of the Philippines-Professional Development Committee for another successful forum!
A bountiful harvest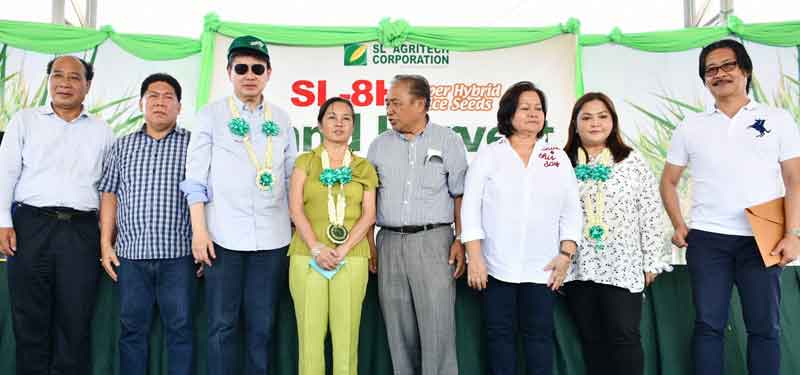 (From left) Zhang Zhaodong, Dr. Frisco Malabanan, SL Agritech Corp. chairman and CEO Henry Lim Bon Liong, Pampanga 2nd District representative Gloria Macapagal- Arroyo, Santiago Obien, Pampanga governor Lilia Pineda, Lubao, Pampanga mayor Mylyn Cayabyab and Department of Agriculture Regional Field Offi ce 3 director Roy Abaya
SL Agritech Corp. (SLAC), headed by chairman and CEO Henry Lim Bon Liong, celebrated another bountiful harvest with the farmers of Lubao and other nearby towns in a Grand Harvest Festival held in Lubao, Pampanga. The event is part of the company's efforts to promote the benefits of hybrid rice technology across the country. Dr. Lim Bon Liong and his team spoke with local farmers about hybrid rice technology's capacity to raise yield and income without additional rice land, thus increasing the overall rice productivity and profitability of our country. Congratulations to Dr. Henry Lim Bon Liong and his hardworking team at SL Agritech Corp. for a successful harvest festival!
An outstanding millennial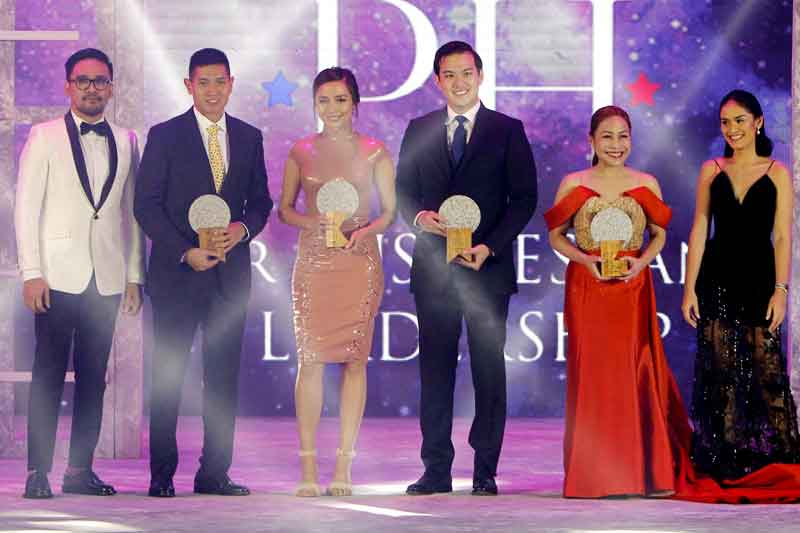 The indefatigable Henann Group of Resorts president Alfonso Chusuey was recently bestowed the NewPH Millennial Award by MEGA Magazine in a ceremony held at the Marquis Events Place in Bonifacio Global City, Taguig. The award is given to influential Filipino millennials who bring relevant change in this digital age. Seen in the photo are (from left) One Mega Group EVP Archie Carrasco, Mike Huang receives the award on behalf of awardee SSI Group Inc. president Anton Huang, awardees Sunnies Studios creative director Martine Cajucom, Alfonso Chusuey and Smart Communications CFO June Cheryl Caba- Revilla with MEGA associate publisher Janine Recto. Congratulations to Alfonso for this well- deserved recognition!