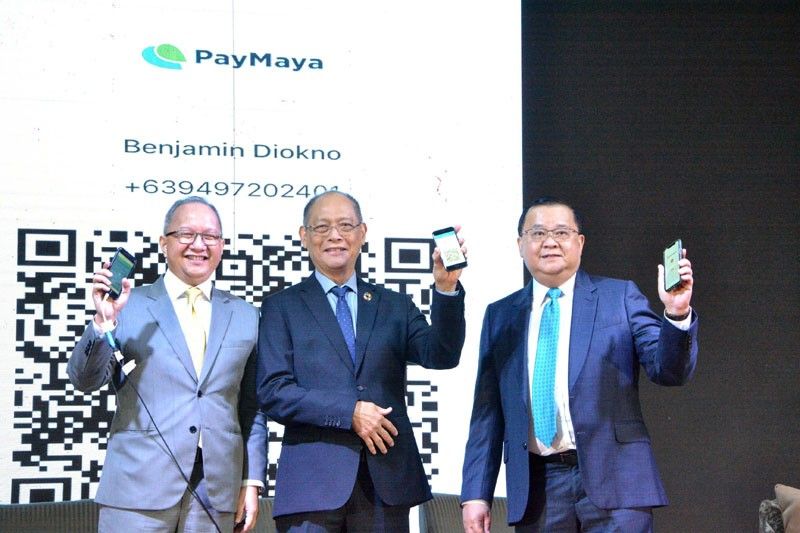 BSP Governor Benjamin Diokno (center), RCBC CEO Eugene Acebedo and Union Bank president Edwin Bautista conduct successful fund transfers using QR Ph.
More banks, e-wallets to adopt national QR standard
(The Philippine Star) - December 10, 2019 - 12:00am
MANILA, Philippines — More banks and electronic wallet providers are expected to adopt the national QR (quick response) standard, dubbed QR Ph, launched by the Bangko Sentral ng Pilipinas (BSP) last month.
Aristeo Zafra Jr., chief executive officer of BancNet, said Asia United Bank, China Banking Corp., state-run Land Bank of the Philippines, Rizal Commercial Banking Corp. (RCBC) and Union Bank are the first banks to adopt the national QR standard along with e-wallet PayMaya.
"Customers of the five pilot banks can send to and receive money from one another. On the other hand, holders of PayMaya e-wallets can receive money from customers of the five banks. The other banks and e-wallets are expected to implement QR Ph in 2020," Zafra added.
Zafra said payments to big and small merchants or business establishments (P2M) and individual payments for utility, credit card and other bills (P2B) is part of the QR Ph roadmap.
"For now, only person-to-person (P2P) QR-enabled payments and fund transfers are processed by the system operated by BancNet," he said.
The QR code – a cutting-edge technology that uses a bar code capable of storing large amounts of information in patterns of black dots and white spaces arranged in a square grid – can be read by a smartphone scanner or other mobile device equipped with a bar-code reader.
When personal and financial information are stored in it, a QR code can be used to send and receive money.
QR Ph was developed by electronic payments company BancNet at the initiative of and in collaboration with the Philippine Payments Management Inc. (PPMI), the body that oversees payment systems in the country under the National Retail Payments System (NRPS) regulatory framework.
It was based on the Europay-Mastercard-Visa (EMV) standard, a global standard for secure payments. QR Ph allows a single or common code to be scanned and interpreted by any participating bank or e-wallet mobile app for money transfers and payments.
PPMI general manager Carmelita Araneta said QR Ph interconnects the QR codes of banks and non-bank electronic money issuers much like how the ATMs of different banks are interconnected and interbank transactions are enabled.
"Sending money via QR codes is through InstaPay, the real-time, low-value and secure fund-transfer service under the NRPS," Araneta said.
The BSP launched the NRPS in December 2015 to raise the share of digital payments to 20 percent by 2020 from only one percent in 2013 as part of the shift to cash-lite from cash-heavy economy.