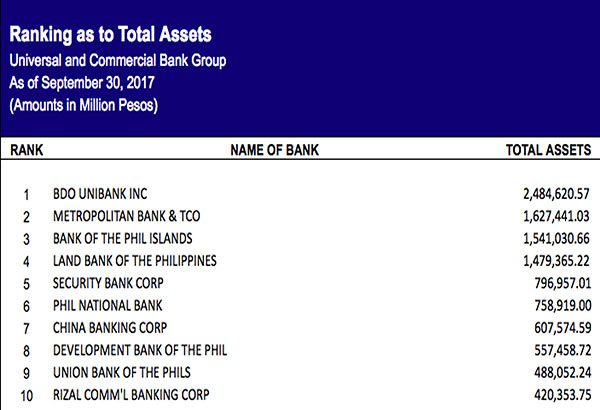 BDO, Metrobank, BPI remain on top in 2017
MANILA, Philippines — BDO Unibank Inc. remained the dominant player in the banking industry in terms of total assets, capital, deposits and loans in the first nine months of last year, data from the Bangko Sentral ng Pilipinas (BSP) showed.
The country's largest bank owned by retail tycoon Henry Sy topped the list in terms of total assets with P2.48 trillion in end September last year, followed by Metropolitan Bank & Trust Co. of taipan George SK Ty with P1.63 trillion.
Ayala-led Bank of the Philippine Islands (BPI) placed third with P1.54 trillion, followed by government-run Land Bank of the Philippines with P1.48 trillion, Security Bank with P796.96 billion, Philippine National Bank of airline and tobacco magnate Lucio Tan with P758.92 billion and another Sy-led bank, China Bank, with P605.57 billion.
Completing the top 10 are state-owned Development Bank of the Philippines with P557.46 billion, Aboitiz-owned Union Bank of the Philippines with P488.05 billion and Rizal Commercial Banking Corp. with P420.35 billion.
In terms of capital, BDO led the industry with P293.98 billion followed by Metrobank with P199.94 billion, BPI with P174.85 billion, PNB with P106.03 billion, and Landbank with P101.94 billion.
BDO also topped the list in terms of deposits with P2.02 trillion, followed by Landbank's P1.31 trillion, BPI's P1.265 trillion, Metrobank's P1.263 trillion and PNB's P574.52 billion.
The Sy-owned bank also dominated the list in terms of total loans and receivables with P1.67 trillion, followed by BPI with P919.89 billion, Metrobank with P915.29 billion, Landbank with P599.13 billion and PNB with P415.54 billion.
The total resources of big banks or universal and commercial banks increased 12 percent to P11.57 trillion from P10.33 trillion while that of mid-sized banks or thrift banks grew 10.5 percent to P1.06 trillion from P964.7 billion.
BSP Governor Nestor Espenilla Jr. earlier said the country's banking system remains strong and stable.
"Our comprehensive risk-based supervision approach ensures that our banks operate in a safe and sound manner and that the economy is guarded against shocks that may affect financial sector stability," he said.