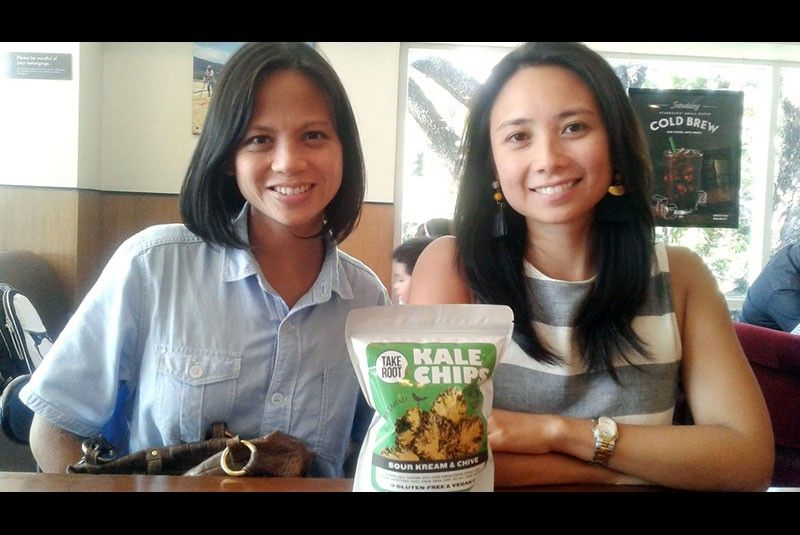 Take Root owners Aileen Payumo (left) and Monica Mendiola.
Healthy snacks help bridge the food gap
MANILA, Philippines - Filipinos' love affair with food remains strong as ever with many new restaurants and food and beverage businesses popping up throughout the country. But there still remains a gap between delicious and healthy food.
This was the observation of two female balikbayans when they returned home to cater to this underserved market.
Take Root is a natural food company that manufactures whole food snacks. It was established in 2014 by Monica Mendiola and Aileen Payumo, two former New Yorkers who dream of making healthy snacks more "mainstream" in the Philippines.
Mendiola, who previously worked in a beauty company in the US, said she immersed herself in the healthy food movement in New York due to health issues she suffered from.
"There were so many products and experiences with vegan restaurants and vegetarian health food stores that we encountered in New York and when we got here, we really saw this big gap in the market for healthy snacks. And we wanted to kinda fill up that gap," Mendiola said.
Although both Mendiola and Payumo worked in New York, the two only met when they returned to the Philippines, where their passion for healthy food led them to putting up the small company.
"There wasn't a lot of food that we could eat [in the Philippines], so we just decided we would try it [the business]. We basically went into Aileen's kitchen, and we would pull together our recipes," Mendiola said.
Both Mendiola and Payumo infused an initial capital of P100,000 each to jumpstart the business. The duo began selling their homemade products at weekend markets in the metro.
Among its products include its best-selling Kale chips, which come in flavors such as Vegan Cheeze, Sour Kream and Chive, Margherita pizza and Rosemary Peppercorn, Balsamic Vinaigrette salad snackers, Banana Bread Granola with Flaxseed and Burnt Honey Granola with Cranberries, Dark Chocolate Brownie and homemade peanut butter bliss balls, and tropical cashew cookie rooted bar.
Payumo noted that the company's products are not baked or fried but are dried over many hours, giving them a nice texture and taste.
"If we were to fry it, it would have a lot of oily residue and a different taste. If we were to bake it, the taste would also be very different," Payumo explained.
Mendiola said ensuring the quality of their ingredients was also another important factor in the production process.
"We source it from small family farms in Benguet and Cavite. So the ingredient part is really important because we deal with whole food ingredients," Mendiola said.
Payumo said most of Take Root's buyers are those who follow a healthy lifestyle, or those who have food intake restrictions.
She added the company's main market comprises mostly women in their 20s and 40s.
"Moms who want to feed delicious and healthy things to their children. Also women who are watching their weight who just want to eat something crispy but at the same time, feel good about eating it," the co-founder said.
Apart from selling products online and at weekend markets, the company's products are now also available in a few specialty stores in Metro Manila, according to the two founders.
"Right now, we're at SM Makati. We have a stall in front of the supermarket," Payumo said.
Take Root products are also available in healthy food chain stores such as Salad Stop and Blue Kitchen, as well as specialty stores such as Gourmet Corner in Makati and Real Food in Alabang.
Payumo said the Take Root enjoys a good mix of sales from both online and stores.
Howeover, Mendiola said the firm would like to strengthen its online presence and make its products more accessible to consumers.
To attract more online sales, the company offers a flat shipping rate of P99 for Metro Manila and P199 for provincial areas.
"As our distribution grew, we also started to gain more international interest. People from places like Singapore and Hong Kong have seen the product, tried it and liked it. So it grew from local to international in the past two years," Mendiola said.
She added the company recently started exporting its products to Hong Kong.
Despite the interest coming in from foreign markets, Payumo said the company would still focus on the Philippine market in line with its goal to provide healthy delicious food to the local market.
"We also realized, as much as we want to continue exporting, the Philippines is really a strong market because there are just so many people here. People do have disposable income now depending on their need. There's a lot of delicious food in the Philippines, but there's not a lot of delicious healthy food that you can trust," Payumo said.