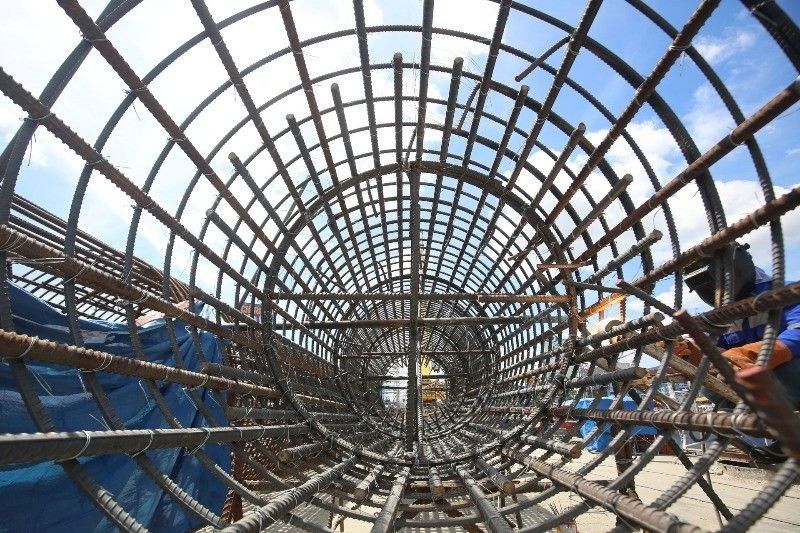 In this Nov. 22, 2018, file photo, a construction worker is seen working on one of the posts of MRT-7 in Batasan, Quezon City.
The STAR/Michael Varcas, file
Construction works fall to P63 billion in Q4
MANILA, Philippines — Building and construction activities are still weak due to low demand evident in the almost 50 percent drop in the value of building works during the last quarter of 2020.
Based on the Philippine Statistics Authority's Construction Statistics from Approved Building Permits, the total value of constructions plummeted by nearly 47 percent to P63 billion in the fourth quarter of 2020 from P118 billion in 2019.
The figure was also lower than the P67.7 billion recorded in the third quarter of 2020.
This as the number of construction projects declined to 31,026 in the fourth quarter of 2020 from 39,242 projects in the same period in 2019.
Even with the gradual reopening of the economy since last year, demand for construction has yet to resume as limited capacity among workers is still in place.
By type of construction, residential projects totaling 21,892 made up 71 percent of the total number of constructions during the period. This type of construction, majority of which were single-type houses, contracted by 20 percent annually.
The value residential construction also declined by 41 percent to P32.6 billion.
Non-residential projects, mostly commercial buildings, also declined by 29 percent. It comprised 15 percent of the total constructions during the period.
The value of non-residential constructions dipped by 53.3 percent to P26 billion during the period.
The rest were additions and alterations and repairs of existing structures.
Building activity was still strongest in Calabarzon with 6,368 constructions or 21 percent share to the total. It was followed by Ilocos and Central Luzon.
By value, however, the National Capital Region accounted for 22 percent of the total with P13.6 billion.