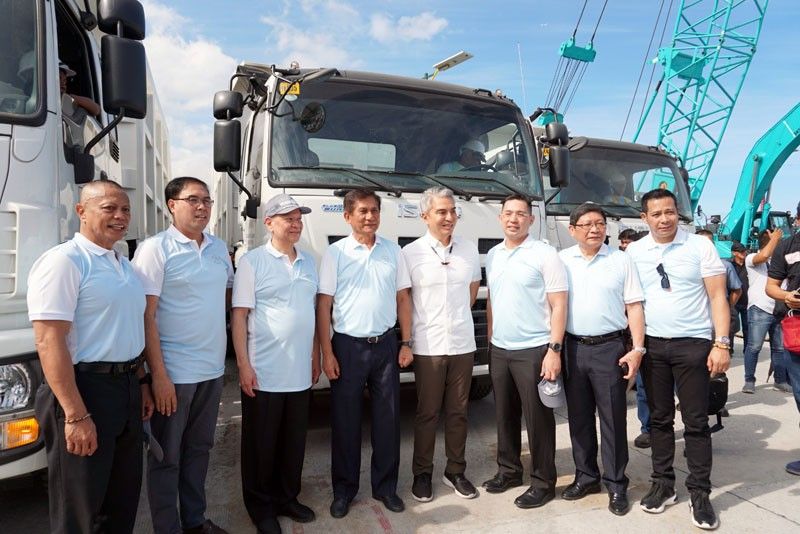 The Department of Environment and Natural Resources and San Miguel Corp. formally launched Monday the Tullahan-Tinajeros River system dredging project. DENR Secretary Roy Cimatu (4th from left) and SMC president and COO Ramon Ang (3rd from left) inspect the new equipment in Navotas with (from left) SMC VP and special assistant to the president Col. Ariel Querubin, DILG Usec. Epimaco Densing, Navotas Mayor Tobias Tiangco, Malabon Mayor Antolin Oreta, MMDA chair Danilo Lim, and Bulacan Governor Daniel Fernando.
P1 billion Tullahan River project to boost Manila Bay rehab
(The Philippine Star) - February 26, 2020 - 12:00am
MANILA, Philippines — San Miguel Corp.'s P1-billion initiative to dredge and expand the Tullahan River system will not only give the Manila Bay rehabilitation project a major boost, it will also help solve flooding in Bulacan ahead of plans to build the country's largest and most modern airport in the province.
The project, dubbed the Tullahan-Tinajeros River system dredging project, was launched Monday by the Department of Environment and Natural Resources and SMC with local executives of Navotas, Malabon, Valenzuela and Bulacan, at the Navotas Centennial Park in Navotas City, where the 36.4-km Tullahan River drains into the Manila Bay.
SMC president and COO Ramon S. Ang described the Tullahan River as a spillway from Angat and Ipo dams that is supposed to drain excess water into the Manila Bay.
However, due to pollution, the buildup of garbage, silt, and illegal structures over the many decades, it has become clogged, shallow, and narrow.
This is why whenever there are typhoons or heavy rains, low-lying areas near the river, particularly Bulacan province, become flooded.
"This project is a dredging and expansion initiative to address the problems of the Tullahan River," Ang said. "First, we will take out the garbage, and then we will deepen the river so water can move more freely to the Manila Bay."
Keeping the Tullahan River garbage and pollution-free, Ang said, is critical to ensuring that the DENR's efforts to rehabilitate the Manila Bay under Secretary Roy Cimatu, will be a success.
It will also help ensure that flooding will no longer occur in low-lying areas such as Bulacan.
He called on local government officials' help in making sure that once the river cleaned, it will no longer be a dumping area for garbage and other pollutants.
Ang also addressed issues raised by groups opposed to its planned new, $15 billion Manila International Airport project to be built in Bulakan, Bulacan, some five kilometers away from the site of the dredging ceremony.
The airport, envisioned as the country's largest and most modern, is being framed by opposers as a potential source of flooding in the province.
"One hundred percent, this project will not worsen flooding in Bulacan, it will actually solve it. In the first place, foreign banks will not lend money for such major projects if they are not assured that you have addressed all environmental risks," he said.
Ang said that as part of preparatory work for the airport, the company had already hired expert foreign consultants to study the flooding situation in Bulacan.
They have identified the rivers, creeks, tributaries, and bodies of water that need to be cleaned, deepened, widened, and improved, to address flooding in the province.
"We will expand our dredging and clean-up operations to include these bodies of water, and provide a long-term and sustainable solution to flooding in Bulacan," he added.
Ang said the new airport, a private endeavor with no government guarantees or subsidies, could bring in as much as 30 million tourists and will create so many jobs and livelihood opportunities for Filipinos.
He assured many would benefit from the project, including the provinces of Bataan, Nueva Ecija, Tarlac, Pampanga, among many others.