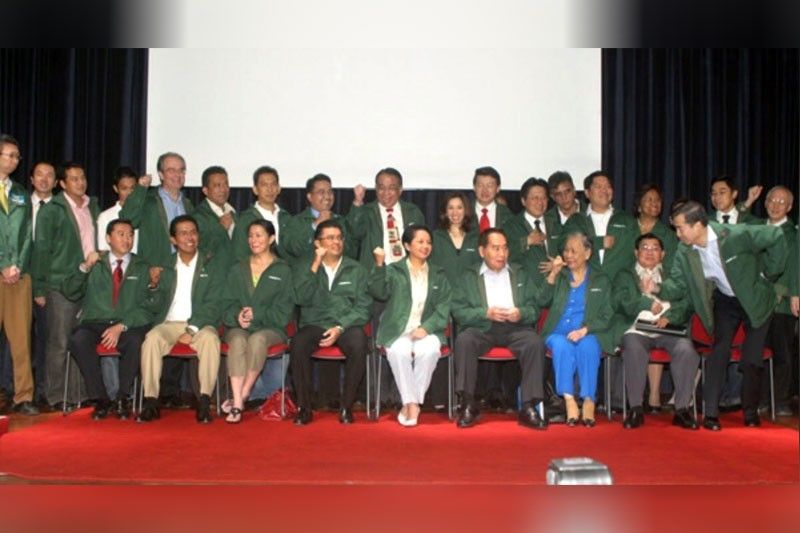 Fellow entrepreneurs and advocates supported the launch of Go Negosyo in 2005 and was attended by over 2,000 guests and more than 50 respected entrepreneurs. The late Henry Sy, Socorro Ramos, Felipe Gozon, Arthur Yap, Harley Sy, Cecilio Pedro, Henry Lim Bon Liong, Anna Periquet, Vivienne Tan, Roland Hortaleza, among others joined the launch which was held at Fort Bonifacio. Former president GMA, who appointed me as presidential adviser for enterpreneurship, was very supportive of the initiative and attended most of the events led by Go Negosyo during her term.
Big Brothers support MSMEs through Go Negosyo
GO NEGOSYO PILIPINAS ANGAT LAHAT!
-
Joey Concepcion
(The Philippine Star) - January 9, 2020 - 12:00am
Last week, I talked about the early days of our advocacy organization, Go Negosyo. Back then, former president Gloria Macapagal-Arroyo was facing some strong headwinds and pessimism loomed with regards to the future of the Philippines. After being appointed the presidential adviser for entrepreneurship in 2005, I saw the need to change our kababayans' negative mindset. In order for the country to move forward, Filipinos must realize that great opportunities also arise out of times of conflict.
That's when I decided to start a foundation that focuses on MSME development, and named it the "Philippine Center for Entrepreneurship." The name, "Go Negosyo," was coined after to attract micro-entrepreneurs who would better respond to our call of action, "Go!" The name itself encourages Filipinos to make a change and move forward from a negative to a positive and progressive mindset.
Through our mentorship and training programs, Go Negosyo continues to equip entrepreneurs with the essential skills to level up their businesses.
In the early '80s, two elderly women became our source of inspiration and encouragement - Socorro 'Nanay Coring' Ramos of National Bookstore and Esther Vibal of Vibal Publishing. Nanay Coring made sure our books, around seven titles then, where placed in her stores, and Tita Esther printed a number of our books for free, which greatly helped spread our cause. Vivienne Tan, who was active with her Entrepreneurs School of Asia, and Ana Marie Periquet, whose father was the PCCI Chair for many years, also attended a number of our events.
The first group of mentors we brought together were then called "angelpreneurs." The pioneer mentors had the role and responsibility to guide our MSMEs in their entrepreneurial journeys.
The Belmonte brothers: Miguel, Isaac, and Kevin, through The Philippines STAR, also provided support and a platform, inviting me to become a columnist. The national publication provides optimism and enables readers to realize the greatness of our country.
Over the years, our partners from the private sector have also come to share the same vision for an inclusive economy, with no Filipino left behind. While it may seem to be an ambitious vision, we are determined to do our best especially for those who are eager to succeed.
Through the years, our partners from the private sector also shared the same vision for an inclusive economy and believe that no Filipino should be left behind. While it may seem to be an ambitious vision, we are determined to do our best, especially for those who are eager to succeed. I would like to thank the following who have joined our mission: Ricky Razon (ICTSI); Jaime Zobel (Ayala).; Alice Eduardo (Sta. Elena); Michael Tan (LT Group); William Belo (Wilcon Depot); Feliciano Torres (Yazaki-Torres); Tessie Sy-Coson (SMIC); Ramon Ang (San Miguel); Federico Lopez (FPH); Alfred Ty (GT Capital); Naty Cheng (Uratex); Santiago Araneta (LBC); Kevin Tan (Megaworld); Bernie Liu (Golden ABC); Tennyson Chen (Bounty Fresh); Winston Uy (Universal Leaf); Angeline Tham (Angkas); Brian Cu (Grab); Simon Heo (Shopee); Dan Majarocon (Lalamove); Dennis Uy (Udenna); Yati Abdullah (DHL); Gerardo Borromeo (PTC); Michael Escaler (AACI); Jean Henri Lhuillier (Cebuana Lhuillier); Injap Sia (DoubleDragon); Chris Po (CPFI); Tony Tan Caktiong (Jollibee); Pallasena Viswanath (HP); Daniel Zuellig (F.E. Zuellig); Fe Agudo (Hyundai); Felix Ang (CATS Motors); Carlos Chan (Liwayway); Glenn Yu (Seaoil); Rosalind Wee (W Group); Glenn Hocson (Brother); and JohnLu Koa (French Baker).
All of them have greatly helped Go Negosyo achieve success and get to where it is now active and flourishing 15 years since the day of its founding.