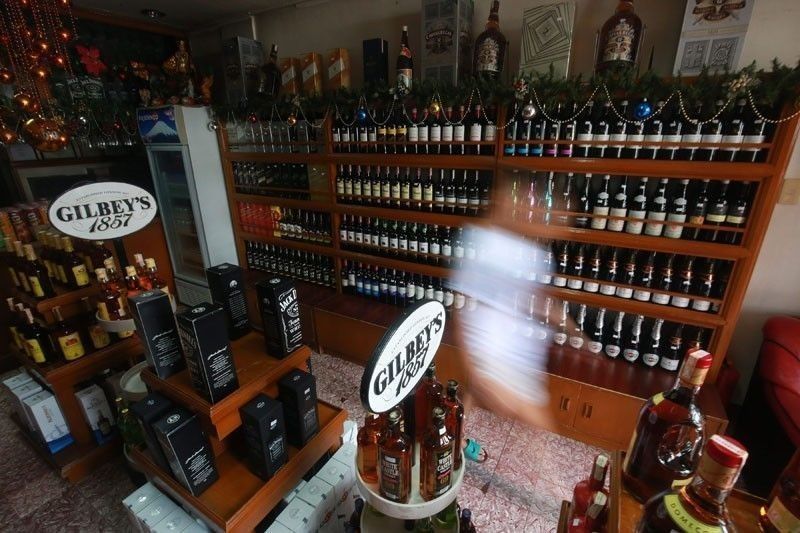 "We are driven by the resolute support that President Duterte has expressed for higher taxes on alcohol and e-cigarettes.
The STAR/Michael Varcas
Bill raising 'sin' taxes certified as urgent
Paolo Romero
(The Philippine Star) - November 13, 2019 - 12:00am
MANILA, Philippines — President Duterte has certified as urgent the bill seeking to increase excise taxes on alcohol, heated tobacco products (HTPs) and vapor products.
In a letter to Senate President Vicente Sotto III, Duterte stressed the "necessity of the immediate enactment of Senate Bill 1074 to address the urgent need to generate additional revenue to support the effective implementation of the Universal Health Care (UHC) Act and to further protect the right to health of the people."
Sen. Pia Cayetano, chairperson of the Senate ways and means committee, endorsed the bill for approval last September. It is projected to raise from P40 billion to P50 billion in incremental revenues to help fully implement the UHC, and move the country closer to achieving the Sustainable Development Goals (SDGs).
"We are driven by the resolute support that President Duterte has expressed for higher taxes on alcohol and e-cigarettes. During the hearings, the medical community and civil society were united in urging Congress to regulate and use the power of taxation as a regulatory measure," Cayetano said.
"Taxation is not a cure-all solution, but it is necessary to curb vices and addiction and we must utilize it," she said.
Under the bill, HTPs will be slapped P45 per pack of 20 units starting Jan. 1, 2020. The excise tax will be increased by increments of P5 every year thereafter until it reaches P60 per pack in 2023.
For individual cartridge, refill, pod or container of vapor products with nicotine salt shall be imposed an excise tax of P45 per milliliter or a fraction thereof. The tax will increase by increments of P5 until it reaches P60 in 2023.
For conventional "freebase" or "classic" nicotine, a tax of P45 per 10 ml or a fraction thereof will be imposed. The levy is to be increased P5 every year until 2023.
Distilled spirits will be imposed an ad valorem tax of 20 percent and a specific tax of P90 per proof liter starting 2020. The specific tax rate will increase by 10 percent every year thereafter.
For fermented liquor (beer) and "alcopops," the bill seeks to impose a specific tax rate of P45 per liter in 2020, increasing by P10 every year until 2023. The specific tax rate will increase by 10 percent every year thereafter.
For wine products, a specific tax of P600 per liter will be imposed for sparkling wines and P43 per liter for still and carbonated wines. These rates will increase by 10 percent every year thereafter.
Sin Tax Coalition co-convenor Dr. Anthony Leachon thanked the President for certifying the measure as urgent.
Leachon said taxes on HTPs and vapes must be raised to prevent the youth from being enticed to try using these products.
He cited the 2018 National Nutrition Survey (NNS) that revealed that one in every five vape users in the country is aged 10 to 19.
He said the use of vape by young Filipinos "is a serious matter that must be addressed, and raising taxes will help regulate the use of these harmful products."
Sen. Francis Tolentino earlier warned e-cigarettes or vapor products, commonly called "vapes," could be tampered and its nicotine content be replaced with methamphetamine hydrochloride or shabu, and other illegal substances.
The lawmaker reiterated his call not to include vapes as among the products to be imposed higher "sin taxes" as such can be considered as illegal as the country has no law nor regulation yet on such nicotine delivery devices.
"What I'm afraid of is that there might be some skillful drug lords and put shabu in those vapes," Tolentino said.
He said many vaping products contain tetrahydrocannabinol (THC) or the mind-altering chemical in the marijuana plant that gives users a high.
"We ingenious and good in breaking apart things, like vape, you can separate its components, and liquefy whatever you want to put in and it could be worse than (THC)," he said.
He noted that vape products come in so many enticing flavors that makes it very attractive to young and even those who have not yet smoked.
Tolentino said 33 countries, including Australia, China, and the US, have banned or are moving to prohibit vapes due to the serious harm to the health of users. He said 39 have died in the US from August to November alone attributed to vape use.
However, local vaping groups lauded the latest study conducted by researchers from University College London (UCL) showing the use of e-cigarettes may help between 50,000 and 70,000 smokers in England quit every year.
"The results of the UCL study affirm the findings of Public Health England and many other independent expert studies, which show that e-cigarette use is associated with improved quit smoking success rates and an accelerated drop in smoking rates across the United Kingdom," said Vishal Daswani, vice president of the Philippine E-Cigarette Industry Association (PECIA).
"This latest study adds to the growing body of research supporting e-cigarettes or vapes as a significantly less harmful alternative to cigarettes and a viable smoking cessation aid," said Mark Czerwin Erana, president of Vapers PH.
The study titled "Association of prevalence of electronic cigarette use with smoking cessation and cigarette consumption in England: a time series analysis between 2006 and 2017" was published in the latest issue of the peer-reviewed scientific journal Addiction.
It found that as use of e-cigarettes in quit attempts went up from 2011 onwards, smoking cessation success rates likewise increased. When the increase in e-cigarettes use plateaued somewhat around 2015, the increase in quit success also levelled off. Based on this data trend, the UCL research team estimated that in 2017 around 50,700 to 69,930 smokers in England had stopped who would otherwise have continued smoking.