The Passing of the First Great Filipino Eco-Philanthropist
August 30, 2019 | 12:00am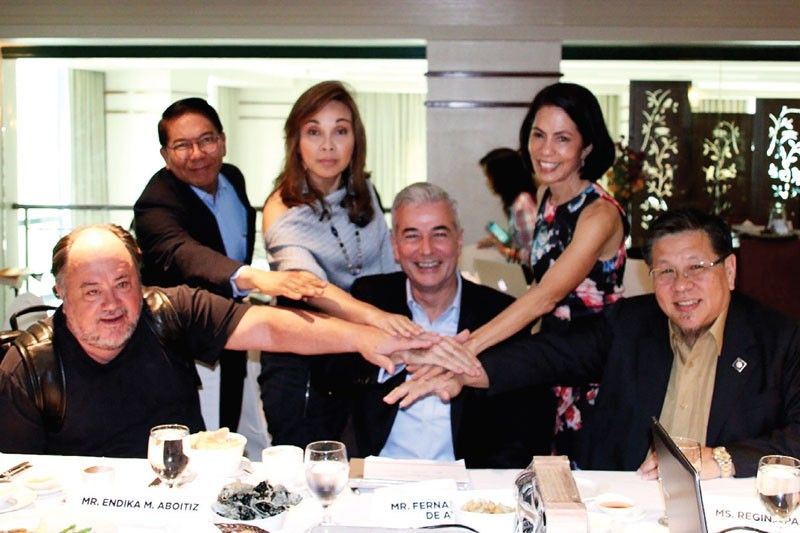 MANILA, Philippines — Gina Lopez joked, "the MD after my name should be changed from Managing Director to QD... for Quack Doctor!" She had the self-awareness to acknowledge that in her battle with what had then become Stage-4 Brain Cancer, she has gone wildly off-script. She was trying to tell all of us that day, that she was winning the fight: through her diet, her meditation, and through a battery of alternative treatments she showed off in a tour of her home. She was not fond of staying in hospitals, and between the strength of her disdain and her will to make more out of every second of her life, she was leading us again, our Chairperson of the Board.
It was as if she was the Gina I first met ten years ago. I was in my own way, an advocate of the environment developing treatment technologies for sewage and waste water, and I just had to meet her. I just had to meet this lady, this warrior who boldly said she would rehabilitate the Pasig River one estero at a time; that she will show the Philippines that it was "pwede pala," by first taking on one of the dirtiest esteros of Manila. Legend has it that when one wanted to commit suicide, one just leapt into the Estero de Paco. You'd be dead from the smell before you hit the water.
I went up to her personally and introduced myself. As many of her friends would know, Gina was a very open and trusting person and we since got along very well indeed. However, as much as I had committed my expertise to her cause, advising her on technology matters in river rehabilitation pro-bono, I still needed convincing: It was not possible to clean Estero de Paco as long as the informal settlers remained there, living on the water itself, using the estero as their open sewer, nay, communal toilet. The only chance we had was if she was going to be successful at relocating all these informal settlers and instituting the 3-meter easement regulation to protect both people (from flood risks), and the river (from direct pollution sources).
Victory on the Estero de Paco
But Gina Lopez, was successful. The victory was that the Informal Settler Families (ISF) trusted her and voluntarily relocated themselves, over 1,400 ISF, to various sites provided by the National Housing Authority. She did this by organizing and coordinating government and NGO efforts to prepare the community, provide housing units, as well as transportation from Paco, Manila to the respective housing projects.
So inspiring was Gina's persuasion of entire communities to relocate (across 15 Barangays along the Estero) that we wholeheartedly pledged to donate our work: the design and installation of a Water Reclamation Facility for the Paco Public Market; identified as the single largest point source of pollution along Estero de Paco. It was completed in January of 2015, and after independently operating it for a year we turned it over to the City of Manila in January 2016. To this day, we are pledged to contribute to its continued operation and maintenance -- a technological and environmental showcase that is open to the public, of treating sewage from the market and of the Estero de Paco itself, recycling it into water fit for non-potable reuse. In this way, Gina had also become the fairy godmother of environmental technology, a guardian spirit that gave Filipino inventors a platform to demonstrate their capabilities.
Love that moves mountains
She is known to say, "You can have little money and few people, and still make a massive difference... kung talagang may pagmamahal." As even someone like her, born into wealth and social privilege, would see her foundations and advocacies at times face near-insurmountable financial and resource challenges. Her genuine love for her causes and the love she inspired in people made her overcome these, time and again. It made her, and the people who served with her, become philanthropists in their own right -- even if they had no money of their own to pledge. It became less about the raw funds donated, but much more about the love: the effort and hard work one gave so that others can have better lives.
To me, she is the prototype of the ecological-philanthropist. It's a love that moves mountains of passivity, once calcified into indifference, into forces of good. Her work for the environment is worth far more than the amount of her own money she always gave and gave of freely. And this is also why I idolize her, and not everyone did idolize Gina.
Myself, being an advocate for the environment with a very limited amount of money to give away, I devoted my efforts to pursuing innovation and making technological inventions that would be deployed for protecting the environment. The technology is the advocacy, and the business around it is its expression.
I founded Ecosystem Technologies also as a means to empower everyone who works with us, to deploy technology and innovations that protect the environment even as they promote the sustainable growth of our partners and our country. This is how I aspire to be an eco-philanthropist like Gina.
The day she made that "Quack Doctor" joke was the last time I was to see her alive. Last July 30th, a Tuesday, Gina Lopez presided over two meetings at her home; the first one with the Management Committee of the ABS-CBN Lingkod Kapamilya Foundation, Inc. (ALKFI), and immediately followed by the Board of Directors of Investments in Loving Organizations for Village Economies, or sentimentally, ILOVE.
Quest for Love
ILOVE is the culmination of everything she's learned after a lifetime of developmental work and philanthropy. This time she believed she could provide opportunities for the most deserving of communities: those with organizations on the ground already operating with dynamism and vision to elevate their communities in an economically inclusive, and an environmentally sustainable way.
She had identified these communities and organizations via a nationwide search called the "Quest for Love," where over fifty organizations participated on behalf of their respective communities. The top 16 sixteen received a small measure of funding, as well as mentoring from successful social entrepreneurs. The final eight were matched with investors, many of which are from the ILOVE Board of Directors, ensuring that the principles of inclusivity and sustainability will be followed. Each project community had their time under the sun on Gina's Sunday morning television program G-Diaries, now affiliated with Fox TV's Nat Geo of the National Geographic Society. She was so proud of this show, telling us how good its ratings were, despite the other network's programming of Filipino movies. People tuned in, and people cared. People often end up caring about what Gina cared about, because when she shows you how much she cares for something, you begin to feel that it's only right that you care about it too.
And thus I find myself pledged to adopt and support the projects for Sta. Cruz Island, off the coast of Zamboanga City in Mindanao. The island and its community is cared for and supported by Dr. Anton Lim's Yellow Boat of Hope Foundation, who, together with Gina's ILOVE, are transforming the lives of a community of islanders who reside unsustainably in the island's mangrove forest while surviving on subsistence fishing. Through Dr. Lim's Yellow Boats of Hope, the islanders are transitioning into sustainable eco-tourism, with the island's pink sand beach also reaching international renown. The limitations of development however, include the acute lack of fresh water on the island. I am working with the City Government of Zamboanga City, the Western Mindanao State University, Rotary Club Zamboanga West (District 3850), as well as the Zamboanga City Water District to supply the island's needs with fresh water.
Our technology innovation is the use of a "water slug," which is a floating vessel similar in construction to the recreational "banana boat" but instead of ferrying people it carries up to 10,000 liters of fresh water. This is transported from Zamboanga City to the island every day tugged by the boat that makes the regular supply runs for the island. This is by far the most efficient and least expensive method of providing fresh water to an island without fresh water sources, and can be duplicated in many small island tourist attractions throughout the archipelago.
In her element, to the last
That day however, Gina wasn't content just to hear updates. She was up to getting new commitments from the members of the Board. She was inviting the individual members to go visit the project sites, to see what she saw, utterly confident in that people will fall in love with the land, the air and the sea, such that they too will give what they can give and do all that they can do for these lovely places and their people.
And what exactly was Gina seeing then? She saw the Philippines, the country she's given all her love to, and all her life's energy for, and to the last.
A week and a half later Gina was confined to the hospital, and on August 19 was announced to have passed away.
Dr. Robert Y. So served as the technology consultant for Kapit Bisig Para sa Ilog Pasig of the ABS-CBN Lingkod Kapamilya Foundation, Inc., and is a member of the Board of Directors of Investments in Loving Organizations for Village Economies. He is the founder and chairman of Ecosystem Technologies.