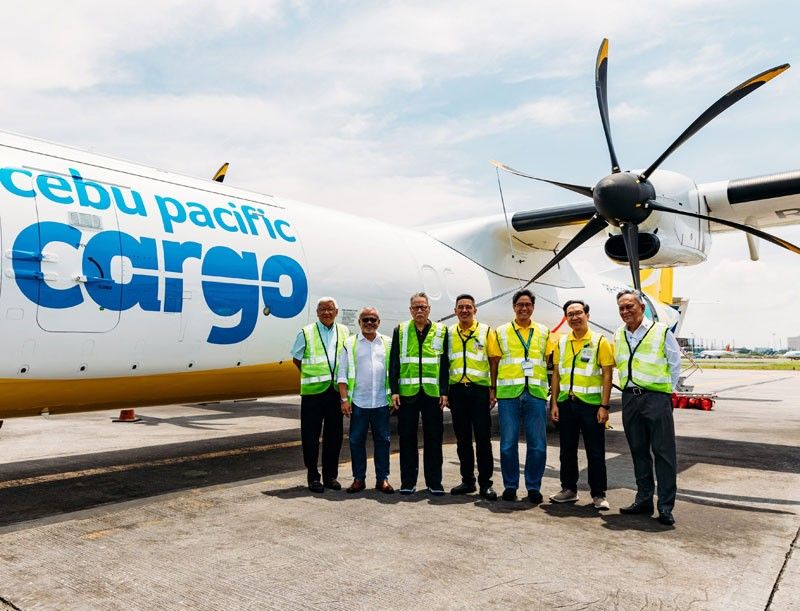 In photo (from left) are CAAP director general Capt. Jim Sydiongco, CAAP deputy director general for operations Capt. Don Mendoza, CAB executive director Carmelo Arcilla, CEB VP for cargo Alex Reyes, president and CEO of Cebgo, Xander Lao, CEB chief operations officer Michael Ivan Shau, and MIAA general manager Eddie Monreal.
File
Cebu Pacific to expand cargo flights
MANILA, Philippines — Budget airline Cebu Pacific plans to bring its dedicated cargo flights abroad once its operations gain traction upon the delivery of its second ATR freighter later this year.
Cebu Pacific took delivery of its first ATR 72-500 aircraft converted from passenger to cargo use last week, with the second freighter expected to be delivered before the year ends.
"The plan is to be able to fly in the region as well for both aircraft. But initially we'll keep it domestic first, gain operation experience. We know the demand is very strong domestically," Cebu Pacific vice president for cargo division Alex Reyes said.
"Freighter is brand new to us. We don't have experience yet in operating all cargo, all freighter aircraft. This is the first step in that," he said.
Cebu Pacific has commissioned Sabena Technics, one of the leading aircraft maintenance and modification service providers in France, to convert two of its ATR 72-500s into all-cargo planes.
"Our ATR freighter will significantly improve our position in the domestic cargo market, addressing the gap between quantity of goods to be shipped, urgency and infrastructure limitations. Of the 90 airports in the Philippines, only about a third can land jets. The rest have runways that are less than 1.2 kilometers long – which is perfect for the ATR," Reyes said.
Cebu Pacific officials said there are currently no additional all-cargo planes in its pipeline aside from its first two ATR freighters.
"Let's see how the first two goes," Cebgo president and CEO Alexander Lao said.
Cebu Pacific's new ATR freighter is capable of carrying up to eigth tons of goods.
Lao said operation of the first freighter would commence on Sept. 4, initially flying out of Manila to domestic trunk routes to and from Mindanao, while awaiting the completion of the Sangley airport.
"Cebu Pacific fully supports the opening of Sangley and it is worthwhile to note that many of our cargo customers have provided positive feedback in shifting their shipments to Sangley. Cebu Pacific will start cargo freighter operations in Sangley as soon as possible," he said.
Lao said cargo is a fast-growing pillar of Cebu Pacific's business, growing in terms of revenue and volume over the past few years, as demand for expedient movement of goods across the country increased.
In the first half, Cebu Pacific's revenues from its cargo operations reached P2.8 billion, up seven percent year-on-year, despite cargo revenues in the Asia Pacific region declining.
Cebu Pacific also flew over 101 million kilograms of goods during the January to June period.
"Prospects for the Philippine cargo industry remain bright, with volumes expected to be on an uptrend, backed by a robust Philippine economy, strong consumer demand and the rise of e-commerce platforms," Lao said.