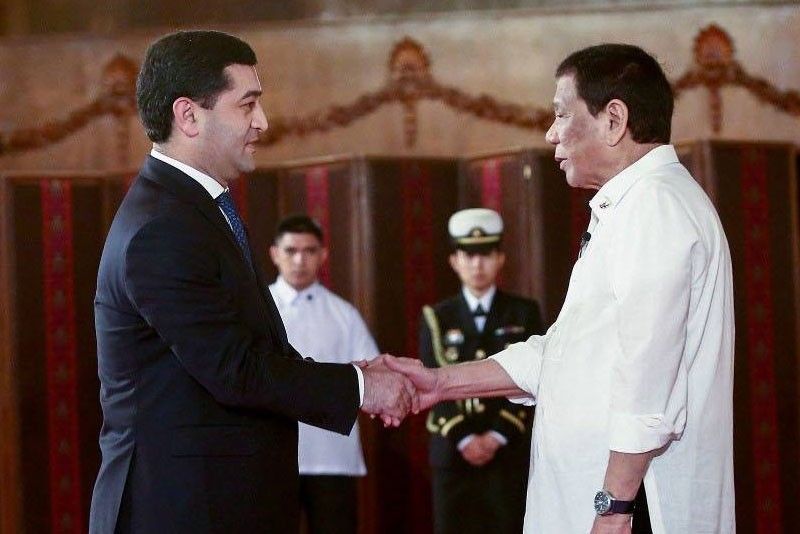 President Rodrigo Roa Duterte greets Ambassador-Designate of the Republic of Uzbekistan to the Philippines Bakhtiyor Saidov as the latter submits his credentials to the President during a ceremony at the Malacañan Palace.
Pcoo.gov.ph
Uzbekistan eyes stronger Philippine ties
TASHKENT - Officials of the Republic of Uzbekistan are eyeing strong ties between their country and the Philippines.
In an interview with The STAR, Uzbekistan Ambassador to the Philippines Bakhtiyor Saidov said there are different areas where Tashkent and Manila could work together.
For instance, he said the two countries could work together in the area of agriculture.
"We can start some big projects that can be mutually beneficial to both countries. For example, in agriculture, we can share our experience together. We can produce together," Saidov said.
One potential area of cooperation is through the export of Philippine tropical fruits like bananas, mangoes, pineapples, coconut oil, and other agricultural products.
"Uzbekistan is now one of the most stable countries in the world...There is so much room to deepen relations with the Philippines," Saidov said.
The policy of the Uzbekistan government under the leadership of its new president Shavkat Mirziyoyev, who came into power in December 2016, is to be more friendly to investors to help spur the country's economic growth.
In March 2017, the new president formed the State committee of the Republic of Uzbekistan for investments in a bid to fully develop the investment potential of the country. The committee is tasked to provide favorable conditions for attracting foreign investments, expanding cooperation with international financial institutions, leading foreign companies and banking structures, and increasing efficiency of foreign investment utilization.
In a separate interview here, Deputy Governor of the Tashkent Region Djamshid Abdusalamov said Uzbekistan could also tap the Philippine market to spur its tourism industry and vice versa.
"Tourism is one area with a very strong potential. We can have a special tourism program for Filipinos in the long-term," Abdusalamov said.
He said Uzbekistan could offer winter tourism which Filipinos may find very unique and attractive.
Filipinos can also visit other central Asian countries such as Kazakhstan and Kyrgyzstan among others.
Abdusalamov said that maybe in the future, there could be a special Silk Road visa that would allow tourists to visit the route of the ancient Silk Road.
Uzbekistan government officials have welcomed the investment of Oishi snack foods maker Liwayway which is putting up a factory in the central Asian country.
On the sidelines of a factory visit here, Liwayway Group chairman Carlos Chan said he would hire around 200 locals for the initial phase of operations, targeted next year.
Uzbekistan officials expressed hopes that other Filipino companies would also come here.