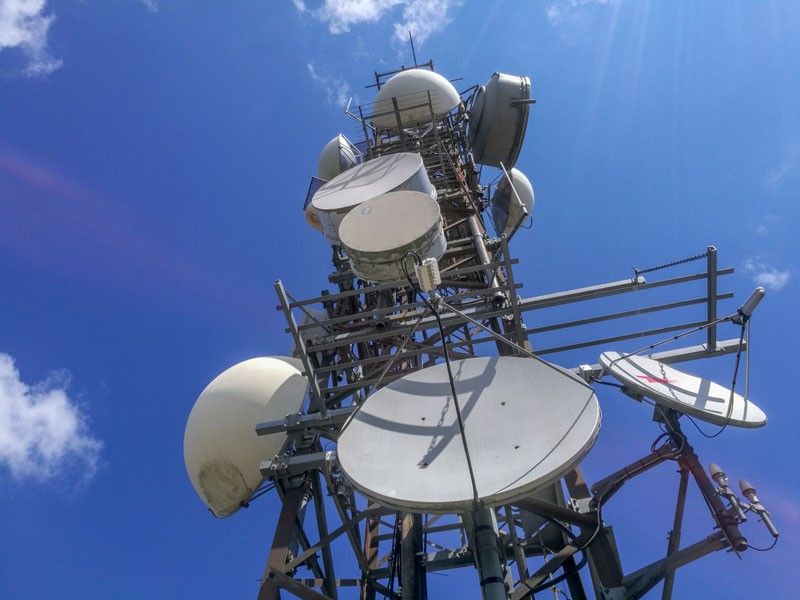 Judgment day would eventually come next year, once the newly-crowned third telco player, Dito Telecommunity Corp., formerly known as Mislatel, commences operations. But this early, the government is assuring that change is coming to the country's telecommunications market by next year.
File
Third telco mission far from over
MANILA, Philippines — Consider it a mission accomplished for the government in terms of enabling the entry of a third telecommunications player in the country. However, the mission of actually breaking the so-called "duopoly" and bringing faster internet access is far from over.
Judgment day would eventually come next year, once the newly-crowned third telco player, Dito Telecommunity Corp., formerly known as Mislatel, commences operations. But this early, the government is assuring that change is coming to the country's telecommunications market by next year.
"The President's order was to break the duopoly. And that is what will happen," said Department of Information and Communications Technology (DICT) Undersecretary for Operations Eliseo Rio, who chaired the oversight committee on the new major telco player bidding last year.
"By the first half of 2020, the average minimum internet speed will be at par with most of our neighboring countries," National Telecommunications Commission Deputy Commissioner Edgardo Cabarios said separately.
The new major player, which was selected through a transparent selection process last year, has submitted a five-year commitment in terms of network coverage, minimum average broadband/internet speed, and capital and operational expenses.
Dito has committed to cover 37 percent of the population and provide 27 mbps minimum average internet speed in year one of its five-year commitment period.
By year five, the third telco player vowed to cover 84 percent of the population, and has committed to bring minimum average internet speed to 55 mbps from years two to five. All these commitments, however, are not just promises as they entail high stakes for the company should it fail to fulfill them.
"The commitment is backed up by a performance security of P25.7 billion which is equivalent to 10 percent of the committed capex and opex. The failure of the new major player to comply with its commitment will mean the forfeiture of its performance security in favor of the government," Cabarios said.
Dito's compliance with its commitments will be measured by NTC on July 9, 2020, one year from the award of its certificate of public convenience and necessity (CPCN) or permit to operate. Cabarios said the entry of the Dito would shake things up in the market and enhance competition.
"By the first semester of next year, the new major player is expected to start commercial operations. To get substantial share of the market, it is expected to offer lower prices and better quality of services. The incumbents, Globe Group and Smart Group, are expected to follow suit. The NMP will then have to further improve service offerings to remain competitive. And the cycle continues to the benefit of the consumers," he said.
"In the same manner when Sun Cellular entered the market in the fourth quarter of 2003. Sun Cellular introduced unlimited call and text services effectively reducing prices of calls and texts services. There was high demand for calls and text services at that time. Sun Cellular was able to get considerable size of the market in less than three years. Globe Group and Smart Group followed suit," Cabarios said.
As an example of the impact the third telco's arrival is bringing to the market, Rio said PLDT and Globe have started preparing for tougher competition since last year by allocating record-high capex for 2018, and again this year.
PLDT has earmarked a historic-high capital expenditure of P78.4 billion this year to continuously expand and modernize its fixed and mobile networks, while Globe has allocated P63 billion this year, 45.5 percent higher than the capex spent last year.
"The standards Dito committed is much higher than what Globe and Smart has now. Globe and Smart, as you can see, are also improving their network so that when and once Dito operates, their subscribers will not leave them," Rio said.
Dito, a consortium composed of state-owned China Telecom and Davao-based businessman Dennis Uy's Udenna Corp. and Chelsea Logistics and Infrastructure Holdings Corp., is well aware of its looming clash with industry giants, but has remained confident on being able to back its big promises to the government and the Filipino consumers.
The group, in fact, does not simply want to be known as the new major player or the third telco player, but instead, it wants to be the best telco player in the country.
By 2020, Uy said the Filipino people will have the choice to experience a better telco service, as the Philippines currently ranks 107th out of 178 countries worldwide for its connection speed based on the Ookla Speedtest Global Index released last May.
He said the country's average mobile data speed of 15.10 mbps and broadband speed of 19.55 mbps is far from South Korea's average mobile speed of 76.74 mbps and Singapore's average broadband speed of 199.39 mbps.
"Our service level commitments with government are already significantly higher than the current levels provided by Smart and Globe in terms of speed and coverage," Dito spokesperson Adel Tamano said.
"For the better service, firstly, we will lean on our technology partner, Chinatel, which is one of the world's best and most competitive telcos, which has just recently given its 5G license in China," Tamano said.
Dito is already preparing to conduct first a pilot user program toward the end of the year to test the network in order for it to come out with a better offering.
"Next year, it will be a 4G VoLTE service that is essentially high definition 4G for consumers with nearly double the current download speeds. We will provide 27 mbps by 2020," Tamano said.
With VoLTE — a standard for high-speed wireless communication for mobile phones and data terminals — Uy said a much better-quality voice service than circuit switch 2G/3G will become a reality in the country. To ensure it will stay and even be ahead of the competition, Dito will also be joining the 5G race between giants PLDT and Globe. 5G is a wireless technology expected to provide high speeds with low latency, as well as open opportunities for use in health care and smart cities.
Uy has promised that "in as fast as five years, Dito will cover the country with 5G."
Then known as Mislatel, the consortium was declared as the provisional new major player in the telecommunications industry in Nov. 7 last year after its offer was the only one of three bids that was found complete and qualified. Its award raised some controversy due to China's involvement as well as Uy's alleged close ties with President Duterte.
The consortium was able to receive on Nov. 19, 2018 a new major player confirmation order from the government and last May, was able to secure Congress resolution involving its franchise.
It was finally awarded its CPCN and radio frequency bands of 700 megahertz (MHz), 2100 MHz, 2000 MHz, 2.5 gigahertz (GHz), 3.3 GHz and 3.5 GHz last July 8 after completing all requirements. Rio said the ball is now in the hands of the group to make its promises come true and bring change in the country's telco landscape.