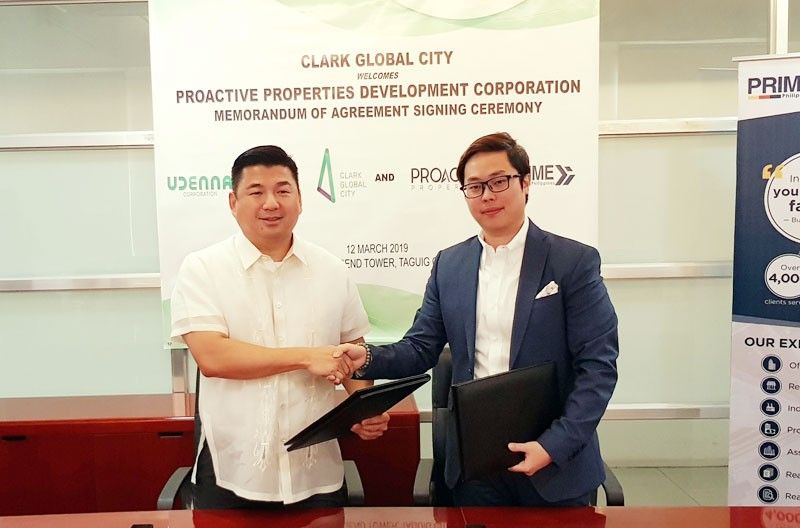 Global Gateway Development Corp. and Proactive Properties Development Corp. are joining forces in building Clark Global City as the 'New Center.' In the photo are GGDC chairman Dennis Uy (left) and founder and CEO of PRIME Philippines Jettson Yu.
File
Proactive Properties joins GGDC in Clark Global City development
MANILA, Philippines — Dennis Uy's Global Gateway Development Corp. (GGDC) and Proactive Properties Development Corp. have partnered to develop a portion of Clark Global City in Pampanga.
GGDC and Proactive recently signed a sublease agreement over a 2,208 square meter lot in Clark Global City.
Proactive Properties will pursue a mixed-use development in the area, which is aligned with GGDC's vision to make Clark Global City the country's newest business district.
"Having Proactive Properties onboard in our endeavor of building CGC as a new central business district aligns with our mission of building this generation's new center of commerce, life and innovation," said GGDC chairman Dennis Uy.
For the first phase of the project, Proactive Properties intends to build a millennial-inspired commercial center which will bring international retail shops to Pampanga.
The second phase, meanwhile, covering 2,800 square meters will be a 12-story office building designed for international companies seeking to enjoy tax incentives.
Proactive Properties chief executive officer Jet Yu said his group shares the same vision with the Udenna Group to transform Clark into a major commercial destination.
"Apart from the bullish demand for office spaces and retail spaces in Clark for the next five years, we see the need of an additional central business district outside the congested areas of Makati, Taguig and Pasig," he said.
The real estate company is banking on the phenomenal growth of Central Luzon.
"Its growing and talented population of more than 2.1 million only shows that a minimum of 300,000 square meters of office locations and 200,000 sqm of commercial retail spaces will be needed within the next five years," Yu said.
With a buildable area of more than 123 hectares, Clark Global City will host top-grade office buildings, up-market retail outlets, contemporary academic centers, sports centers, an urban park, an iconic tower, an integrated resort and casino, and modern support services and amenities.
When the Udenna Group took over in 2017, it renewed its lease agreement over the estate to run it until 2085.